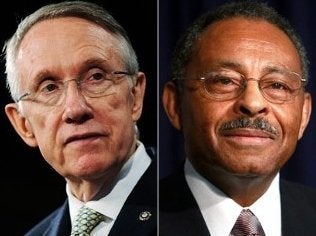 Harry Reid, Dick Durbin and Roland Burris are meeting in Washington on Wednesday to discuss ending the distraction that is Rod Blagojevich's attempt to make an appointment, and Lynn Sweet has "a well-informed hunch that if Burris wants to [be accepted by the Senate], he needs to say he won't run for the seat in 2010."
For his part, Reid would not rule out that Burris might be seated after Wednesday's meeting. He even stood up for the man's character on Meet the Press. "I think everyone that I've talked to said that Burris is a good guy," he said.
Really? How has Roland Burris' actions in the last two weeks not proven how flexible his integrity is?
Sure, he may not have done anything illegal, but the guy is absolutely complicit in a crooked man's scheme to cling to power and embarrass President-elect Obama at the expense of attention toward the real problems facing this country. He's even stooped to having his spokesperson smear Reid as a racist for talking up Tammy Duckworth and Lisa Madigan in his conversation with Blagojevich.
Meanwhile, Reid says, "I don't know a thing wrong with Mr. Burris." Come on.
Frankly, it doesn't matter how clean his record was when he was in office a decade ago or if he didn't pay a cent for his appointment: Roland Burris is a willing pawn in a very corrupt game. He's already made a bad deal for the people of Illinois, lending Blagojevich his credibility for a chance to be a United States Senator. How can Majority Leader Reid think he wouldn't lie to get his way?
Burris has previously been unwilling to cede his chance at a full term, saying he'll be a strong contender since, "I'm the incumbent." He will probably be singing a different tune on Wednesday if that's what he thinks Reid and Durbin want to hear. They simply cannot trust him and any agreement that fails to keep Burris out of the Senate is as morally bankrupt as the man who sent him there.