Artist Clark V. Fox (aka Michael Clark) has been hailed as the "Godfather of Modern Underground Art" by pop icon Ron English. He is a Native American artist who spent the early part of his career as a Washington Color School artist (with Tom Downing and Sam Gilliam), then moved to New York and began creating pointillist pop-art with a twist. That twist was a message of rebellion. Clark has collaborated with street artists such as Ron English, Shepard Fairey, Daniel Johnston, Big Al Carter and others. He founded and ran the MOCA DC gallery for over 10 years.
He is currently the subject of two simultaneous shows: one at the Delaware State University (DSU) Arts Center/ Gallery , "Typology", highlighting some of his early paintings, which were largely architectural works from 1967 through the early-1980s. [9 a.m. to 4 p.m., Thursday, Oct. 6 to Wednesday, Nov. 16]
The DSU exhibition is taking place in conjunction with a longer Clark Fox exhibition at the Biggs Museum of Art, 406 Federal St. in Dover. That exhibition, entitled "Icon Chains," will begin at the Biggs Museum with an opening reception on Friday, Oct. 7 and will continue on display until Jan. 22.
Works by Clark Fox are included in more than 35 museum collections including the Corcoran Gallery, National Gallery of Art, Metropolitan, Katzen, Phillips Collection, Vogel Collection, Philadelphia Museum, and Smithsonian American Art Museum. Fox earned his undergraduate degree at Pratt Institute and Corcoran School of the Arts, although he admits he is self-taught.
I interviewed Clark about his art and politics - about his current shows, and what he plans on next.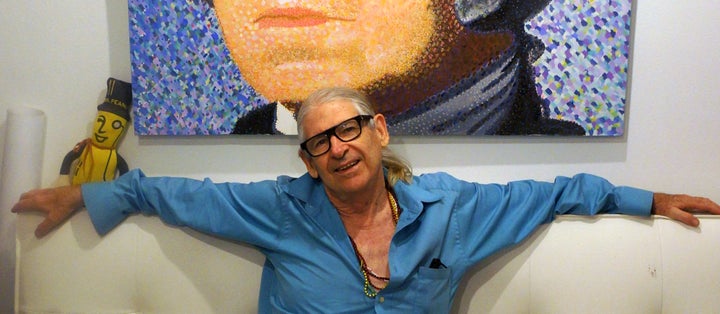 You've been compared to Warhol with one notable exception. You didn't sell out. Can you tell us about how you started painting?
(Laughs) I lived in modern art history. I studied with Unichi Hiratsuka at the Japan-American Society of Washington DC, and took a figure drawing class with Lennart Anderson (American) at Pratt. I've argued about art with Schnable. I painted for Gene Davis and Tom Downing (who was one of my teachers). I hung out with Rivers, Rauschenberg, Gilliam, and Warhol.
I would sell out if I knew how (laughs). My church is art, and I still feel it's a sacred trust.
Your art is political and relevant. How do you stay connected to the issues?
How can you not stay connected to the issues? Look at what's going on in this country, in the world. Right now we have a disgusting election season with the prospect of yet more war when the dust settles. The corporations are continuing their relentless march for profits, marginalizing the middle class and exploiting the poor. Mr. Peanut is eating our democracy for lunch. That's why I'm involved with Move to Amend - we must overturn Citizen's United.
I can't look the other way. So I don't.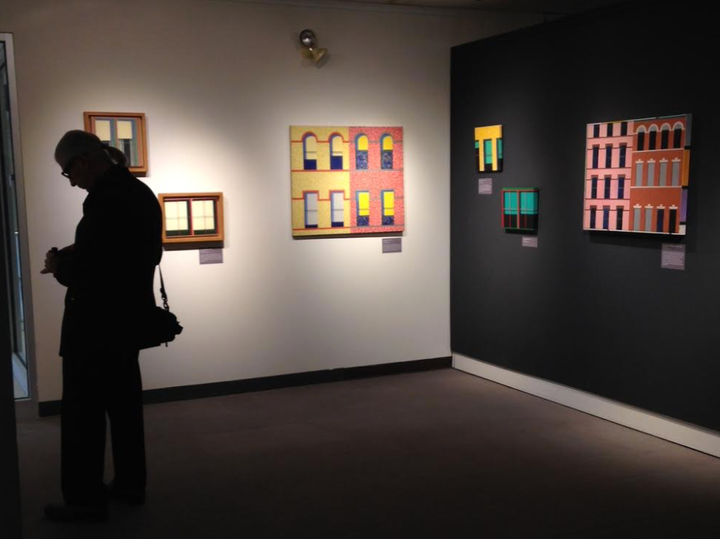 Let's talk about the two shows. What is the difference between "Typology" and "Icon Chains"?
The "Typology" show is my early work. It's a series of architectural studies. The window frames are now considered classics, but they don't have the social voice my later works have.
"Icon Chains" is my social voice and consists of the various themes I have obsessed about since 2000: inequality, racism, empire, our history of lies, the corpocracy, and more. This is far more personal - from Mr. Peanut to the NAFTA Oranges.

How has your Native American heritage shaped your work?
It has been the driving force behind the works.
Being a stranger in our own land has been the fate of the Native American and continues to this day. Just look at the situation with the Standing Rock Sioux and the Dakota Access Pipeline (DAPL). How is it in 2016 we are still fighting the same battle and enemy all over again? Is nothing sacred in our profit-driven culture? Don't get me started. The Sioux are standing up for our sacred grandmother Earth and for the seven generations yet to come. And on the other side we have a militarized response from the state, private police, serious threats to put journalists behind bars - I'm thinking of Amy Goodman.
I mean, what does freedom mean? The freedom to plunder this Earth? We have 10 years left to save the Earth and these fools are worried about next quarter's earnings? And on top of that we have the return of widespread racism, the KKK and confederate flag-wavers who know nothing about honor. Our water is poisoned by the fracking lobby. The police are taught to shoot the people they should be protecting, and a lunatic, robber-baron misogynistic demagogue is running for President. And that's just in this country. Look at the rest of the world.
How does your art reflect this righteous anger of yours?
Well, let me try to explain through a few of these pieces. Let's start with George Washington. I call him "Caunotaucarius," a Native American word meaning "Town Taker." I see Washington like Christopher Columbus not exactly as a hero.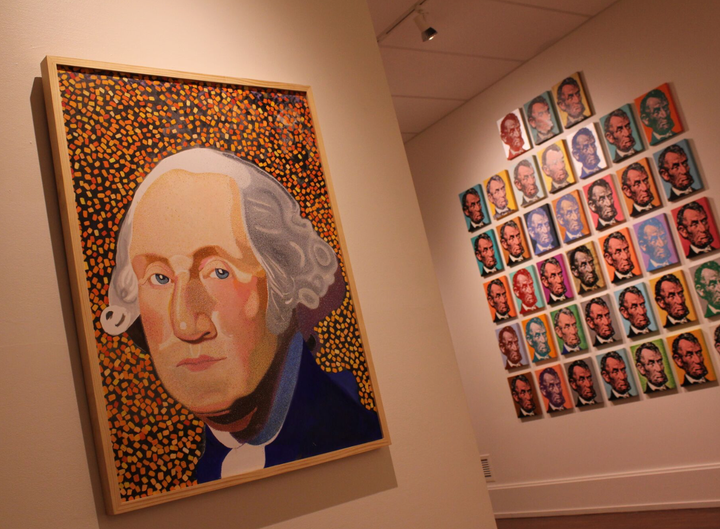 Afro-Nut is my 13th Amendment painting.
Abraham Lincoln's Emancipation Proclamation was a war measure intended to hurt the Confederacy, and applied only to the Southern states. Lincoln himself had a low opinion of black people, but he realized he could not win the Civil War unless he had the help of the slaves. Of course, history has made progress, but now once again, we are reminded that in our present time, there is still a long way to go towards full emancipation – physical and spiritual.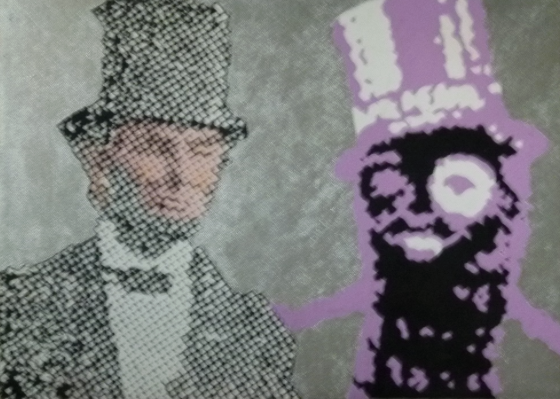 What about the NAFTA Oranges? That's also a heavy political statement, is it not?
(Laughs) Not sure how heavy it is, but the NAFTA Oranges represent the trade deals made to benefit a few transnationals at the expense of the citizens of both sides. I began just after the North American Free Trade Agreement went into effect – all modeled after fruit I bought from a Mexican guy on the side of the freeway. NAFTA has helped nothing except create more income inequality. And now we have the TPP.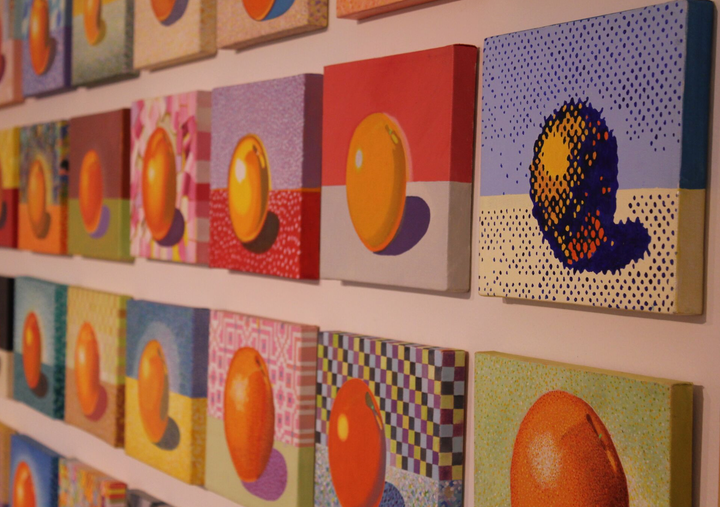 Why are there exactly 38 Abraham Lincolns?
Those are for the 38 Dakota tribes people hanged by Lincoln at the end of the Dakota Wars in 1862. Lincoln, like Washington was no friend of the Native Americans or African Americans. It's truly astounding to me that Tatanka Iyotake's (Sitting Bull's) Nation is still having to protest in the Dakotas. I'll tell you one thing though - the resistance to that pipeline is not going away. We now have the largest gathering of indigenous Americans in history behind Standing Rock, and we now have supporters against the Dakota Access Pipeline from people all over the world - Japan, Ireland, and all over this country.
I'm grateful to the Biggs' curator Ryan Grover. He gets what I have been trying to do all my life. He's really put together a show that stands out for me.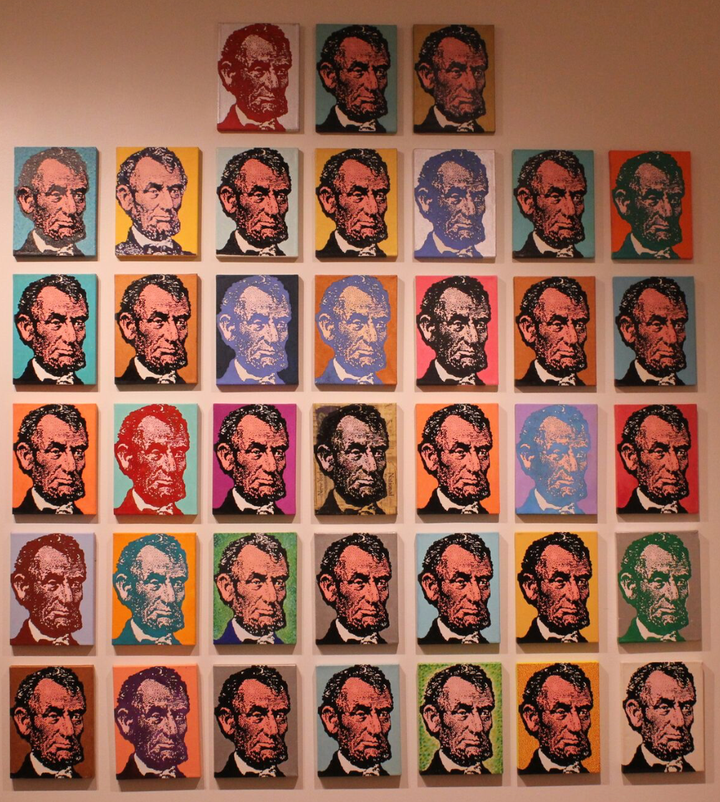 Tell us about Cunne Shotte.
Cherokee chief Cunne Shote (Standing Turkey) led the Cherokee into war with the British colonies of South Carolina, North Carolina, and Virginia in the aftermath of the execution of several Cherokee leaders who were being held hostage at Fort Prince George. Look, Native artists must continue to tell the truth about the past. If we don't, who will?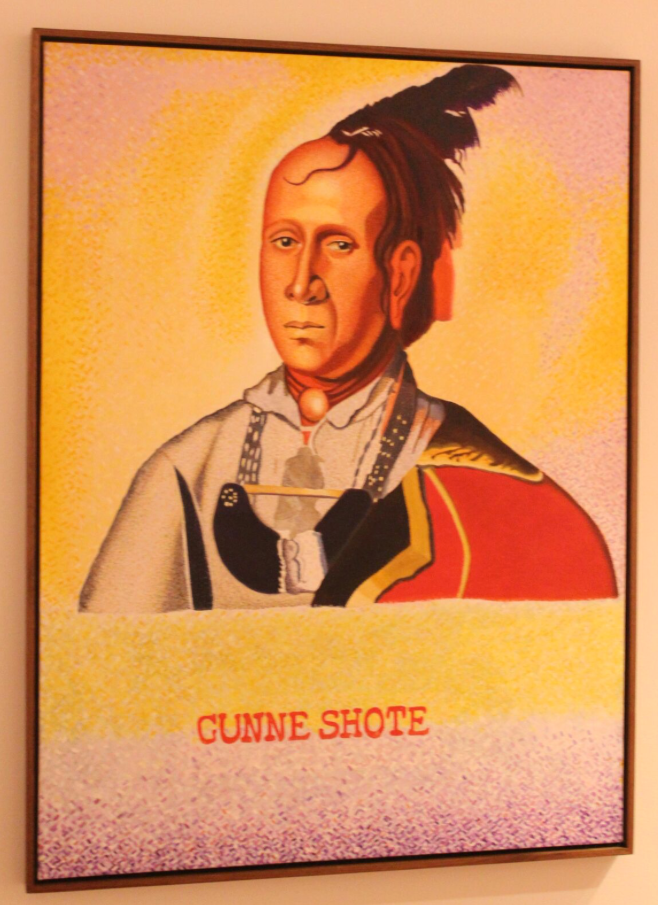 Let's end by asking you about Mr. Peanut. What does he represent?
Greed. Mr. Peanut is a symbol of corporate greed and ruthlessness. My Mr. Peanut paintings capture my disdain for war and the warmongering, profiting capitalist whose business profits from the death of the innocent. History has always rewarded greed, and the military-industrial complex shows no sign of weakness.
Our democracy has been stolen by Mr. Peanut - the CEO of Greed. Mr Peanut represents a carefully engineered illusion of constantly expanding markets accompanied by a perpetual military war machine that Marx warned in the later stages of capitalism. He also stands for the shallowness of our consumer culture.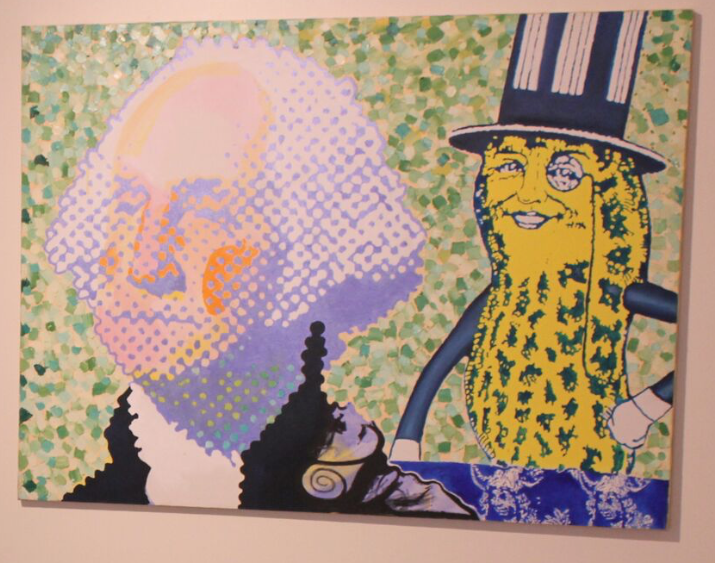 Thank you Mr. Peanut, and thanks Clark!
Popular in the Community