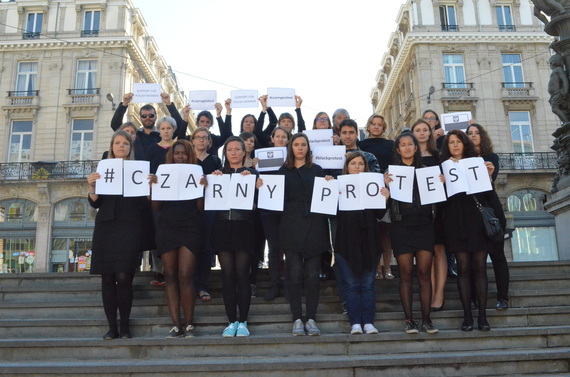 I am inspired by the courageous women of Poland who on Monday said NO to an attempt to impose a near total ban on abortion. The women who stopped working and hit the streets, the women who made 3 October an historic day, the women of the #CzarnyProtest.
Thanks to them, Wednesday and Thursday saw a U-turn by the Polish Government and Parliament on a draconian abortion bill. The Deputy Prime Minister Jaroslaw Gowin said "the black Monday protest taught us humility," and the Polish Parliament overwhelmingly rejected the proposed ban.
This social movement is unprecedented in Poland. The vibrant mass-demonstrations by tens of thousands of people around the country have shown the Government that disregard for the human rights of half its citizens is not acceptable to the electorate.
It would seem that the political implications of turning their back on this social movement have, for now, pushed the Polish Government to change strategy in how it opposes abortion. It is proposing social welfare measures and social campaigns to "educate" the public about abortion instead of legislative changes.
The #CzarnyProtest is a beautiful example of the power of grassroots activism to hold political leaders to account, of how social movements can work across borders. Thousands of outraged people in Europe and around the world stood with Polish women to say "enough is enough". Demonstrations took place worldwide, and there was an outpouring of outrage and solidarity on social media. The 'wemove petition' created in partnership with the European Women's Lobby and IPPF European Network gathered more than 80,000 signatures in just a few days.
Progressive Members of the European Parliament fought to ensure that their institution held a plenary debate on Wednesday on Polish women's rights, sending a strong signal of solidarity and reiterating that women's rights are fundamental rights and are at the core of what the European Union should be about. The European Commissioner for Justice and Gender Equality, Věra Jourová, stressed that "as a woman and the mother of a daughter", she personally hoped that a bill which went against human dignity and women's freedom to choose would not be adopted.
But let's remember that the proposal that failed in Poland is a reality in Ireland and Northern Ireland. In Malta abortion is banned outright. It is hard to believe, but in 2016 we are still fighting for a woman's right to bodily autonomy and the situation is becoming worse for many women across Europe. Just two years ago, Spanish women fought off a similar attempt to the Polish one. Constant attacks on women's rights are taking place in Europe and are often linked to a very well organised and well-resourced global anti-choice movement.
The failure of this particular attempt to control Polish women's bodies is clearly cause for celebration, and the #CzarnyProtest has been an important step in breaking the silence around abortion which contributes to its stigmatisation. But Polish women continue to face one of the most repressive regimes in Europe when it comes to their reproductive rights, with abortion currently only theoretically legal in cases of rape, incest, severe foetal abnormality or when the woman's life is in danger. I hope that the momentum of the Black Protest opens up some space for progress in Poland, and becomes a source of inspiration for the social movement elsewhere in Europe and in the world.
Photo credits: Dearbhla Crosse/IPPFEN
Related
Popular in the Community