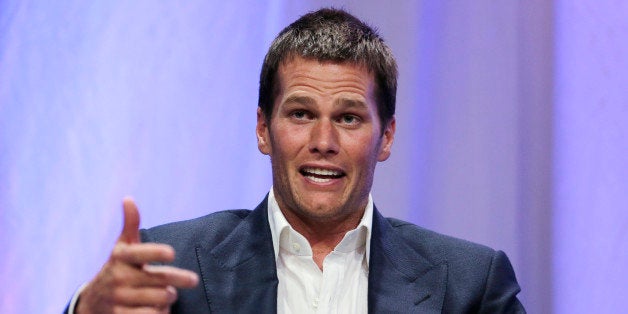 We all know the ruling from Mount Olympus: New England Patriots quarterback Tom Brady, the Adonis of the NFL, has been suspended for the first four games of the upcoming season. Pundits are falling all over themselves to proselytize antidotes for Brady's big humbling, the favorite being the ever-popular cure-all of "come clean/fess up."
The tactical reality is complicated and dependent upon Brady's strategic options, which include the following.

Option 1: Stonewall -- Brady maintains his innocence and appeals the suspension.

Outlook: So far, this one appears to be Brady's choice based on his agent's assertion that "this outcome was pre-determined; there was no fairness in the Wells investigation whatsoever." With this option, Brady's reps can keep speaking for him and put out a vanilla statement not unlike the ones his agent and Patriots owner Robert Kraft have already issued, focusing on the injustice of the suspension based on the circumstantial evidence in the Wells investigation.
Note: Smoking gun or not, most fans and media outside of the New England cocoon simply don't believe Brady's story and will keep calling him a cheater. With the stonewall, he can come back in four games (or a shorter sentence following his appeal) and do what he does: Win football games -- amidst a few more sarcastic signs in the stands, trash talk from opponents and snarky post game questions from the media.
If Brady stonewalls, he must do so mindful that there are two very angry and unemployed Patriots functionaries who are not enjoying their scapegoat status. They are unlikely to stand by as the icon Brady poses pristine. Besides, according to the Wells report, there are texts that implicate him. The days of paying top dollar for the silence of troublesome personnel are rapidly ending because even the best damage control teams can no longer prevent data-filled thumb drives from finding their way to investigative reporters.

Option 2: Begrudging acceptance -- Brady accepts the NFL's punishment but maintains his innocence.
Outlook: This has been the route that the Patriots have taken since Kraft put out his first statement following the Wells report release -- that while they disagree with the findings, they will accept the penalties that come with it. This approach puts Brady in the middle ground where an apology does not work because his position is that he did nothing wrong. Here, the less Brady says the better. A simple statement, either written or delivered in a sidebar with the press, will have to suffice because nothing he does will appease anybody. The pundits will tear him apart because that's their job.
Note: While Brady may get a dollop of credit for accepting his punishment with minimal complaint, Option 2 does nothing for his reputation and he will be forced to keep fielding questions related to the scandal.
Option 3: Confession -- Brady fesses up to a one-time mistake.
Outlook: If Brady is guilty of the charges and admits them, the proverbial sit-down with Oprah, a device that ceased to pay dividends 20 years ago, won't help much. He may attempt to take a page from Andy Pettitte, the New York Yankees pitcher who admitted to using the performance-enhancing drug, HGH, on a limited basis to help heal an elbow injury. Pettitte kept it short and simple and invoked a quasi-justifiable excuse, then continued his career with the Yankees. He held a brief, forgettable press conference and apologized to teammates and fans. Today, Pettitte's Wikipedia page includes a top-section blurb about "using human growth hormone to recover from an elbow injury in 2002," but it comes after listing his career achievements.
Note: Just because pundits want Brady to apologize doesn't mean they would applaud him if he did. Modern apologies are almost always savaged and provoke even more aggressive questioning. In this scenario, Brady would face questions of why he lied to reporters and fans in his awkward January press conference and, perhaps, to NFL-appointed investigators, his coach and owner.
There's no such thing as a PR stain remover. In the absence of a complete vindication, Deflategate will always be a part of Brady's biography. The best case is that this stain will become less visible over time and seen in the context of an extraordinary career containing even more wins.
Stuart Dezenhall contributed to this report.
Calling all HuffPost superfans!
Sign up for membership to become a founding member and help shape HuffPost's next chapter