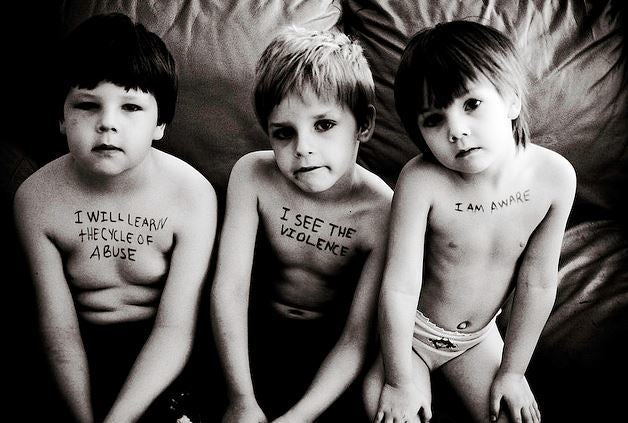 Are we not yet aware we have a problem with violence at home, at work, at school, and on dates? April was sexual violence awareness month and child abuse prevention month. October is domestic violence awareness month. February is teen dating violence awareness month. Attend an awareness event this year and you'll hear the same things that were said 20, 30, even 40 years ago. Perhaps it's time to talk less and do more.
Awareness campaigns have made great progress in changing societal attitudes toward problems like smoking and drunken driving but have proven far less effective against violence. Yes, we're glad that we are finally paying more attention to and openly discussing what we used to dismiss as "crimes of passion," or "private family business" — and Family Service Madison has been a partner in fostering those discussions — but bringing an end to violence requires more effort and more resources than mere conversation.
Family Service Madison is a leader in anti-violence therapy. Across the nation, similar programs struggle with recidivism rates averaging 30 percent or more, but at Family Service Madison the re-arrest rate for people completing our program in 2015 was just 1 percent (in 2014 it was only 4 percent). That's simply astounding. You'd think that society would happily fund programs that produce those kinds or results, but you'd be wrong.
Considering the costs of violence — the ripple that expands to hospital visits, jail time, police work, poverty, homelessness, lost productivity and more — each with its own cost to all of us —insurers, governments at all levels, charities, foundations and individuals should be eager to ensure effective counter-measures have the resources needed. As a practical matter, it's obvious. As a governmental and social matter, it's sensible. As a moral issue, it's an imperative.
So, why isn't it happening? Why do Medicaid and some insurers pay just over $11 an hour for anti-violence groups led by a master's-level, licensed therapist? (For comparison, Aldi's, a discount grocer, starts its staff at $12 per hour for running registers and stocking shelves.) Why do many insurers pay for only a fraction of the time and personnel required to perform this therapy most safely and effectively? Why do private and public pay sources refuse to pay for the time to complete the paperwork they require? Why are charities, foundations, churches, service clubs and others dedicated to doing social good not offering financial support to ensure that these successful programs continue?
Part of the answer to "why?" is found in our attitude toward people who engage in violence. We see them as bad people who deserve to be punished, not as regular people who have absorbed the wrong attitudes, values and ideas from our culture, and not as people who, with some help, can lead healthy, happy, productive and nonviolent lives.
Another part of the answer is that we mistakenly think helping victims heal is a sufficient response to violence. Imagine a bathtub that's overflowing and flooding the house. Imagine we all just grabbed mops and started to clean up the mess — but no one shut off the water. The water continues to flow and we continue to mop. So it is with violence: We clean up the mess, but we don't shut off the source. Until we do, the carnage and the costs will continue.
The absurdity is that domestic violence is 100 percent preventable. Violence is a choice we make, not a fate determined by our hormones or our DNA. That choice is often impulsive and inspired by what we've learned from the world in which we grew up. New lessons can be learned, impulses can be controlled, and healthy choices can be made — but it takes time, work, help, and money.
Yes, I realize I am raising awareness about the problem of over-reliance on raising awareness. The irony is something to contemplate while peering through the steam of our morning coffee.