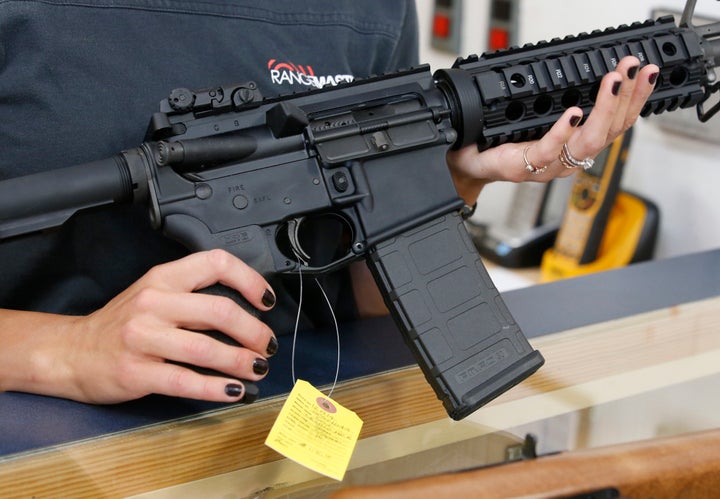 In the summer of 2016, we discovered that the United Way of Otero County, New Mexico was holding a firearms raffle that would put 108 firearms into this small rural community.  The prize list included a sniper rifle designed to shoot a person from a mile away as well as an AR-15 assault weapon ― the weapon used in the Sandy Hook massacre. 
As board members of the United Way of Santa Fe County, we urged United Way World Wide to put a stop to this firearms raffle as well as to the 13 other such raffles occurring throughout the country under the United Way brand. In 2017, we were relieved to see that United Way World Wide changed their licensing agreement to specifically not allow firearm raffles under their brand name.
Unhappy with this decision, United Way of Otero County separated from United Way World Wide and became Thrive in Southern New Mexico. In 2017-2018, they will begin raffling another 108 firearms including five AR-556/5.56 AR-15 assault weapons. Western True Value Hardware is helping sponsor the raffle. The AR-556 is the same firearm that the Texas shooter used in a mass shooting where 25 churchgoers were shot and killed, many of whom were children, in Sutherland Springs, Texas. The shooter spent some time in Otero County. This where he held a gun to his ex-wife's head on four different occasions and attempted to smuggle firearms onto the Holloman Air Force Base.
After the Las Vegas mass shooting, Thrive in Southern New Mexico suspended publicizing their raffle, acknowledging that it is difficult to advertise the sale of more firearms after mass shootings.  "We are trying to push them [firearms] when we can. You kind of have to walk a fine line when these things happen," says executive director Stephanie Hale.
The AR-15 has become the weapon of choice for mass shooters. And there is one simple reason — lethality. The bullet exits the muzzle at a rate three times faster than that of an average handgun and does not go directly through the body, instead it pulverizes flesh and organs as it travels along its path of bodily destruction. The loss of blood in so many areas makes survival improbable.
The retail value for an AR-556 is about $799.00. That is a lot of money in rural New Mexico. The winner can turn around and legally sell the gun on any street corner in New Mexico ― no questions asked. The reason — we do not have universal background checks for the sale of guns.
Thrive in Southern New Mexico expects to raise $200,000 from the ticket sales of their "Ultimate Firearms Raffle." The work that Thrive in Southern New Mexico does is truly admirable as seen in their financial support of local charities, such as youth groups and domestic violence prevention organizations. Yet, to support these groups through the distribution of 216 firearms on the streets of their community in the past two years is unconscionable and irresponsible. It is akin to selling cigarettes to raise money for lung cancer research. 
Their "Ultimate Firearms Raffle," also reflects the radical and dangerous position of normalizing the proliferation of assault weapons and firearms in our society.  New Mexico is a state riddled with gun violence.  In 2016, 401 people were shot and killed in New Mexico; 85 of those were children. Hundreds were injured.
The CEO of the local hospital in Otero County, Jim Heckert, is on the board of Thrive in Southern New Mexico. He knows the effects gun violence has on his community. The Gerald Champion Regional Medical Center that he heads has the only wound care unit in the area. Retired Police Chief Matt Flotte, who is also on the board, is well aware of how gun violence hurts a police force. He lost an officer during a shooting in 2016.
Peer-reviewed studies show that more guns do not make communities safer; more gun availability equals more gun deaths. New Mexico is the 13th worst state in the country in terms of people killed by guns. Helping local charities is a noble cause. But, let's not do this by putting more guns on our streets. 
Our suggestion... next year, how about raffling off free trips to Disneyland? It's the "happiest place on earth" and there are no guns allowed.
REAL LIFE. REAL NEWS. REAL VOICES.
Help us tell more of the stories that matter from voices that too often remain unheard.
BEFORE YOU GO