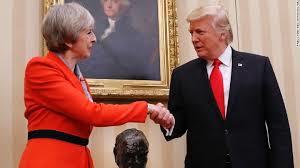 The news Wednesday: The president of the United States got into a fight with the leader of America's closest ally because he retweeted inflammatory and unverified anti-Muslim videos originally posted by a white supremacist group.
Go ahead, try to wrap your head around that sentence.
The first video shows a teenage boy — supposedly Muslim — punching and kicking another youth holding a crutch. A spokesperson for the local public prosecutor's office in the Netherlands said the attacker was arrested and prosecuted. And, she said, both boys are Dutch. The Washington embassy of Netherlands chided Trump on his favorite medium, Twitter: "Facts do matter. The perpetrator of the violent act in this video was born and raised in the Netherlands. He received and completed his sentence under Dutch law." No context nor explanation was provided for the other two videos, either by Trump nor the British group that originally posted them.
Facts may matter to Dutch officials, but apparently not to everyone. White House press secretary Sarah Huckabee Sanders defended Trump: "Whether it's a real video, the threat is real. That is what the president is talking about, that is what the president is focused on, is dealing with those real threats, and those are real no matter how you look at it." The White House press secretary obviously lives in the post-truth world of alternative facts as earlier outlined by Kellyanne Conway, a Trump adviser.
Britain, however, is like the Netherlands, and British Prime Minister Theresa May, who leads the Conservative Party, believes facts are critical. May denounced Trump for sharing material posted by Jayda Fransen, the deputy leader of Britain First, a group that endorsed Trump for president in 2016. "It is wrong for the president to have done this," May said. "Britain First seeks to divide communities by their use of hateful narratives that peddle lies and stoke tensions." (In a slightly comical sidelight to this sad tale, Trump responded but targeted the wrong @TheresaMay, who turned out to be Theresa May Scrivener, owner of a protected Twitter account with six followers.)
David Lammy, a Labour Party member of Parliament showed that Britons of all political persuasions agree on the impropriety of President Trump's behavior. "Trump sharing Britain First," he tweeted. "Let that sink in. The President of the United States is promoting a fascist, racist, extremist hate group whose leaders have been arrested and convicted. He is no ally or friend of ours." Trump's intemperate tweets have intensified opposition in the United Kingdom to his proposed — but unscheduled — state visit.
Trump's only defenders included the most unsavory characters. Fransen of Britain First tweeted: "Thanks for the retweets @realDonaldTrump." David Duke, former leader of the Ku Klux Klan, used Twitter to praise the president: "Thank God for Trump! That's why we love him!" And, right-wing provocateur Ann Coulter, who has criticized Trump for not building his promised wall, said, "I LOVE the president's tweets." With friends like these….
Trump's unhinged tweets were not his only recent outrages. Two days earlier, at a ceremony honoring Navajo code talkers, the president referred, not for the first time, to Senator Elizabeth Warren, a Massachusetts Democrat, as "Pocahontas." As if that were not bad enough, the ceremony was held under a portrait of President Andrew Jackson, notorious for his role in forcibly removing Native Americans from east of the Mississippi River. Recently, the president also defended accused child molester Roy Moore while quick to pile on Senator Al Franken, a Minnesota Democrat, and Matt Lauer, former host of NBC's "Today" show, for sexual misconduct. And, Trump fanned unsubstantiated rumors about other NBC executives and newspeople.
The president is off the rails. This is not new, but it is becoming worse. One White House staffer told The Washington Post, in reference to the anti-Muslim video tweets, "He got pretty fired up this morning. This was not planned." Other White House aides said the tweets were unexpected but not out of character, and they were unsure about defending their boss. Trump, of course, has a history of using Twitter to ignite incendiary controversies, such as his five-year crusade to prove President Barack Obama was born in Kenya.
The president seems to be inhabiting an alternative reality. He recently revived his doubts about the authenticity of Obama's birth certificate, keeps returning to the palpably erroneous belief that he lost the popular vote in 2016 only because of voter fraud, and now claims the voice on the "Access Hollywood" tape, in which he boasts of sexually abusing women and for which he apologized when the tape was released, is not his. The president seems to think he is immune to repercussions for his behavior. In Missouri Wednesday, Trump ostensibly was talking about taxes, but he also seemed to describe his own mindset. "Hey, look, I'm president," he said. "I don't care. I don't care anymore."
But, the rest of us should because fantasies and racist musings are intolerable in the leader of the world's most powerful nation. I have urged the following actions before, but I must renew the plea: It is time to demand that the president's cabinet consider invoking the 25th Amendment and remove a man unfit to hold the highest office in the land. Or, it is time for Republicans in Congress to put aside plans to enrich further the already very rich and begin impeachment proceedings against the president. Enough is enough!
Related
Popular in the Community