NEW YORK -- The darkened inside of Madison Square Garden lit up like a star-filled night sky on Thursday with the white glow of thousands of cell phones slowly swaying to the soft vocals of Enrique Iglesias' pop ballad "Hero."
It was an evening to remember for the Spanish superstar's fans -- especially "Joe from Brooklyn," a slightly flustered member of the audience whom Iglesias chose for an impromptu duet. Iglesias, 39, spoke to reporters before his set, sharing his thoughts on Pitbull, the nostalgia of being back at the Garden and the possibility of recording a song with his father, the legendary Julio Iglesias.

Nearly 20 years into his music career, and coming off a phenomenal year on the charts with hits like "Loco" and "Bailando" (the former with Romeo Santos, and the latter featuring Descemer Bueno and Gente de Zona), Iglesias said there was something "special" and "nostalgic" about performing at Madison Square Garden.
"It's the most famous arena in the world. You always get more nervous," said Iglesias, who first performed at the iconic venue in 1998. "At the same time, this morning I was thinking, and I told myself, 'You know, you have to have fun.' That's what's important. If you don't have a good time onstage, people are going to notice."
"I woke up and I had an email congratulating me," Iglesias said of hearing the news on Wednesday. "The Latin Grammys are a great honor. Unfortunately this year, for now, we have a concert in Europe planned [that night] ... I couldn't have imagined that we would be nominated."
"Bailando" has received four Latin Grammy nominations, including record of the year, song of the year, best urban performance and best urban song. When Iglesias was asked whether it was true that the wildly successful single had not been a favorite of his when he originally recorded it, the star clarified that nothing could be further from the truth.
"That's incorrect," Iglesias told reporters Thursday. "'Bailando' is a song that Descemer Bueno and I wrote around two years ago, but what happened was that it was as a demo. Descemer left for Cuba and later came back to Miami and recorded it with Gente de Zona, and everything started there."
Iglesias is currently touring in support of his latest album, "Sex And Love." The tour includes the star power of Miami rapper Pitbull, a guest on the album, as well as the up-and-coming Colombian reggaeton artist J Balvin.
It's not the first time Pitbull, aka "Mr. Worldwide" (and formerly "Mr. 305"), has hit the road with Iglesias, who says the two are intimate friends offstage.
"I haven't seen him naked yet," Iglesias joked. "But going on tour with Pitbull, [and] we've done so many tours together, is a pleasure ... We get along stupendously well and I think we're very clear on things. We know very well what we want and how we want to do it."
Iglesias began his set on Thursday with an energetic performance of "I'm A Freak" and worked his way through hits like "Bailamos," "El Perdedor," "Hero" and "Loco." For the finale, the singer was joined onstage by the Cuban group Gente De Zona and Descemer Bueno for the English-language version of "Bailando." Afterward, Pitbull and Iglesias closed off the night with "I Like It."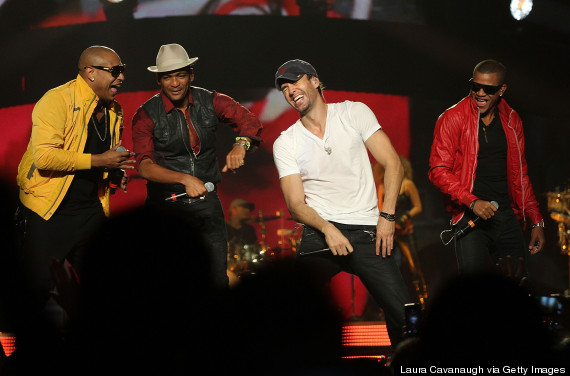 Enrique Iglesias performing with Gente De Zona and Descemer Bueno at Madison Square Garden.
One of the highlights of the evening was a candid duet with a fan from Brooklyn who gave his name as Joe. Iglesias made his way toward the back of the arena, saying that as a young kid he wondered why artists never tried to approach the fans all the way in the back during concerts. He then chose Joe, a heavyset fan with a Van Dyke beard, to sing with him.
After Iglesias made sure the Brooklynite wasn't driving home later, the two clinked glasses and Iglesias told the crowd he wanted to cover the Ben E. King classic "Stand By Me."
"My parents had just gotten divorced, and this is the song that got me through it," the star told fans, before turning to Joe for help.
A hesitant Joe began to sing along with Iglesias, until slowly the star left Joe alone on center stage. But nerves didn't get the best of the fan, who took the mic and continued to sing solo in a deep voice that carried well.
Fans cheered for the pair, but many had likely been hoping for a different kind of duet. For years, Iglesias has been expected to collaborate with his father, the legendary crooner Julio Iglesias.
"For me, a duet with my father would something truly special," Iglesias said on Thursday. "But also, I'd try to treat it the same way I treat all my collaborations that I do, and that's by focusing primarily on the song. I think in the [end] what people, the public and my fans deserve are good songs. Not just because you have two artists that are popular, or two artists that have had success in their genres, are you going to record a song. So what's important for me would be the song."
Iglesias and Pitbull will close out the week in New Jersey and Boston. The United States leg of the tour will end on October 28 in Orlando, Florida. On November 13, Iglesias will appear in Barcelona, Spain to kick off a European tour.
Before You Go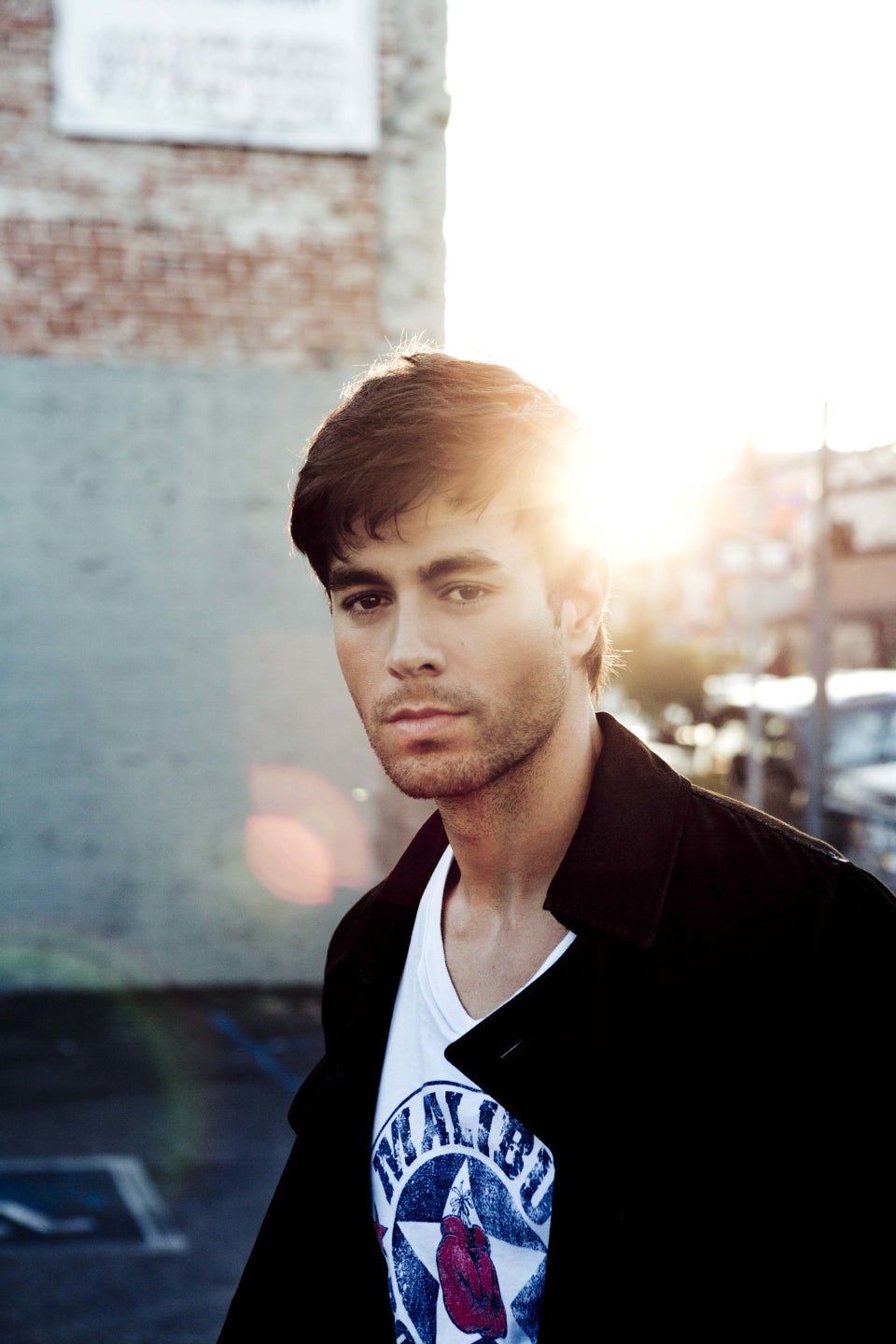 Enrique Iglesias
Popular in the Community