Enrique Marquez, who federal authorities said plotted terrorist attacks with one of the San Bernardino, California, killers and bought the assault rifles used in the slaughter of 14 people, was charged Thursday with conspiring to provide material support to terrorists. 
Marquez, 24, of Riverside, California, was a longtime friend and next-door neighbor to Syed Rizwan Farook, who, with his wife, Tashfeen Malik, led the massacre that also wounded 22, authorities said. Farook and Malik were killed in a gunfight with police hours after the Dec. 2 shooting rampage, leaving Marquez as the first person to be charged. 
Federal authorities accused Marquez of conspiring to provide material support ― including personnel, firearms and explosives ― to terrorists, making a false statement in connection with acquisition of firearms, and immigration fraud. He faces a maximum of 35 years in prison if convicted. 
The Department of Justice's 37-page criminal complaint against Marquez provides a detailed look at the former Walmart security guard, who authorities said was introduced to radical Islamic ideology by Farook. The two men plotted two mass killings in Southern California in 2011 and 2012, only to drift apart by the time Farook and Malik attacked a group of innocent people in San Bernardino.
Here's what we know about Marquez from the federal complaint:
Marquez and Farook were close friends
About 10 years ago, Marquez moved to Riverside, next door to Farook. The two forged a fast friendship and Farook introduced his friend to Islam. Marquez told investigators he began to pray frequently at Farook's residence and the two would regularly discuss their faith. 
Four years later, Farook began to discuss more extreme views. By 2010, Marquez had listened to "The Hereafter," a lecture series by Anwar al-Awlaki, a U.S.-born al Qaeda cleric later killed in a drone strike in Yemen. Marquez said he also began studying the ideas of Imran Hosein, an Islamic scholar who advocated living in Muslim communes ruled by Sharia. Farook shared additional radical Islamic videos, texts and audio lectures with his friend. Marquez reported spending "most of his time" at Farook's residence by 2011.
Later that year, Farook revealed to Marquez that he wanted to join al Qaeda's affiliate in Yemen. 
Marquez and Farook planned multiple attacks in California
By late 2011, the pair were considering attacks on Southern California using firearms and explosives.
Marquez told investigators they plotted to "maximize the number of casualties that could be inflicted," according to the complaint. Marquez and Farook planned to attack Riverside City College, where both men had previously been students, and freeway motorists during rush hour. 
At the community college, Marquez said they discussed attacking the library or cafeteria. They would throw pipe bombs into the cafeteria area from the second floor, to maximize the death toll, and would position themselves so that they could escape and conduct another attack elsewhere.
Marquez showed investigators exactly where he and Farook had planned to attack motorists on the State Route 91 freeway, according to the complaint. They chose the location because of its "lack of exits" they thought would increase the number of rush-hour targets.
Marquez would go to the hills south of the freeway as a lookout, according to the Justice Department account. Farook would begin the attack by throwing pipe bombs into the eastbound lanes, stopping traffic. Then he would walk along the stopped vehicles, killing motorists with his rifle. Marquez would open fire from the hill. He told investigators his "priority" was to shoot arriving law enforcement officers before emergency responders. 
Marquez and Farook bought weapons and explosives in preparation for attacks
Around October 2011, Marquez and Farook discussed the weapons they would need for their plots. Marquez said they decided he should buy the firearms because he looked white, and Farook looked Middle-Eastern. That way, it "would draw less attention to their plans."
Marquez legally purchased a Smith and Wesson M&P-15 Sport rifle and a DPMS model A-15 rifle, each costing about $750. The two assault-style rifles were used in the San Bernardino attack, police have said.
About a year after they began assembling their arsenal, Marquez told law enforcers that he bought a container of smokeless powder "to create bombs and commit mass killings," according to the complaint. That bottle of powder was recovered from Farook's residence after the San Bernardino shooting.
They practiced and trained for mass shootings
Marquez told authorities that in early 2012, he and Farook continued to discuss radical Islamic ideologies. Marquez said he reviewed "radical online content," according to the affidavit. 
The men made "multiple" trips to gun ranges in order to "practice shooting and train for terrorist attacks," Marquez was quoted as saying.
Marquez said he and Farook discussed the construction of improvised explosive devices and reviewed bomb-making instructions in "Inspire," an online magazine reportedly published by al Qaeda.
Marquez distanced himself from Farook
According to the complaint, Marquez began to distance himself from Farook in 2012 "for a variety of reasons," including the arrest of two Southern California men in a foiled terrorist plot. Both men were later sentenced to 25 years in federal prison for plotting to travel to Afghanistan, join al Qaeda and kill Americans.
Marquez talks terror on Facebook
About a month before the San Bernardino shootings, Marquez discussed his life with a friend on Facebook. 
"No one really knows me," Marquez wrote to the unidentified friend. "I lead multiple lives and I'm wondering when it's all going to collapse on m[e]. Involved in terrorist plots, drugs, antisocial behavior, marriage, might go to prison for fraud, etc." 
Marquez called 911 hours after the rampage in San Bernardino. He told a police dispatcher his neighbor "did the San Bernardino shooting."
"He was the shooter," Marquez repeated. "The fucking asshole used my gun in the shooting. ... It's Syed Farook."
Later that day, Marquez checked himself into a hospital, where medical personal said he appeared "very anxious and emotional." He was referred to the psychiatric ward and involuntarily committed.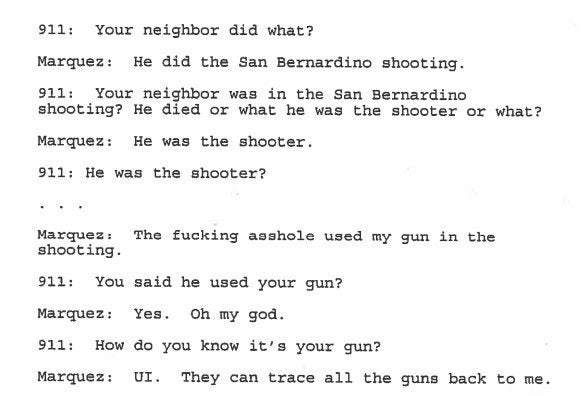 Marquez's marriage was immigration fraud, according to the charges
Marquez married a member of Farook's extended family -- a Russian woman who is not identified in the complaint -- in return for $200 a month so she could obtain legal status in the U.S., according to the complaint, which calls the arrangement a "sham marriage."
PHOTO GALLERY
San Bernardino Shooting Photos
Calling all HuffPost superfans!
Sign up for membership to become a founding member and help shape HuffPost's next chapter