With a huge uninsured population, and a legislature that refuses to carry out the Affordable Care Act (ACA), Florida has been a focus of national efforts to promote enrollment in the ACA's federal health insurance exchange. A few days before the exchange opened, I spoke with Nick Duran, Florida State Director of Enroll America, which has led an effort to inform Floridians about the exchange.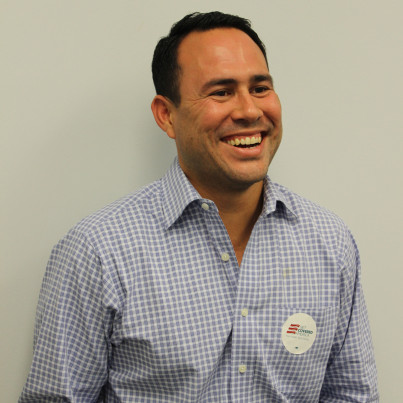 What is Enroll America's role in getting people to sign up for health care coverage?
We're a nonprofit with the goal of maximizing the number of uninsured people who enroll in the insurance marketplace. Our focus is general awareness about the marketplace. We want people to know about their options. We provide an enormous amount of education. In Florida, that has included handing out information at (pharmacies such as) Navarro, CVS, and other locations. We let people know there are a website and a navigator who is trained to help them.
What exactly does a navigator do?
Their job is to help families go into the marketplace to understand their coverage options and ultimately to allow those families be empowered to decide what fits with their lifestyle and budget.
It should be noted that Enroll America volunteers are not navigators; we refer to navigators. Navigators receive federal funding. Before receiving this funding, groups submit proposals for how they would like to reach into communities. Their staff has to submit themselves to 20 hours of training that includes privacy training, and they have to pass a test in order to become certified. Because of Florida statutes, they have to register with the state and be fingerprinted.

How many people has Enroll America reached?
Since we launched June 20th, we've trained hundreds of volunteers. Our goal is to engage and activate thousands of volunteers throughout the state to help us reach the uninsured. All volunteers undergo certification training. Our staff reflects the community in which they volunteer -- we have Spanish-speaking staff, Portuguese-speaking staff, Kreyol-speaking staff. We know South Miami Dade is very different from North Dade. We're striving to reach as many people as possible.
What response have your canvassers received?
The initial reaction is, "What are you trying to sell me?" Then they realize that we're there to give them information. People are thirsty for information. These conversations are extending themselves into, "how is this going to affect my life and my family's life October first?" People want to know what they're getting, what they'll be paying, what sort of coverage they'll be getting.
What messages are you trying to get out to people?
Just the facts. We want people to know the facts about what they can expect to get -- essential benefits such as coverage for emergency care, doctor visits, mental health care, prescriptions, maternity care. They won't be denied coverage because of pre-existing conditions, and financial assistance might be available. We want people to know that the law is in place. For the first time, millions of Americans will be able to go home at night and realize they are much more secure financially.
Between October 1 and December 15, if you enroll your coverage will start January 1. If you enroll December 16, it will start February 1. The enrollment period will end March 30th. If you had a life-changing event such as losing a job and no longer have coverage, there are exceptions allowing enrollment after March 30. Otherwise you will have to wait until October 1 of next year.
We're focusing on speaking with women, since women are usually the decider in the household.
Have you encountered any misperceptions? What barriers have you faced to communicating your message?
Some people believe Obamacare is a specific health care plan and they don't realize it's created a marketplace. The main barrier is that there's not enough time, not enough hours in the day, and a lot of people are unaware. We are working really hard to let those people know. This is a marathon, not a sprint.
Florida has rejected the Medicaid expansion that would cover people who don't earn enough to qualify for a subsidy to help them purchase insurance. What are you saying to people who might fall into that gap?
We are trying to speak to everybody. If they have children, the children may qualify. We want everyone to be empowered to understand what coverage options are available.
What about the digital divide? Are you encountering any people who lack easy access to the internet?
Our volunteers aren't using computers, they're using the old campaign-style clipboards. We are telling people that you are going to be able to access the marketplace several different ways -- by phone, in person, and online. Our organizers are also trying to get people online at public libraries and community colleges.
Popular in the Community