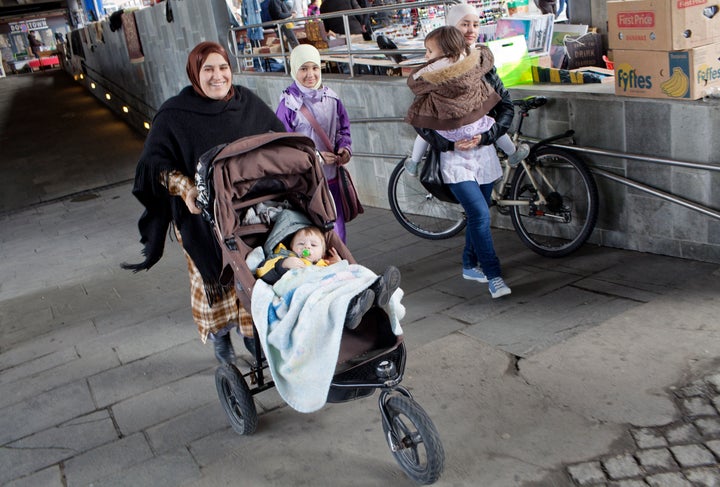 Today is International Day of Families, a day recognized each year by the United Nations' Division for Social Policy and Development (DSPD). As a single working mom living abroad, this year's theme of "ensuring work-family balance" really resonated with me.
According to the DSPD, supporting initiatives that promote reconciliation of work and care responsibilities for families, especially those with young children, is becoming an important family policy goal. Work-family balance lies at the core of the family's ability to provide economically and emotionally for its members.
This got me thinking about how work-family balance in the Middle East is truly a family-owned endeavor, and a notion that is so deeply rooted in society that it's hard to imagine how maintaining that balance can be challenging for other countries.
Having lived and worked on and off in the Arab world for 15 years, I've become familiar and envious of a work-life balance that seems to come so naturally despite the seemingly traditional roles that are often present in this society.
For example, when I first started working here, I was surprised by how quickly my colleagues would leave the office at the close of the business day. Typically, working women in the Arab world promptly leave the office to gather their children from relatives' homes or day care centers -- which rarely stay open past 4 p.m. Once home, they begin preparations for the large, afternoon lunch, while the men typically occupy the children, perhaps bringing them to the grocery store to pick up a few forgotten items, or helping them with homework.
Evenings in the Arab world are spent busily looking after the well-being of extended families and friends: running errands for an ill family member, hosting friends who come to the house to celebrate a promotion, or simply hanging out in a café trading stories of the latest events that touch their lives.
Prior to moving to the West Bank, I found myself working the typical long hours in the evenings, trying to stay atop happenings half a world away, and blaming differing time zones as the reason I filled up all these evenings with work. I always felt a bit guilty for having to leave at a certain time every day to pick up my son from daycare.
But as I observed how effortlessly my Middle Eastern colleagues divided their work and family life, I found myself wanting to replicate their habits. As time went on, the beauty of the Arab social life became clearer and I relished leaving the office along with them, guilt free, to pick up my son.
Now, I often head out shortly after the official end of the workday, perhaps to pay a social visit to a friend who I know is undergoing an especially stressful time in her life. I've learned the social practice of visiting friends before and after traveling, ensuring that I stock up on plenty of chocolates to distribute as gifts upon my return. Now, I will stop by a friend's house just to hang out in her kitchen while we catch up on the news in person. And I will gladly pay the obligatory in-person visits when a new wedding or new baby requires a congratulatory sign of affection.
I've learned that having a bustling life outside of work keeps me both a more productive worker at the office, and a happier mother at home.
However, it cannot be overlooked that social dynamics are changing in the Arab world, albeit slowly. As families move to other countries in the region, seeking employment, they lose the day to day support and contact with each other. Young men and women who have experienced independent lives abroad return to their homes in the region, seeking a balance between continuing to enjoy their independence while maintaining those connections to the culture in which they grew up.
In some cases, economics force groups of young, single workers to spend their weekdays living together in pseudo-college dorm situations in larger urban centers where they work, only to return to their villages on the weekends to ensure they are maintaining obligations to the larger family. It is a palpable shift and I begin to wonder if this is the beginning of the erosion of the natural work-life balance I've grown to appreciate.
Still, I have admired for a long time how many in the Arab world, living with restrictions in movement and freedoms, could be so happy. From what I witness of their daily lives, that happiness is rooted in the equal importance most place on pursuing a career that fulfills them, while still prioritizing social time. I know that in many instances the ability to find that balance is a luxury, and the need for family policies that promote affordable, quality childcare, flexible working opportunities, gender equalities and more around the world is great. But on this International Day of Families, I look to my friends and colleagues for inspiration, and hope others will do the same.
Related
Popular in the Community