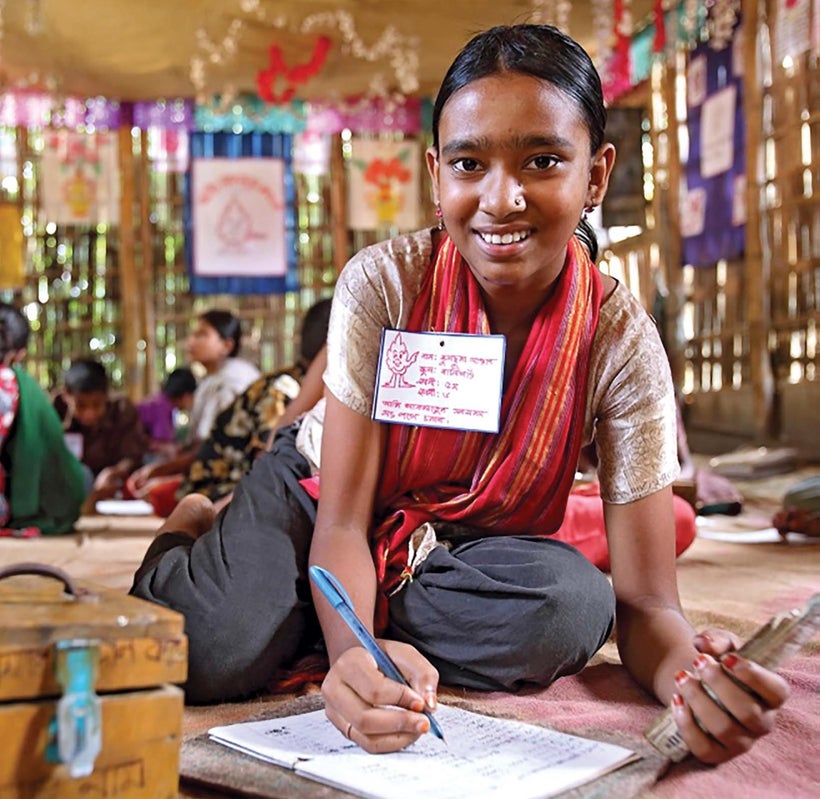 Meet Maria. She is 15 years old and lives in the capital of the Philippines, Manila. Maria is a sex-worker. One day, on her way back from school in her hometown Davao, a young man approached her with a job offer to work in the kitchen of a restaurant after school hours. She was lured into this job with the dream of a good life for her and her family. Before she knew it, she was forced to do more than cleaning the dishes. When she tried to quit, he took her to Manila.
Meet Rasheed. The 17-year-old used to be the cricket star of his primary school in Dharamshala, India. Everybody loved him. He was offered a scholarship at a special secondary school in Delhi for children talented in sports. Nine months ago, he broke his arm in a traffic accident on his way to school and has never been able to bowl a perfect pitch again. Cricket was his life; he now feels directionless. He doesn't want to go back to his poor family in his hometown in Himachal Pradesh. In order to survive in Delhi, he runs errands for a small restaurant for a daily wage of US$ 0.90 and a sleeping place in the kitchen.
Meet Mustapha. He is a 16 year old talented student from Sétif, Algeria. Classes come 'natural' to him. In fact, Mustapha has been quite bored at his secondary school and doesn't have to spend much time on his homework. One of the new imam's in the local mosque noticed him and asked him to join a new youth group. Mustapha was keen to participate as he gets money for attending. Most of the other group members are older than Mustapha and some have travelled to Libya to fight. He doesn't really want to follow them, but what can he do, he already used the money he received to buy a PlayStation and needs to settle his debts. His plan is to cross the Mediterranean Sea and 'escape' to Europe.
Meet Theresa. Unlike other girls in her village, the 14-year-old continued her education after primary school as her father sent her to an aunt in Makeni, Sierra Leone, to attend secondary school. Most of the other girls were not allowed to continue their education, because their parents feared they would become pregnant. The daily travel to and from school outside the village was considered too risky. Maybe they were right. Theresa is three months pregnant now. She doesn't know how to tell her parents as she will be forced to marry the man who impregnated her. She doesn't love him, but agreed for sex in exchange for money to buy nice clothes. What could she do?
Meet Diego. He is 15 years old and lives in Rocinha, a favela in Rio de Janeiro, Brazil. His mother says he has 'wrong' friends. Diego is increasingly skipping classes. Last night she found five bullets under his matrass. His friends asked him to keep them there. Diego is an aspirant gang member of the 'bulls'. He actually likes mathematics, but doesn't see the point of going to school. His mother works 16 hours a day doing two jobs and is never at home. Every night they quarrel when she asks him to think about his future. He doesn't realise how much he is hurting her by saying he doesn't want a future like hers.
Maria, Rasheed, Mustapha, Theresa and Diego face some of the biggest child protection challenges and societal problems of the 21st century: child labour, teenage pregnancy, child marriage, youth unemployment, radicalisation, violence, abuse and child poverty. While they are from different countries and contexts, they have some things in common. First, they all have completed their primary school and continued on to secondary education. They were fortunate enough to have teachers who were able to teach them basic literacy skills. All five can read and write reasonably well, but also show ambition and talent. In fact, two of them had straight 'A's most of the time. Sadly these children lacked skills and resilience that could help them make informed decisions about their future and be able to make a positive change in their and their families' lives.
Decades of empirical evidence support the positive associations between educational attainment and development outcomes urging for bigger investments. Education is the most important investment for a child, family, community and an entire country. So what went wrong for these youngsters? Why are these children and so many of their peers not succeeding?
First of all, these children are growing up in societies with sub-standard child protection systems and the parents of these children have never been empowered to provide the support and guidance their children so urgently need. However, there is another important commonality among these children. While they learned to read and write, nobody equipped them with skills that could have helped them make informed decisions about their future and to successfully navigate the transition to adulthood or the workforce. There is a huge gap between the education delivered and the social and financial skills required to address the challenging environments these children grow up in.
In the coming decade, eight out of every ten adolescents who complete or drop out of education will have to find employment in the informal sector. As we see in the case of the examples, working in such conditions is more likely to perpetuate poverty, financial instability and shortened life expectancy rather than develop sustainable and meaningful livelihoods.
The Sustainable Development Goals have given an extra boost to the education sector. The core of preparing children for the 21st century means they can read, write, and have numeracy skills, but of equal importance is the urgent need to gain skills to get along and get ahead in life. As soon as children can read they need to learn to become economic citizens; they need to be equipped with a wider range of social, emotional and cognitive skills to thrive in an increasingly complex and interconnected world.
Ministries of Education around the world, development agencies and global partnerships have been putting tireless efforts on improving access to quality education. But many of them admit their inability to cope beyond early reading and basic numeracy. In addition, most Ministries of Education are already dealing with overstretched curricula which they would rather see being reduced in content than expanded. The quality of teacher-force complicates matters further. International Development partners continue to ring the alarm bells; they have not enough funds for their efforts on early learning.
The concept of global citizenship education has been given increasing importance and is part of the UN Secretary-General's Global Education First Initiative (GEFI). The Sustainable Development Goals also mention it when discussing sustainable development, sustainable lifestyles, 21st century education, etc. However, it remains an afterthought and a mixed bag of different related concepts by different constituencies. The fact that the concept is hard to measure further complicates the matter. It's time to get serious.
The importance of skills, knowledge, values and attitudes, which enable children and young people to tackle basic socio-economic needs in order to participate effectively in the sustainable development of their communities, has to be a priority. Leveraging education to facilitate this transformation is crucial. But, education must go beyond literacy and numeracy to include the right ingredients for a successful future. Economic citizenship education provides critical life skills that will prepare them for independence, autonomy and social responsibility.
If we really want to address the challenges children like Maria, Rasheed, Mustapha, Theresa and Diego and their peers face and negatively affect entire societies, we cannot expect the education sector to do this alone. This becomes everyone's business. If we really want to be serious about issues like child labour, teenage pregnancy, child marriage, youth unemployment, radicalisation, violence and child poverty, there is a need for active engagement and investments from Central Banks, Ministries of Economic Affairs, Social Affairs and Health, but also National Security Agencies, Ministries of Defence, and the private sector. They all have a role to play, and they are all actors who will immediately benefit from an integrated approach to socially and financially empower children. Some of them are currently doing their bit, but there needs to be harmonisation of the fragmented structures. With a coordinated approach and combined resources, strategies can be sharpened, funding can be enhanced, and progress accelerated.
In the meantime, Ministries of Education should take the initiative to integrate social and financial components in basic subjects like reading and mathematics. New curricula should be seen as an opportunity to strengthen the overall quality of education in countries, especially the teacher capacity, by building active learning methodologies, which are integrated into the concept of social and financial education.
21st century education should be a top priority for policy makers and decision makers around the world. International actors should understand the importance of raising a financially literate and socially responsible generation, giving them the tools to become empowered economic citizens. While early reading is the foundation for any education, it is just not enough to prepare children to make a positive contribution. To address global challenges today, a combination of financial, social and life skills education should be an integral part of any education strategy that aims to achieve the SDGs. So that Maria, Rasheed, Mustapha, Theresa, Diego and their peers have the social and financial skills they so urgently require. We need to stop failing them.
Empowering children and young people is everyone's business.
REAL LIFE. REAL NEWS. REAL VOICES.
Help us tell more of the stories that matter from voices that too often remain unheard.
This post was published on the now-closed HuffPost Contributor platform. Contributors control their own work and posted freely to our site. If you need to flag this entry as abusive,
send us an email
.