This week, I will be attending the World Trade Organization's Public Forum in Geneva, which brings together policymakers, business leaders, civil society representatives, academics and many others to discuss the issue of trade, who gets included in its benefits, and who gets left out.
This debate is not one that's happening only at the WTO. It is at the center of attention in many countries.
From my vantage point as the Senior Director responsible for trade and competitiveness at the World Bank Group, and as the former Minister of Trade in Costa Rica, I believe that the debate needs to look at inclusion in two different, if complementary, ways.
The first is in terms of countries in the international economy. Which countries are participating in trade, how has this changed, and what lies ahead? Here, the pattern in recent decades has been overwhelmingly positive. Developing countries have strengthened their participation in the global economy significantly. Since 2000 alone, the developing country share of world trade has grown from roughly one third to 50% of global trade. This inclusion of developing countries in the international economy has been a powerful driver of poverty reduction, helping lift hundreds of millions of people out of poverty. Still, low-income countries, with a combined population of more than 600 million people, many of whom live in extreme poverty, face trade costs that are on average around three times higher than those faced by advanced economies. Addressing this gap is essential for including low-income countries more in global trade and maximizing its benefits.
We also need to look at inclusion in terms of people and groups within countries. Who are the people within countries included in the benefits of trade? Who risks being excluded and where are negative impacts felt? The benefits of trade integration tend to be widely dispersed (for example, through reduced prices to consumers on imported goods) while the costs for specific industries or groups tend to be more visible. Efforts are needed to ensure these groups are included in the wider benefits of trade, rather than being left out. This is at the heart of the debate in advanced economies where discussions focus on whether those with lower incomes or doing lower skilled work are experiencing the benefits of open trade. Here, it is important to pay attention not just to trade policies, but to complementary policies in areas like re-skilling workers or developing the wider education system.
As well as looking at the risk of exclusion, it is also important to look at ways of actively connecting more people to the benefits of trade. This week's Public Forum will look at three specific themes of great importance: gender inequality; technology and e-trade; and SMEs (small and medium enterprises). Policies in each of these areas are highly relevant in making trade as inclusive as possible - both in terms of bringing countries into the trading system; and in connecting as many people as possible to trade opportunities.
Women face different challenges to men in benefiting from trade. Trade can bring strong positive impacts for women. Globally, research suggests that export-oriented firms employ more women than firms not oriented towards trade. In many developing countries, economic shifts brought about by trade have helped create new jobs for women: for example, garment workers in Lesotho or business process outsourcing workers in India. But, while the opportunities are clear, gender inequality continues to pose real challenges for women in being fully included in the benefits of trade. For example, the exclusion of women from male-dominated business networks for certain products in Africa means they receive lower returns than men do when selling the same goods.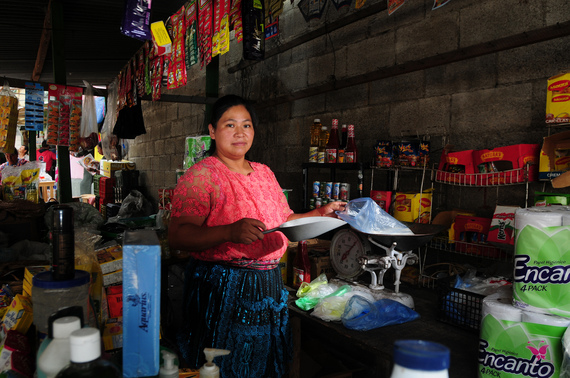 Photo: A woman tends her shop in a market in Guatemala City, Guatemala. Maria Fleischmann / World Bank

Another critical issue for inclusion is how SMEs participate in international trade. Although SMEs make up the bulk of employment in most economies, they tend not to engage directly in trade. Including them more in trade involves efforts on two tracks: lowering the costs of trade through improved transparency, better use of technology, and streamlined regulations so that SMEs can participate in trade directly as exporters and importers; but also looking at ways to boost the linkages between SMEs and large firms that engage in trade directly. In developing countries, many SMEs operate in the informal sector, so wider economic reform to promote their formalization is also needed.
The digital economy is having a powerful effect on trade. The global "digital divide" means that many people are still not connected to the Internet or communications networks - overcoming this is essential in harnessing technology to include more people in trade. When basic connectivity can be improved, technology is a powerful force for lowering the cost of trade - including for groups like women and small firms that are especially affected by trade costs.
Each of these three themes - gender equality; SMEs; and the digital economy - are important for both aspects of inclusion. Tackling the barriers faced in each of these areas will not only help bring more countries into global trade, narrowing the gap of trade costs between low-income and advanced economies; it will also help include a wider range of people in the benefits of trade.