Cecily Wanyaga, an HIV-positive mother and fruit vender from Evurore, Kenya, clearly understood the potential risks of having another child given her compromised health status, but thankfully, she also knew exactly what she could do to prevent the transmission of this deadly virus to her newborn.
Cecily is one of 50 community health workers from Evurore who were educated about preventing mother-to-child transmission (PMTCT) of HIV, a safe and effective intervention used throughout the world to stop the spread of the virus from mothers to their unborn children and infants. The community health workers learned about PMTCT through a course sponsored by the U.S. Agency for International Development (USAID)-funded and Jhpiego-led APHIAplus KAMILI project, a five-year integrated health service delivery initiative in Kenya's Eastern and Central Provinces.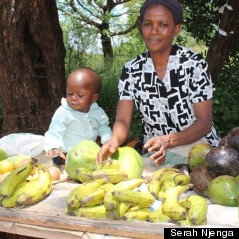 Cecily and her son, Ian, working at her fruits stall just outside a Kenyan hospital.
The course not only educated Cecily on what she can do to keep herself and her unborn child healthy, but it also gave her the confidence and knowledge she needed to educate others in her community about the importance of prenatal care, drug adherence, exclusive breastfeeding and maintaining a healthy lifestyle to prevent transmission of HIV from mother to child. Cecily's son Ian is two years old now. He has gone for three HIV tests--at six weeks, nine months and 19 months--and all of them were negative.
Through the combined efforts of many, and with incredible support from the President's Emergency Plan for AIDS Relief (PEPFAR), U.S. Secretary of State John Kerry was recently able to announce that since PEPFAR began 10 years ago, 1 million babies born to HIV-positive mothers are free of the disease. This is a remarkable accomplishment, one that could only have been dreamt of a few short years ago. And it is a direct result of the global community having the tools, knowledge and support to virtually eliminate pediatric HIV.
We in the global health community know what works--promoting and integrating proven interventions into maternal care and helping HIV-positive women give birth to healthy, HIV-free babies. However, keeping these women engaged in their own health has often been a challenge in meeting the 2015 Millennium Development Goals (MDGs) established to combat HIV/AIDS and create more beginnings like Ian's.
Mothers like Cecily are among the best emissaries for promoting these lifesaving interventions. As a community health worker, Cecily goes from house to house, visiting close to 100 people every month. She provides health education on home-based care for HIV, PMTCT, healthy behaviors as well as referrals to local health facilities. When she has the chance to speak in churches or before youth groups, Cecily shares her own personal experience.
Once Cecily and her husband decided that they wanted to try to have another child, she diligently followed good nutrition, stayed on her medication, attended all of her prenatal appointments, and gave birth at the local hospital with a skilled birth attendant.
"People living with HIV can identify with me--that helps to convince them to return to care and treatment," she said, adding proudly that so far she has convinced three HIV-positive women to get prenatal care and give birth at the hospital instead of at home. All three women delivered HIV-free children.
To date, the APHIAplus KAMILI project in Kenya has helped bring the number of health facilities offering PMTCT services to 400, reducing the mother-to-child transmission rate in the targeted regions to 8%. This compared to a 35-40% infant infection rate had there been no PMTCT services available. This means that hundreds of newborns, just like Ian, are being given a healthy start in life, free from this opportunistic virus.
Jhpiego's work in Angola, Ethiopia, Zambia, Nigeria and Mozambique is producing similar gains.
While we all can agree this news is worth celebrating, there is still much more to be done to reach the MDGs established for HIV/AIDS by 2015. Despite a 24% drop in new pediatric HIV cases, 900 children are still being infected with the virus every day. This is in addition to over 7 million HIV-positive people, including many pregnant women, who still lack access to lifesaving antiretroviral therapy (ART).
We must encourage all countries to provide ART and comprehensive, quality maternal care--from the prenatal period through to cessation of breastfeeding--for women living with HIV, including ART, to ensure they live long, healthy lives so they can raise their HIV-free children. We must marshal community health workers to track and support HIV-positive pregnant women after they give birth to HIV-free babies to ensure they are doing all that they must to keep themselves and their children healthy. The most critical time for these families is after birth and during breastfeeding, when adherence to ART is essential. Robust follow-up will ensure no one is left behind.
By expanding access to voluntary medical male circumcision, increasing HIV testing, counseling and antiretroviral treatment in the regions and for the populations in greatest need, an AIDS-free generation won't just be the hope. It will be the reality.
This post is part of a series produced by The Huffington Post and the NGO alliance InterAction around the United Nations General Assembly's 68th session and its general debate on the Millennium Development Goals (MDGs), "Post-2015 Development Agenda: Setting the Stage" (September 24-October 2, 2013). The session will feature world leaders discussing progress made on the MDGs and what should replace them when they expire in 2015. To read all the posts in the series, click here; to follow the conversation on Twitter, find the hashtag #No1Behind. For more information about InterAction, click here.
Related
Popular in the Community