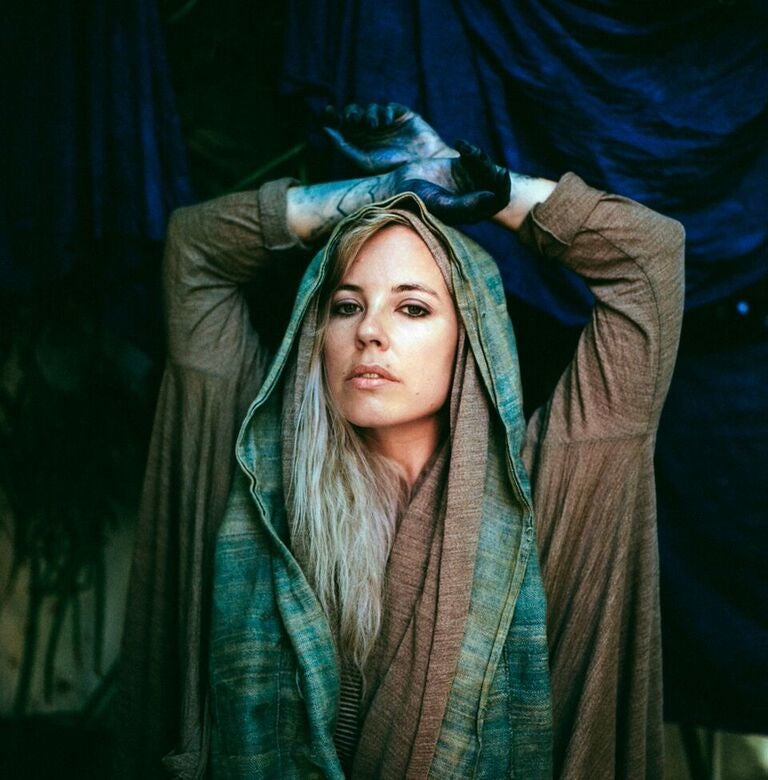 "It really wasn't up to me – it was a very loud message coming from a bigger place that thankfully I listened to," Toronto-native Robin Hercia shares of her move to Los Angeles four years ago. She has since founded AWMYL Design Studio, partnering closely with her clients (largely in wellness, yoga, mysticism and healing) to shape uniquely dynamic brand identities. As the artistic leader on a varied range of projects – from creating calligraphy by hand for a heavy metal themed diner to designing a unique set of flyers for a tarot reader who has worked with the Grateful Dead and Janis Jolin - Hercia utilizes an assortment of earthly and digital tools to create distinct and alluring worlds.  
Indigo, charcoal, cochineal (dead bugs) – Hercia uses what she can get her hands on from the earth to make her own inks.  Although her clients may vary, the fascinating results of her work are imbued with her own personal touch, one that takes into account the individuality of each project – lending it an artistically vibrant mood conducive to the world of each brand. We recently spoke with Hercia about her move to L.A. after a trip to Burning Man, her work, and what she listens to while weaving her creative spells.
Where are you right now? Are you in your studio?
Yes. I've been here most of the time for the last year. Unless I'm sleeping.  Seriously, nobody's really seen me in that time.
How long have you been living in Los Angeles and what took you there?
I came here on a trip with a girl friend of mine – we were having a crazy fun summer and we decided to fly down here to go to Burning Man.
The magic of the whole thing really brewed the day prior to our departure. I was moving into a new apartment in Toronto after a recent breakup but was left outside with a truck full of my stuff on a perfectly sunny day because they didn't want my harmless little dog in the building. The man actually asked me if I didn't have some family member I could give the dog to. The building was full of cats but they didn't want a dog. So at the spur of the moment I had to find somewhere to stash everything I owned.
On the plane, my friend and I played with our crystals. After meeting another friend flying in from Sydney at LAX, we were en-route to the place where we were staying and even though we were in a totally unglamorous stretch of La Cienega, I turned to my friends and said, "You know what guys? I'm not going to go back."  They thought I was exaggerating. Word got around our camp at Burning Man – and it was the most far out thing anybody had heard of. People were demanding answers of me that I didn't have – "What are you going to do?" "So, what's your plan?"  
Do you feel that your time in the States has had an impact on the evolution of your work?
Absolutely. I wanted to be a designer since I was a kid. I had an amazing childhood rich with experiences in Northern Ontario that I'm now so incredibly grateful for. But after trying out a few Canadian cities and studying design a few times post-secondary I was never able to start a creative career.  
There was also a lot of personal growth that I had to go through in order to be where I am now. When I moved here I had no agenda. I didn't know anybody. It was just Margot (my dog) and I in a totally crazy cabin at the top of a hill in a forest in Laurel Canyon. This city is culturally and geographically an extremely different place than the one I came from. It is incredibly stimulating and I used it to shape myself into the person I always wanted to be. Everything is here – this city is so layered and there are so many secrets.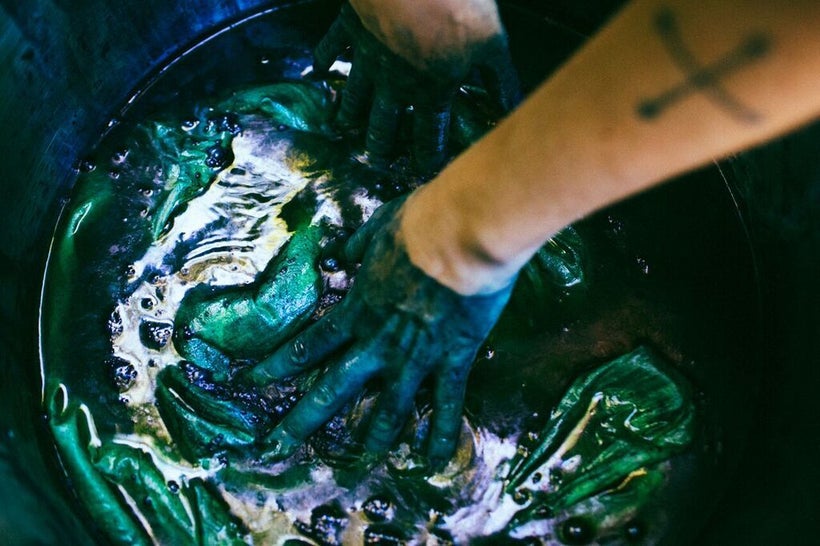 Can you take me back to some of your earliest memories involving creation? What were the first stimulants within your creative universe?
I was an only child in a very strict household. My parents tragically lost their two daughters in a fire the year before I was born, so they understandably kept me extraordinarily safe. Which as a kid meant extensively exploring all the things that were in our house. I remember finding Letraset and Chartpak catalogs and tracing the letters, reinventing them a little and giving them designs so they'd work together.
I was always making things, painting things, gluing things. I stuck all sorts of things to the walls of my bedroom, arranging them meticulously. At one point I rearranged the furniture in my room weekly. My bedroom was my universe and when I was older and other kids came over for sleepovers, they were amazed.
 What made you start your own design studio?
I spent my 20's working for other people. I wasn't fulfilled and I always knew I needed the challenge of creating my own thing. When I finally landed here in L.A.  after a lot of self-exploration, I looked around at all the really cool creative companies here and couldn't really figure how to fit in. It made more sense to do my own thing and then let my things fit into the world at large.
What I like is that you are not just helping to create a brand but you are someone who creates a mood, a real sense of connection with your clients, a vibe. How do you decide who you will work with?
My clients all somehow find me – some of them are personal connections and others just show up. The common thread is that they're always people who are doing something I really dig – which for the most part means they're creating something that involves looking beyond the veil of regular society and accessing something that resonates deeper.
It's funny, too, because just when I'm wrapping up one clients' project, I'll get a call or an email from somebody who wants me to do something for them. Their arrivals into my life are usually so majestically timed.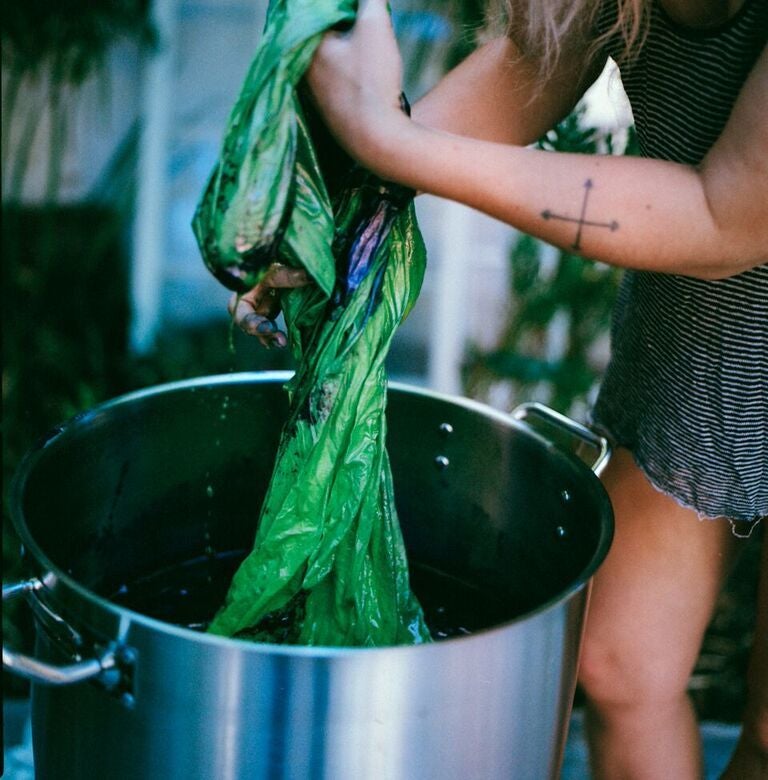 I heard someone refer to you as a "design shaman." I didn't quite understand why until I really dove into your work. You've had a variety of clients ranging from a bartender to a heavy metal themed diner, and there is something intrinsically emotive about your body of work. How do you approach each project?
The main part of my process involves quieting my mind – I mean really finding a crystal clear place inside my own head.  Being able to channel creatively varies by project - sometimes I create a circle of crystals and candles and sit in the center with one or two physical objects or photos that are the essence of the project, and start sketching. Sometimes it's a cup of tea and a pile of resource materials in a jungly corner of the garden. Half of my studio space is outdoors.
There are projects that are more difficult to channel than others and then suddenly the right album comes on and boom, or the moon is waxing and boom. I really never know. My one imperative responsibility is to be present and prepared for visions to arrive.
For you, what can graphic design do? What exists within the typographic world?
Graphic design is communication. The first letters were invented in order to record sacred rituals and I strongly believe that still lies at the essence of printed communication.
The typographic world is infinite. It's a microcosm of how universal energy functions. You have to be clear on your approach as to what it is you want, either visually or the emotional spirit of it, and it takes strong mental clarity to keep the blinders on and plow through vast collections of taunting yet wholly inappropriate type. Sometimes the right thing falls right out of the typographic ether and you can get working with it, and other times it takes a committed repeated calling before you get what you want. Life is exactly the same.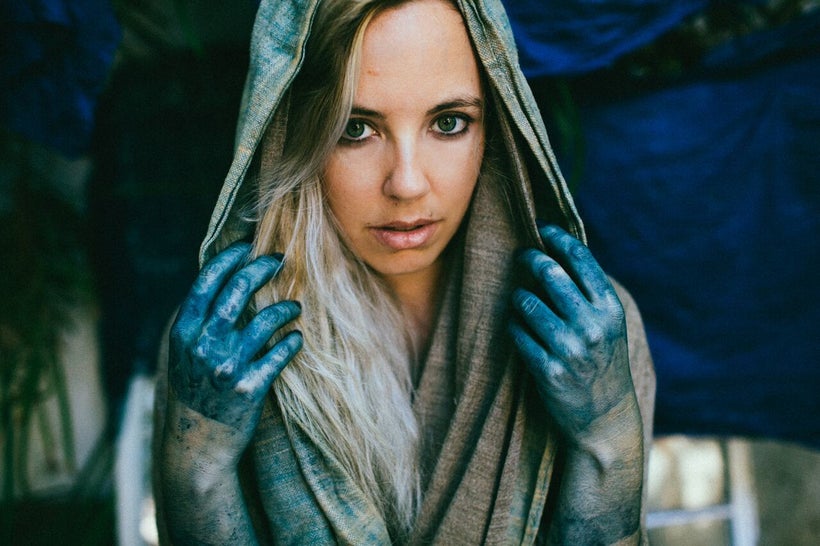 What are some things that currently help instigate that imaginative spark in you? Any artists, musicians, etc?
Music is so important. The energy in my studio is dead still until I activate sound waves. They are largely responsible to get me moving in the morning.
Of late I've listened to a lot of Cocteau Twins - Treasure is my favorite album, Alan Vega because he just passed away and his music is one of a kind, when I really need to focus and get into a serious zone it's most often techno, minimalist and super atmospheric music - Trentmoller, Ghost Culture, Com Truise, Boards of Canada, Sigur Ros, The Acid, Grouper, Cate le Bon, Junoire. When I need to pep up I just can't get over Rio en Medio's cover of "Let's Groove" by Earth Wind & Fire. Also there is an important place in my heart for Leonard Cohen – actually I usually use his lyrics in my calligraphy practice. I have hundreds of sheets of paper with the lyrics to "Famous Blue Raincoat" and "Joan of Arc" on them.
What are you currently working on?
I've accepted a really exciting gig acting as Art Director for a new web development school called Dev Mason. I'm in charge not only of the identity design, but of the interiors of all five campuses. I get goosebumps when I think about it.
I'm also building my empire – I'm looking for land out in Joshua Tree to build my first full scale architectural project created entirely of my own vernacular. There's a lot more to it but I don't want to spill the beans just yet.
What do you hope people get from your work?
I create with equal parts technology and earthy materials in ways nobody else is working. So I hope people are seeing something new with their eyes that nobody else has ever done.
For more information on Robin Hercia and her design studio, please visit http://awmyl.com/
Calling all HuffPost superfans!
Sign up for membership to become a founding member and help shape HuffPost's next chapter
This post was published on the now-closed HuffPost Contributor platform. Contributors control their own work and posted freely to our site. If you need to flag this entry as abusive,
send us an email
.