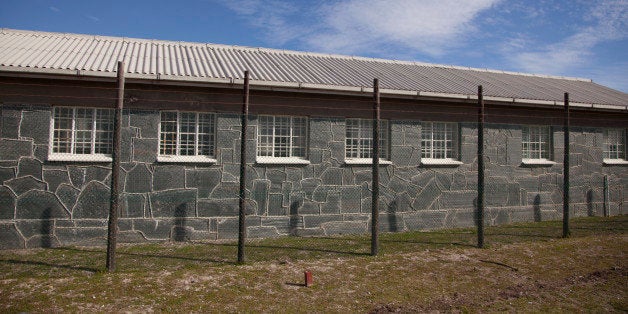 Each one, teach one.

So goes the compact black prisoners made with each other during the swell of Apartheid in the 1960's. In a lime quarry on Robben Island, several miles off the coast of Cape Town, South Africa, Nelson Mandela and his fellow prisoners educated others under the brutal watch of white guards. For decades they followed in the footsteps of slaves in the United States who resisted laws prohibiting the education of slaves out of a white fear of social change.
I've visited Robben Island three times as a college professor. Yet, it was only when I began teaching in a state prison in Nashville, Tennessee did I understand the full weight of Mandela's call to resistance.
Education in prison creates social change. It does so through sharing knowledge. It works on the identity, dignity, possibility, humanity, history and individuality of the prisoners living their hours and days behind walls and bars.

What kind of social change does it generate? Sure, recidivism rates are affected; poverty rates and job opportunities, too. Self-worth is transformed, as well as civic identity. But the real social change I see occurring is one of resistance to injustice.

It is resistance to the idea that human beings who break laws deserve to live behind bars and walls and barbed wire for a fifth, fourth, third, half or all of their lives.

It is resistance to the idea that human beings who break laws are forever blemished and unworthy of the benefits society offers, like work, education, and political activity.
It is resistance to the idea human beings who break laws can never again be trusted to live completely free of observation. Probation, parole and the "employment box" should follow them wherever they go.
It is resistance to the racialization of mass incarceration, providing education to populations deprived of resources in the free world.
It is resistance to a culture of mass incarceration and the prison industrial complex that has so lucratively developed from it.
How does social change occur, one might ask, if prisoners taking higher education courses have no influence in the free world? Does it remain an idea in the minds of the incarcerated and paroled, eating away at them like some unattainable love?
Many teachers who walk through metal detectors and iron doors do not see their work in prison as creating social change. Richard Tewksberry tells us that teachers teach in prison for a variety of egocentric and altruistic reasons. In Prisons and Jails: A Reader (Tewksberry and Dabney: 2009), he shares his research that teachers seek opportunities to teach in prison seeking alternative academic career options, following academic idealism, for institutional objectives, commitments to the expansion of education opportunities, and for social reform.
It is my experience, however, that whatever the motivations are that lead professors inside the prison walls to teach postsecondary courses, social change happens. Teachers become the symbols--even the hands--of positive social movement.

The simple action of walking through the slow, iron gates itself is resistance to the shibboleths of a mass incarceration culture. Teaching in prison provides a human presence who is not assigned the violating task of observation and control. The presence of a teacher shifts the 'authority of eyes' so to speak--the unquestioned and untouched practices of prison authority--however reasonable and rehabilitative they seem to be. Teachers provide the presence of public accountability so often lacking in the actual administration of prisons. As a result, the just administration of prisons is a more common topic in media across the country now.
Yet, social change occurs for another very potent reason. Teachers themselves are affected consciously and unconsciously by the experience. My colleague at Belmont University, Dr. David Dark, describes his experience teaching in Tennessee prisons in terms of a "community of mentors" where the prisoners are "libraries of wisdom." Dark's eloquence arises from the profound realization that he has so much to learn.

Teachers carry their experiences back to their free-world students, institutions, families, houses of worship, social organizations, legislators and guilds. Right now programs like the New Jersey Scholarship and Transformative Education in Prisons (NJ-STEP), the BARD Prison Initiative, the Cornell Prison Education Program, and the Tennessee Higher Education Program--among others--are effecting social change by taking higher education inside prisons walls.
Meanwhile, the Obama administration has recently initiated a pilot program for prisoners to receive Pell Grants for college credit taken behind bars. Social change is happening!
I teach for the Tennessee Higher Education Initiative (THEInitiative), a non-profit started in Nashville three years ago by Dr. Julie Doochin. Doochin was trained in the 'Inside-Out' model of prison education and is convinced that providing access to higher education inside the prison walls helps create social change desired by the public, welcomed by prison authorities, and hungered for by inmates--for themselves, their families and their communities.
The brilliance of THEInitiative's model of action lies in its philosophy: education has the power to transform lives, institutions and communities. It can change the lives of inmates, guards, administrators, teachers, students, legislators, and ordinary citizens. It produces a culture of habits and values. It compels change in institutions because of the democratic good it creates, as well as the practical benefits. And education changes communities by caring for their welfare.
THEInitiative uses a successful cohort model and offers a curriculum common to The Tennessee Board of Regents colleges and universities in its program. At any one time, 75 men are on their way to receiving a college degree. For the future, THEInitiative plans to offer higher education to correctional staff as well, many of whom come from the very same communities as the inmates they supervise.
Through the Tennessee Higher Education Initiative, the work I see myself joining is the work of restorative and transformative justice at an individual and structural level. And I, too, have been restored and transformed by it.
Support HuffPost
The Stakes Have Never Been Higher
Related
Popular in the Community