While driving north along Azerbaijan's Baku coast, we turned right onto an unmarked dirt road just after some train tracks and just before an Armani billboard. Beyond another set of train tracks sat a white building with a metal door marked "kassa," where we planned to purchase passenger and vehicle tickets for the ferry ride to Turkmenistan. We noticed immediately that there was no sign saying when the closed office would reopen.
We found an official looking man (based on the size of his hat and the presence of epaulets) and he told us to return at 10 p.m. that evening. At 10 p.m. we were told to return at 9 a.m. and at 9 a.m. we were told to return at 3 p.m. and at 3 p.m. we were told to return at 9 a.m.
We began to suspect we were the butt of a joke.
Then, slowly, the pieces started falling together. A few more dockworkers showed up, some waiting cars turned their engines on and truck drivers making the same crossing perked up. Eventually, the long since abandoned kassa booth was teeming with activity and we we're in the middle of it waving dollars and our passports.
After an ample amount of money changed hands, we received our vehicle ticket and our personal tickets as well. We had our passports stamped in a little room and then boarded. Once on board, we gave our passport to a man, who we monitored carefully, fearing that he wasn't the right man.
We really enjoyed the art gallery in the ferry's kitchen. Highlights include a neon airbrushing of an ibex and a deer in front of a waterfall entitled "Heaven on Earth" and a wall calendar from 1997 made by Helsinki Media. There is also a lovely piece in the corner entitled "American Feast" that would make Norman Rockwell envious. It's an oversaturated still life that focuses on Vitamin C's role in the American diet.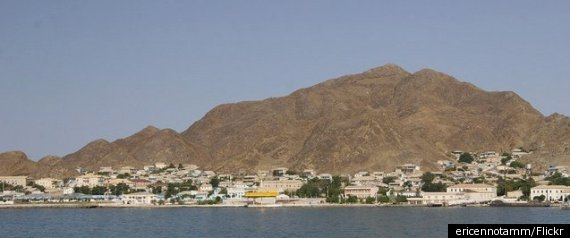 About 15 hours after climbing aboard, we landed at Turkmenbashi port. Before disembarking, the first mate announced that the doctor would like to inspect all the Americans. There were 8 of us, too many for the doctor to be bothered with.
We were pointed toward the immigration complex, where the real fun began.
Here are some instructions on navigating Turkmenistan's customs process:
(1)Upon entry, head to a passport booth where you will be handed your passport. This should now include your Turkmen visa.
(2) Undergo a lenient security check. (I had a knife in the bag I x-rayed and was carrying a pocket knife on my body.)
(3) turn ever so slightly to the left and head past the scale (more on that later) to the wooden table in the corner where a very nice woman with impeccable handwriting will take your passport and make some markings in one of many dusty volumes on or around her desk.
(4) After indicating that you have a car, you'll turn around and head to the center office which is appropriately labeled Turkmenulaggozegcilik.
(5) This desk appears to be mahogany and on the wall will be a picture of President Berdymukhamedov and a map of Central Asia. The desk lamp is the color of Peptol-Bismol.You will be asked to point out your intended route through the country a map. Various calculations on a comically large orange 4 function calculator that looks like it was a hand out at an Easy Jet conference will be tallied together on your Bir Gezekleyin Rugsatnama, or Entry Permit. This gem of paper pushing bureaucracy will include a handdrawn map of your intended route through Turkmenistan and a list of fees levied against you, ranging from $1 for vehicle disinfection to third party liability insurance and compensation of fuel cost fee.
(6)Head next door to the Turkmenbasy SWBP office, where a man will look you over and then offer his literal stamp of approval. His office will have the same picture of the President but a different map of Central Asia. His desk lamp is powder blue and his desk appears to be chestnut. He keeps his stamp in an old film canister and is very diligent about applying adequate pressure as to ensure the stamp is legible but does not bleed.
(7) Exit to your left, passing the Turkmenulaggozegcilik where you received you Bir Gezekleyin Rugsatnama, and enter into Turkmenbasy OKSB, where you will collect another stamp. This next bureaucrat has no picture of the President, no map of Central Asia, and no desk lamp. However, he does have a very scientific microscope in the corner of his office. This man's stamp is much larger than the others and he seems more contemplative when stamping.
(8)After exiting the OKSB office, stand on an industrial scale. No one will write down your weight.
(9) Verify with the customs officers that you have no narcotics (unless you do) then drive through the vehicle disinfectant pool.
(10) Honk for 5 minutes until a man comes and unlocks the gate, sending you on your way.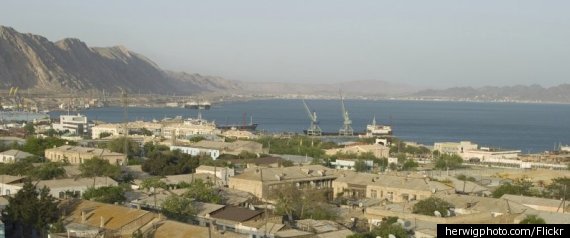 Don't get too exited yet - the first of many police check points is just a few hundred meters away.
State Customs Service of Turkmenistan receives customer service inquiries between 6PM-7PM on Wednesdays and can be reached at +800123350566.