With a large amount of information all over the web, it can be quite difficult to keep up, especially for enterprises that depend on data analytics for better decision making. While some companies might be able to work with some software tools, others that deal with "Big Data" always struggle with managing and filtering non-essential information. This growing concern has affected all departments of organizations from supply chain to human resource management, and also led to the emergence of unique concepts such as Enterpriseof1.
Enterpriseof1 is the future of work. Data analytics, Machine Learning and Algorithms are the enablers. This convergence is touted to transform the way in which we work and pave the way for enhanced user experience and foster democratization. More importantly, Talent Intelligence will become easily available and empower C level executives to make informed decisions. Saurabh Jain, Founder and CEO of Spire Technologies- foresaw this way back in 2006 and developed the world's first Contextual Talent Platform.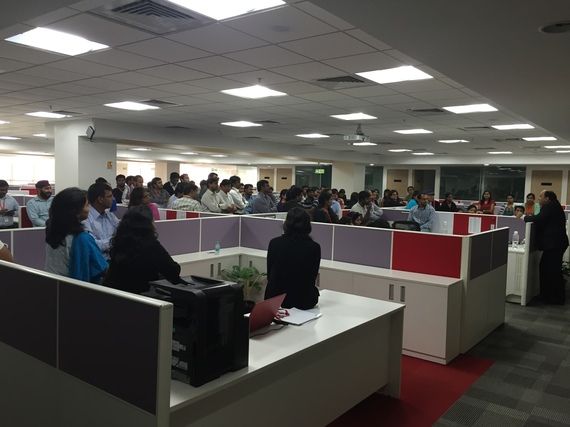 Spire Technologies, a Big Data startup saw the need to create a niche that directly provides contextual intelligence solutions which cuts across talent management, customer relationship, supply chain, fraud intelligence and more. The company started in 2008 and has so far proven it's genuine worth through the performance of its products and by raising at a minimum of $15 million in funding and an additional $8million in Series A. Spire continues to unleash business transformation solutions by using the power of Big Data while expanding their reach across borders with companies including Accenture, T-Mobile and Fidelity bank.
I had the opportunity to interview Saurabh Jain, Founder of Spire Technologies. Saurabh Jain is a futuristic thought leader and a technocrat at core. For a long time in his professional life, he researched extensively exploring on how he could add value to humankind through application of technology. He found that companies needed to make 'actual' sense from all the data they had. Spire Innovations Inc. was founded to enable businesses make 'informed' decisions based on analytical insights.
Saurabh discusses some of the goals of the company, the Enterprisefor1 concept, successes of the data industry, and how companies can leverage their products to make concrete decisions.
Hi Saurabh, what is the #enterpriseof1 all about? Please explain the concept?

Well, you see, today we live in a world where information is converging into platforms that bring people with similar interests together for further collaboration.
Think of the platform economy or an Uber-for-everything. There is increased transparency and power in the hands of the users. This world knows no boundaries unlike the political boundaries. The '#enterpriseof1' which we so aspire to create is in this space. A digital enablement, a closely knit ecosystem based on contextual technology, meant for the mutual good of the users.
Further, #enterpriseof1 broadly emerges from the idea of time trading. Time is at the center of our lives. From seconds to hours to years, we also spend time to earn money and make careers. When a professional goes to work, he/she is also trading personal time along with skills. If you look closely, the relationship between organizations and employees is that of a mutual convenience. The world will inevitably evolve and transpose this relationship into the digital world as the '#enterpriseof1'.
I am imagining that in the future, professionals will trade their time in a bigger way with organizations. For example: A software engineer might choose to spend 6 months on a particular project for a company; and move on to another project elsewhere without having the obligations of a full-time employee.
#enterpriseof1 is about forging collaboration between companies and talent (professionals/job seekers) for their mutual good; sort of an ecosystem which fosters personalized engagement, exchange of information and time trading.
What will be the broader value additions created by the #enterpriseof1?

Organizations are realizing that keeping passive employees engaged is pivotal in dealing with 'Talent Wars'.
The #enterpriseof1 also implies that talent will be extremely mobile and independent in the future expecting greater transparency. It also means that organizations will use powerful technologies with integrated HCM functionalities to unify their Human Resource functions as seamless singular systems. Talent analytics will become available at the click of a mouse and faster decisions will take place.
We are achieving two things with our contextual platform Spire TalentSHIP®- optimizing the Talent Acquisition process and building personalized talent ecosystems which work in favor of both organizations and job seekers. This is a win-win situation.
We also made sure from the start that the trail of analytics that our platform generates is auditable as well. Our talent science platform is the harbinger of next-generation agility which will become imperative for companies to seek and leverage for their businesses.
Apart from this it is obvious, that there is a positive impact on revenue due to cost and time savings.
Saurabh, tell us more about your business vision? How is it aligned to #enterpriseof1?

In line with what I initially mentioned about creating talent marketplaces, our vision is to create ecosystems for the mutual good of both companies and individual professionals (passive/active job seekers). In the future, organizations will be willing to share talent across communities and we will enable this. We are also placing unprecedented power in the hands of the individuals and at the same time ensuring that they are relevant to the talent needs of organizations.
To accomplish this vision, we are constantly redefining search and match technology. My company's focus is also to instill Operational Excellence in day-to-day functional routine activities. Cut down all unnecessary and repetitive tasks and expenditure so that the strategically important function such as Human Resources, gets freed up time to focus more on core objectives.
What is the point if a recruiter has to spend screening 1000s of resumes manually? What is the point when a company is unable to make full use of its HR data wisely?
It all starts with how does a technology understand the meaning of a query and on what basis does it fetch results from volumes of data? We have perfected this art by nailing contextualization.
How did you find customers who believed in your vision? How far has this taken you?

We sure did face a lot of challenges initially. The vision I had was 10 years ahead of the time. 'I was called 'esoteric'. I did get in touch with visionary leaders who helped structure my idea and the contextual solution. Even at the moment, we have a 20-yrs vision.
The customers we have are global companies with more than 20,000 employees. Large companies with multiple locations have complex challenges in their HCM. They naturally need to choose technologies which are futuristic and even disruptive so that they save costs and free up their HR teams for more core functions.
Our talent platform is based on Machine Learning and powerful algorithms which teach machines how to decipher textual data of any format and generate meanings in the context of the business; mimicking the way a human mind works. The platform has delivered results and it is proven that it reduces time and costs in a significant way. In HR, it makes a recruiter's life easier by increasing the interview-to-select ratio to 73%, the existing ratio is less than 30%. It saves almost half the cost. All this results is influencing the overall revenue of companies. Contextual analytics also rescues HR from cumbersome processes.
How is Spire geared to augment #enterpriseof1?

We are creating contextualized, or rather personalized talent communities for our clients, enabling both internal and external talent marketplaces within organizations. Professionals could bid their time and work with companies of their choices where they have maximum fit and relevance with respect to required skills. These aspects of skills fit and relevance are accurately determined as they are backed by algorithms.
On the one hand, these ecosystems give the individuals the advantage to come up with their own mini organizations. On the other, companies get to stay engaged with them. Our customers are looking to induct at least a million applicants/annum. So you see, we are building communities of 3-5 million people.
As I see, it will take about half a decade for the world to go there, but it is inevitable and Spire is already preparing for this leap! Companies are also increasingly opening up to the idea of creating interactive talent systems.
And what is unique about Spire TalentSHIP® which puts it in the league of the firsts?

One key flaw that HR is enveloped with is that it contains a lot of unstructured data, which cannot be quantified in rows and columns. This is data which more or less exists in the form of a combination of letters and not numbers. Large amounts of such data need to be coalesced, sorted, structured, quantified and interpreted in the context of the business for Talent Intelligence. This comes in the form of insightful analytics which can be used by key executives to make informed decisions.
Our product has two unique capabilities.
One, it is able to generate analytics in context to business.
Two, it is able to do so from any type and format of data, essentially, textual data which cannot be stored in rows and columns.
Resumes and Job Descriptions are textual in nature. We know that, a typical search and match tallies them on the basis of the quantity of search terms, rather than its actual meaning. This seriously impends the recruiting process and lengthens the process of shortlisting. We are cutting that operational effort and time drastically. In addition, the contextual platform selects the most relevant resumes (even vice versa) with 80-95% accuracy levels.
Organizations can reap many advantages by using our platform. In addition to fostering engagement with active/passive job seekers, they could also easily and quickly shortlist only the most relevant resumes which befit them in a matter of seconds. Contextual Search & Match works bi-directionally as well. It can match Resumes to multiple Job Descriptions as well.
While automation systems already exist, these are linear workflows with no feedback loops. Unless you have a feedback loop, you cannot build a control system. #
Spire TalentSHIP® is an agile system, backed by very powerful algorithms and more than 7 NLP (Natural Language Programming) techniques. It is a system perfected with Machine Learning (the capability to recalibrate continuously by applying the learnings of how the Contextual Search & Match behaves every time it processes data).
What inspired you to develop the Contextual platform?

When people analyze data, they don't have tools which allow them to feed the context of the organization into the system/s they use, or get Contextual Intelligence from data. The systems usually work in the mode of 'one size fits all'. They have a fixed set of input and output parameters. There is very little flexibility on how the inputs could be defined in the context of the organization. These systems expect the data to be available in particular formats. They cannot comprehend unstructured data, neither define the context of the organization in their software.
Decision makers must get dependable analytics. For this it is utmost essential, that their organizational analytics are derived also from unstructured data present in the organization.
Even way back in 2005-06, despite the buzzword about analytics I noticed that businesses were operating by utilizing only 10-20% of their data! Management teams, even from large companies, did not have decision support capabilities because they were not getting any insights from data due to lack of correct utilization methods. This was due to the plain fact that automation systems cannot make sense from unstructured data.
At that time, I had undertaken an international research as part of my Executive MBA Program. Our extensive research found that 'context' was missing. Firstly, automation systems could not generate the 'context'. Secondly, they were incapable of contextualizing data to business. I wanted to transform the situation for decision makers, for the C level and took the decision to build such a product myself!
I was very interested in creating a technology that simplified the process of decision making with absolute reliable data evidences; with analytics that were contextual to a business. HR by its very nature deals with unstructured data since it concerns people, their skills, talent and their interpretations. It is the domain that urgently needs Contextual Intelligence.
How can organizations make use of Spire TalentSHIP®?

Spire TalentSHIP® is primarily a Talent Science Bus. Gartner has placed us in the Talent Science quadrant. Our contextual platform is a Talent Science Bus which can operate independently as well as in complement with any existing system. It could be used on top of existing systems, providing insightful analytics and intelligence, delivering operational excellence. While on the other hand, the existing systems can continue to be used to manage HR processes and compliance.
As a Talent Science Bus, we add the differentiating factor in how talent is managed. This is what defines the difference between any two companies operating in the same sphere. How are people being managed and how are their skills understood and leveraged?
Popular in the Community