Biblical history as seen through Cold War era comic books, sculptural installations lifted directly from dreams, Hollywood backdrops featuring iconic superman and other cult heroes playfully cut up and swooping around the galleries, Shaw's work is an indulgence into strange, evocative imagery and things that just goofy. My favorite is Barbara Bush doing a pagan dance with a cartoonish flame.
The abundance of humor as well as an unabashed plunge into surrealism really gives his work distinctive joyful buoyancy. Unlike some of the other hugely influential Los Angeles artists of his demographic--namely Paul McCarthy, Mike Kelly, Charles Ray, whose work mines the darker side of American culture--the resonant power in Shaw's work seems to come from its lack of cynicism, hostility, or internal rage. Shaw presents confounding hybrids that allow humor and absurdity to make a powerful impact. People in the galleries were actually smiling. Art goers smiling! When does that happen?
Shaw's influence is apparent in a younger generation of artists such as Ry Rocklen, Hannah Greeley, Nick Lowe, Jim Drain and Frank Benson some of whom were in the "Thing" show organized by UCLA's Hammer Museum in 2005, a show which itself exemplified the ethos in Shaw's work. Much of the work in that exhibition had an embedded provocation, but didn't necessarily make an overt political statement. A serious examination of the dreamlike, whimsical and unapologetic weirdness was the point. Humans are weird. Our imaginations drive invention and chaos alike. This allowance for creative freedom is also a reaction to the pedagogical environment of art institutions, a glimmer of humanity inspired by Shaw's artistic chutzpah.
In describing the religion that Shaw invented and which plays out in beautiful operatic videos, the museum's press release states, "Shaw weaves a believable tale but consistently reinforces the idea that his religion, like all religions, comes from the imagination of its inventor." I personally think the more we're reminded of this the better.
One of the most touching moments in the exhibition was a room filled with drawings from a series of personal correspondences between the artist's father and his teacher. Apparently, Jim Shaw's Dad took a mail-in class from the "Famous Artist Course" school. Overlaid onto quite skillful drawings were red pencil "corrections" along with meticulously typed out criticism by his correspondence instructor.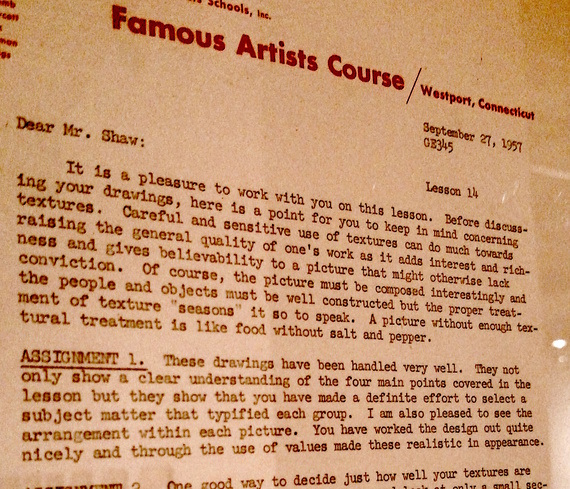 The "Famous Artists" instructor's overlay upon his Dad's drawings is both hilarious and poignant, leaving a question in the layered absurdity--you wonder if Jim Shaw's Dad had real aspirations to become a famous artist, and, if so, how would he feel seeing his corrected drawings hung in a museum by one of the most famous artists in America, his son.
I bet he'd be pretty happy about it.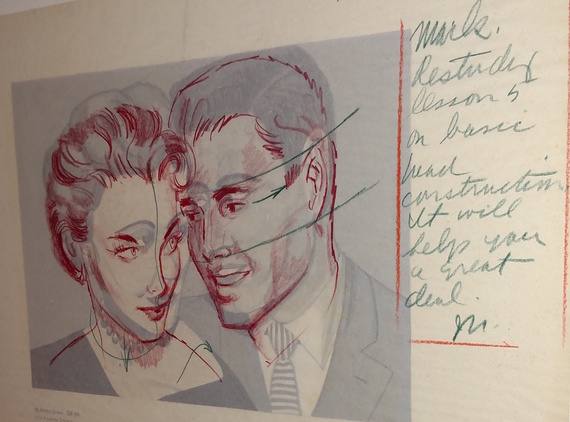 Support HuffPost
The Stakes Have Never Been Higher
Related
Popular in the Community