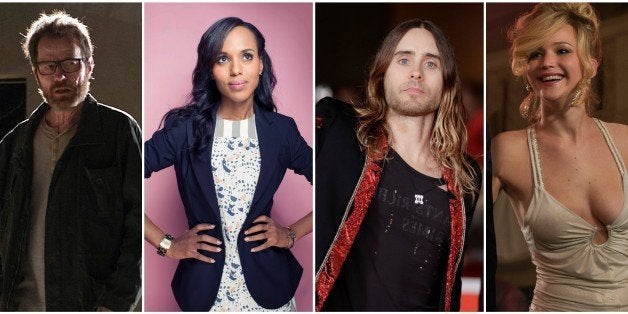 Thanksgiving is a time for thanks, which is why Team HuffPost Entertainment has compiled a list of the pop culture we were all truly blessed to experience this year. Debate our selections in the comments below, and pass the cranberry sauce.
The Rise Of Queen Jinkx Monsoon On "RuPaul's Drag Race"
Jinkx Monsoon is a role model, not just because of her expert comedic timing and impossibly endearing personality, but because of her ability to redefine our conception of drag queens. With her six-time extended off-Broadway show, "The Vaudevillains," she's forged "a bridge between 'us' and 'them,'" by further proving that drag is a legitimate form of entertainment for a wide range of audiences that extends beyond gay bars. -- Lauren Duca
Connie Britton's Hair On "Nashville"
As "Nashville" stumbles on toward the end of its second season, Callie Khouri's choice to "pick up all the cards and throw them in the air" at the end of season one is still questionable. Yet, if there's anything able to keep the fake pregnancies, racketeering and irrational feuding grounded, it's the strawberry blonde waves of glory flowing out of Connie Britton's head. OK, fine, I'm talking about the character of Rayna James, who consistently saves the show (and also the shows that happen within the show). But, seriously: THAT HAIR. -- Lauren Duca
Daft Punk's "Random Access Memories"
Not counting the "Tron: Legacy" soundtrack, it had been eight years since Daft Punk released a proper album. Fortunately, the result was "Random Access Memories," one of the funkiest and sexiest albums of 2013, and a record that returned Pharrell to the spotlight. Between "Random Access Memories," "Blurred Lines" and the 24-hour music video for "Happy," his renaissance is real -- Ryan Kristobak
Jared Leto's World Domination
From Jared Leto's upcoming documentary, "Artifact," to his performance in "Dallas Buyers Club," 2013 has been the Year of Leto. "Artifact" gives significant insight into how music corporations pull every string possible to screw over artists on the regular. (It really is something anyone who is remotely interested in music should watch.) "Dallas Buyers Club," meanwhile, could nab Leto an Oscar nomination and possible win. May his reign never end. -- Ryan Kristobak
Like a fine wine (or Matthew McConaughey), Sandra Bullock truly gets better with age. It was a big year for the 49-year-old actress, who starred in the blockbuster comedy "The Heat" with Melissa McCarthy and sparked early Oscar buzz with her lead role in Alfonso Cuaron's "Gravity." As shown in "Gravity," Bullock looks better than ever, and now her serious acting ability is just as recognized as her celebrated comedic chops. Sandy, forever and for always. -- Madeline Boardman
The Brief, But Unforgettable *NSYNC Reunion
The dreams of '90s children everywhere came true back in August when the grown men of famed boy band *NSYNC reunited on the stage of MTV's Video Music Awards. Though the reunion was brief, the moments that the boys were back together and performing "Bye, Bye, Bye" and "Girlfriend" -- complete with throwback dance moves -- were gold. I will never be ready to say "Bye, Bye, Bye" to you, *NSYNC, I have to admit, "I Want You Back." #noshame -- Madeline Boardman
"American Horror Story: Coven"
There are many, many, many great television shows on the air right now, but none give viewers the joy of watching Jessica Lange on "America Horror Story: Coven." Where else can you see Lange raise her hand and cause Emma Roberts to fly across the room? The cast, which consists of Kathy Bates, Angela Bassett, Frances Conroy, Lily Rabe, Sarah Paulson and many more talented actors, brings a fantastical world to life. It's a great escape and for that, I am thankful. -- Chris Harnick
"Orange is the New Black"
From the wild mind of "Weeds" creator Jenji Kohan came this year's little show that could: "Orange is the New Black," the breakout dramedy about an affluent white woman who's tossed into prison for smuggling drug money across international borders when she was younger. Rarely can a show with a support cast as massive as this one perfect such rich characters and maintain inventive story lines that both inspire and captivate. We were all a little dubious of the whole Netflix-does-original-content thing, but "Orange" surpassed the skepticism to become one of the year's most poignant standouts, on or off a traditional network. From transgender Sophia to kitchen matron Red, the residents of Litchfield Penitentiary comprise the year's best-crafted and most heartfelt ensemble, one that's bound to find a place among next year's Emmy finalists. Like Piper to Crazy Eyes, this show lit a fire inside of us. -- Matthew Jacobs
Vampire Weekend, "Modern Vampires of the City"
Vampire Weekend has served up bouncy indie-pop since 2007, way back when the quartet first had us questioning that pesky Oxford comma. Frontman Ezra Koenig's tenor and the effervescent use of multiple instruments on their first two albums won us over, but it was their third album -- this year's "Modern Vampires of the City" -- that outshined even the best of Vampire Weekend's previous catalog. From the synth-y "Diane Young" to the soulful anthem "Everlasting Arms," the group adapted their signature quirkiness for an increasingly electronic indie-rock scene, while still remaining true to the joyful demeanor we've come to expect from their tunes. It's been a good year for music, one where the lines between independent and mainstream sometimes seem more blurred than ever, and yet "Modern Vampires" remains one of the best albums of 2013. And if you're still in doubt, just follow Koenig on Instagram to know he's the most charming Millennial in music today. -- Matthew Jacobs
The Final Season Of "Breaking Bad"
An obvious gift to mankind, Vince Gilligan's seminal series closed its final chapter with an eight-episode arc that had our adrenaline racing and our tear ducts lingering on the brink of eruption. Where "Breaking Bad" ranks among the greatest drama series of all time will be debated for years to come, but thanks to masterful writing and stellar performances from Bryan Cranston and Aaron Paul, the meth drama ended on a high note in every way we hoped. (See what we did there?) Walter White's blend of villainy and deeply entrenched humanity came to light in layers upon layers, from his final moments with Skyler and Jesse to his desert showdown with Hank to his devious reunion with Gretchen and Elliot. Not only did "Breaking Bad" solidify itself as the finest character study in television, but it helped to reimagine what it means to craft novelistic programming that has us obsessing over its every step. To Vince Gilligan and the entire "Breaking Bad" team, we are indebted for a series that rattled our minds, stirred our hearts and crafted the best chemistry we've seen on TV in, well, perhaps forever. -- Matthew Jacobs
Clearly "Scandal" isn't playing the "art imitates life" card, and I'm totally cool with that. That one hour a week of salacious, adulterous, raunchy, delightful -- and yes -- scandalous television distracts me from everything in the outside world. Is Mama Pope alive? WTF is wrong with Baby Huck's judgement? Even when we find out these answers there are dozens more questions, and for that, I am thankful. -- Jessica Goodman
Bonnie McKee's "American Girl"
While other people were busy getting lucky or blurring lines this past Summer, my pop tune earworm was Bonnie McKee's "American Girl." McKee, for those of you who don't know, is Katy Perry's friend in real life, but also her co-writer on such hits as "Teenage Dream," "California Gurls" and her latest, "Roar." McKee has now ventured out on her own in an attempt to steal the pop princess' crown, and there's no better way than a song celebrating summer youth drizzled with Slurpee sugar and bright candy colors. With relatable lyrics like "I fell in love in a 7-11 parking lot" and "I was raised by a television" McKee pulls a perfect Katy Perry and crafts a pop gem that has you feeling Summer sun year-round. It may be called "American Girl" but as she says in the song, "I'm loving taking over the world" and with a track like this she is well on her way. (Also, if her single doesn't convince you, then check out her performing her awesome medley of hits she's written here.) -- Chris Rudolph
Katy Perry's "Unconditionally"
Because there wasn't a better song released in 2013 to belt out in the shower. "Un-con-dit-ION-al-ly!" -- Christopher Rosen
Jennifer Lawrence Is Our Queen
Jennifer Lawrence tore through 2012 like a "Fast and Furious" car, so it was probably reasonable to think she would take a break in 2013. Instead, Lawrence went in harder, pushing herself through a global media tour for "The Hunger Games: Catching Fire," cutting off her hair (and making it work), and one-upping her Oscar-winning performance in David O. Russell's "Silver Linings Playbook" with David O. Russell's "American Hustle." That film doesn't come out until Dec. 18, but having seen Russell's latest at an early screening, we can confirm that Lawrence is bananas in this one, in the best ways possible. Watch her admonish Christian Bale and his "fucking science oven" in this clip to get a sense of her rarefied air, then bow down at the feet of our new ruler. -- Christopher Rosen
REAL LIFE. REAL NEWS. REAL VOICES.
Help us tell more of the stories that matter from voices that too often remain unheard.
BEFORE YOU GO
PHOTO GALLERY
Celebrity News & Photos