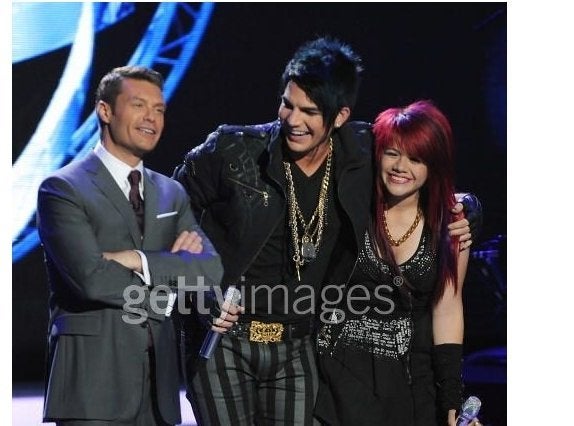 Entertainment Weekly's latest issue features a full-cover on American Idol contestant Adam Lambert.
At CoverAwards, we examine covers on a daily basis and this one caught our attention.
The cover line reads "Loving Adam Lambert - The Most Exciting 'American Idol' Contestant in Years." Next to the line is a pink asterisk that leads you to the cover line on the bottom right of the cover - "And Not Just Because He Might Be Gay."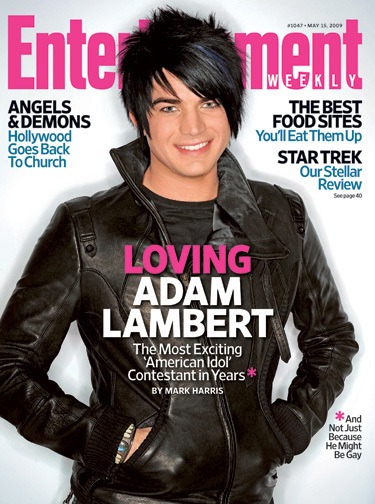 In years past, this cover would have stirred up quite a bit of controversy. Can you imagine if Entertainment Weekly did the same type of cover featuring Clay Aiken, who came out of the closet years later?
But, in 2009, a cover featuring a celebrity who is apparently gay doesn't seem to raise an eyebrow.
Perhaps, it's because many already believe that Adam is gay. Or, maybe it's something even bigger.
I spoke to Entertainment Weekly's managing editor Jess Cagle, who noted that Adam's sexuality has been a big topic discussed by his readers.
Cagle says, "It was hard to ignore. The whole thing about his sexuality has been a huge part of the conversation."
EW took an inventive step in noting Adam's sexuality by making it a "footnote. "
This move is quite symbolic. Being gay is only a part of Adam and not how he should be totally defined. Rather, we should focus on his talent, which far exceeds many previous Idol winners.
Cagle agrees, "I hope it doesn't escape people that the main point of the cover is how people love him and how he is the most exciting contestant in years."
With Adam's record on Idol to date, it looks like the country agrees and is focused on Adam's talent.
Bottom Line: That's progress!
Related
Popular in the Community