 HBO co-presidents of programming Richard Plepler and Michael Lombardo kicked off HBO's portion of the Television Critics Association press tour Wednesday, with news of a Rolling Stones documentary movie, more scoop on Larry David's latest project for the network and much, much more.
Now, some updates on upcoming projects, shows that are now dead (for real this time) and, yes, it wouldn't be an HBO TCA session without an update on the "Deadwood" movie.
The "Entourage" movie
What's the status of the "Entourage" movie? "Doug [Ellin], as of this week, is on page 65. He's excited about it," Lombardo said -- but it's not a done deal just yet. "After we take a look at the script ... we still have to make deals with the cast and see if this is something we want to do."
The Larry David movie
What does the announced Larry David movie mean for the future of "Curb Your Enthusiasm"? "It means whatever Larry wants it to mean for future season of 'Curb,'" Plepler said. "He has carte blanche ... don't quote us on that though!" So the movie comes first, before David will decide on another season of "Curb"? That question got a resounding and immediate "yes" from both execs.
"The Corrections"
One of HBO's most buzzed-about pilot orders, "The Corrections," based on Jonathan Franzen's bestselling novel of the same name, is not going forward, and after so much was reported on it, critics wanted to know why. "It was a beautifully produced pilot, beautifully acted, beautifully directed -- unfortunately we can't do everything we want to do," Plepler said. "It's very difficult material ... to us and the team, it didn't warrant going forward."
"The Newsroom"
How do they feel about the mixed reactions to Aaron Sorkin's "The Newsroom," which they've already picked up for a second season? "We're very proud of it," Plepler said. "There's nobody who writes as Aaron writes and nobody who can create a conversation like Aaron can. There's only one Aaron Sorkin, and we're very proud that he's working with us."
HBO Streaming
"The streaming audience for us is still fairly small -- like 5 percent -- but streaming and OnDemand is closer to 25 percent," Plepler said, when asked about the current state of the HBO audience. "As people become more comfortable with HBOGo, the same thing will happen with HBOGo that happened with HBO OnDemand. It'll become more and more a fact of the viewing habits of our customer."
"True Detective"
Their new anthology-style series "True Detective" will be an interesting experiment in the cop drama genre, but don't compare it to their other crime-related series. "'True Detective' is lightyears away from ['The Wire' and 'Sopranos']," said Plepler. "It's set in the South, it's very much a character piece. In a genre that's well-trafficked, you read something like 'True Detective' and it blows your socks off. Woody Harrelson, Matthew McConaughey, Cary Fukunaga directing ..." But with only eight episodes ordered, and the label that it's a "drama series event," is there a plan for future seasons of the show? "The idea right now is that we'll revisit this particular narrative after the episodes are completed."
"The Life and Times of Tim" is really dead. Really.
Any chance HBO will bring the animated "Life and Times of Tim" back from the dead for a second time? "Unlikely," Plepler said with a laugh. "I think it's over," Lombardo confirmed.
The "Deadwood" movie
Now that "Luck" has been put down, any chance talks can resume with David Milch about a "Deadwood" movie? "I thought we put the 'Deadwood' thing to rest, so to speak," Plepler said. "David is busy right now ... with some movies and miniseries." That sounds like a no.
Plepler and Lombardo also wanted to brag about their current shows they're most proud of, and two shows were first on their minds.
"'Game of Thrones' ... there was every reason in the world for us not to do that show," Lombardo said. "It was fantasy genre, which has been done very well in the film world, [but is] hard to replicate in television. We responded to the writing. We're not developing thinking about shows that will get us the highest rating. We take some swings, and 'Game of Thrones' on paper wouldn't seem like an HBO show, but we read the script and it was exceptional."
And Plepler continued with praise for a very different new show. "We want to be proud of everything we greenlight to be on the air. 'Girls' is a quintessential example -- whether you love the show or don't love the show, you recognize that it's a unique voice."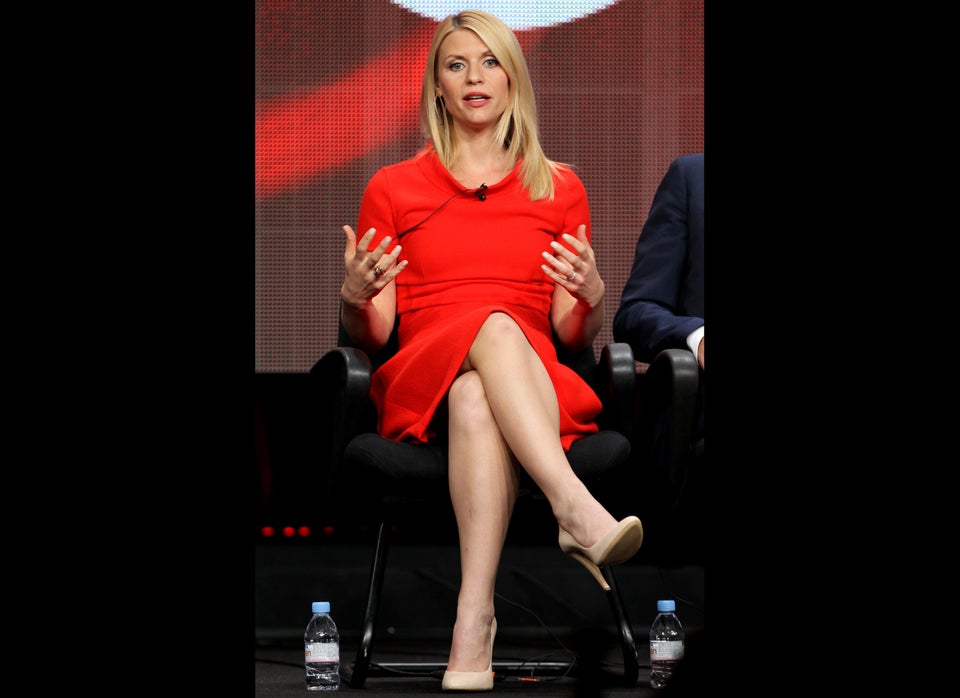 The Best TCA Quotes, Out Of Context