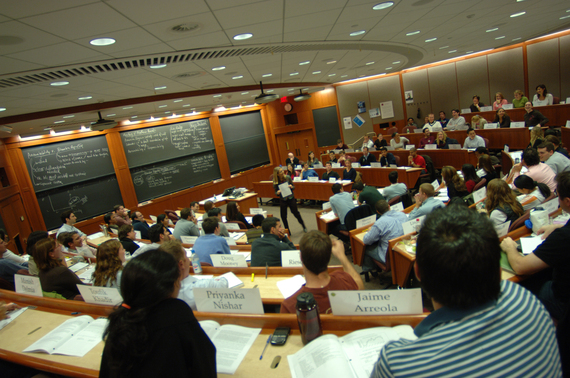 Whether you're a freshman or graduating college in a few months, you may already be planning your dream career and wondering what the future holds. Working hard towards a degree during your college years will pay off if entering the corporate world or securing a 9 to 5 job is what you dream about. However, many people find entrepreneurship to be a more rewarding career path, an opportunity to branch out and create something of their very own.
For many college students, being a student entrepreneur makes perfect sense and many colleges and universities are in full support of this trend. You could refocus your efforts during those college years to explore business subjects and learn about entrepreneurship from as many mentors and other sources as possible.
Here are some tips for becoming an entrepreneur in college -- and reasons why you should go for it:
Team Up with Like-Minded Students
Mark Zuckerberg didn't develop Facebook on his own, he worked with a group of friends who eventually became part of his business team. Consider teaming up with like-minded students who can provide unique insights and observations, and contribute with different skill sets. Whether you're launching a new app or looking to open a retail store, you will need a team by your side. Your business classes and any extracurricular activities you are involved in related to entrepreneurship or startups are some great places to find these people.
Choose an Industry You Are Passionate About
Hard work and dedication will take you to the top but you need to be truly passionate about your business and concept before you can move forward. If you are the owner and founder of the company, take the time to hash out exactly why you are doing what you are doing and what you expect to bring to the market. Think on a larger scale so you can identify your mission statement and key messages. How would you describe your business to somebody that knows nothing about it in a few sentences?
What's the big 'why?' or driver behind your concept? Being able to answer these questions in the early stages can help you identify what your business actually does, where it fits in the market, and even who your target market will be. The key here is to make sure you are choosing an industry that you are willing to give your all to -- your entrepreneurial venture could end up being your business for many years to come.
Connect with Professors
You'll be surprised how many of your college professors have launched their own business venture at some point in their career or are part of startup and incubator teams in the community. Don't be afraid to reach out to any of your professors to serve as a mentor or simply provide advice and guidance on how to get your business venture started. If you are enrolled in any type of entrepreneurship course in college, you may be able to make your final project a real business project where your professors could provide direct advice and guidance on making it a success.
Maximize School's Startup Resources
Your college years will be some of the most memorable years of your life but also a prime time in your educational career to learn and grow. If you aspire to be an entrepreneur, seek out colleges and universities that support student entrepreneurs with resources and opportunities for advancement as an independent business owner. Look for schools that partner with startup incubators and investors so that you have the opportunity to connect with these business professionals and fully develop your ideas.
Research Your Competitors
You have many research resources at your disposal when you're in school and access to social and business networking groups where you can talk about different ideas and market trends. Make use of these resources to do some in-depth research about your competitors, read about their stories and startup phase, make note of what they are doing now and keep tabs on any press releases or news about them so you can identify any market opportunities. Knowing what your competitors are doing is critical at every stage of business but even more so in the startup phase when you need to identify your key markets -- and ways to crush your competition.
Prepare to Launch Before Graduation
There's no rule that you need to wait until you graduate to launch and operate your startup venture. If you have good time management skills and are passionate about your future business, don't be afraid to get your pre-launch strategy together while you are still in school and even launch your venture before graduation day. Take the time to figure out what you need to do to register your business and open up shop. Hire interns to help out and consider pulling together some funds to take care of marketing and other business expenses on your own. Explore crowdfunding options such as Kickstarter or even a Kiva loan to help you get things off the ground. There are many different ways to get your business off the ground and you don't need to wait until graduation -- or even drop out of college -- to make your dreams a reality.
Jumping into entrepreneurship even before you graduate can be a rewarding experience and your dream business may come to fruition sooner than you think. Use these tips to get your entrepreneurial venture off to a great start during your college years.
Calling all HuffPost superfans!
Sign up for membership to become a founding member and help shape HuffPost's next chapter