I met with Saudi Arabian entrepreneur/philanthropist Hani Farsi, here at Cannes to launch his new program, "Arab Women Filmmakers," to discuss how he came to create the first initiative of this program: three scholarships to Arab women for a full, four-year ride to UCLA's Master's of Fine Arts In Directing program.
I learned that Farsi, known here at Cannes as a producer of such films as Waltz With Bashir and The Time That Remains, wears many hats. Once a restauranteur of high end restaurants and clubs, currently a prominent film producer, Farsi is also the founder of the philanthropic Mohammed S. Farsi Foundation, named after his father, which helps support education, health development and the arts all over the world -- and now this new program at UCLA.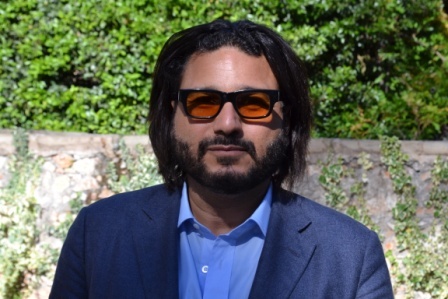 How did his interest in philanthropy begin?
Hani, an affable straightforward man in his early forties, readily outlined the trajectory. His father, Mohammed Farsi, a real-estate magnate, architect and former mayor of Jeddah (1972-1986), was his inspiration:
My father was a city planner, and oversaw the development of Jeddah. He was a lover of the arts and a philanthropist. He spearheaded the idea of using art in the public areas of Jeddah, because he believed it was part of the city's duty.

We don't have museums in Saudi Arabia. He bought hundreds of works by artists such as Miro, Calder and Henry Moore, and donated them to the city, to be in public places. Back then, we did not have street names. These artworks became landmarks. My father taught me the civic value of art.
Hani, an only child, was educated in schools in the United States. Following graduation from the American University, he moved to London to be not so far from his father, who then lived in Egypt. It is in London that Farsi did his first philanthropic act: to help sustain a theater going under.
I loved the theater. I would go to every theater I could go to. One day, in 1993, I saw a fantastic play, Glengarry Glen Ross in a tiny theater -- the Donmar Warehouse -- that I learned was about to shut down, as it was not a good economic period in England at that time.

I met with the theater director, Sam Mendes (now internationally known as the film director of American Beauty) and asked how much money he needed. I donated this money. I wanted to continue the tradition of my father.

In turn, they asked me to join the board of the Donmar Warehouse. I financed plays as well, some of which (like Closer) became films.

Then I entered the restaurant business: beginning with the Soho House in London, which is a members-only club for people in the film business. In 2003, I took over Cecconi's Mayfair restaurant, and completely refurbished it.

I stayed in the restaurant and club business until I was 40 -- and then opened my film production company Corniche Pictures. Six years ago, I started my foundation.
What kinds of projects does his foundation fund?
One of our first projects was in Cambodia to restore Buddhist temples. This man came to me with a project in the Kulan mountain of Cambodia, to restore statues. In setting up this project, we gave jobs to locals, helped build a bridge destroyed by a monsoon, started mushroom farms.

We try to improve the lives of the community, in a sustainable way. I also have given over 70 scholarships -- to schools in Saudi Arabia, to the South Kent boarding school I went to in the States.

I give the parameters to the schools, and the school decides who to choose as recipients. My big criteria: You have to prove financial need.
Hani leaned forward. "I have also supported the restoration of one of Hitchcock's silent films!" he smiled enthusiastically. "And, of course, I also give to charities such as Save the Children and Amnesty International."
And why now this new project with UCLA to help Arab women filmmakers?
I wanted to start a flagship program. So two years ago, I called in IG Advisers, an organization which gives counsel to philanthropists, to maximize the impact of their funding. They came to me and said: 'Look, your deep love for cinema is very clear. You believe in the power of cinema!'

So they suggested creating an Arab Women Filmmakers program. I already had a relationship with UCLA. I met with the Dean of the School of Theater, Film and Television, Teri Schwartz, and the discussions got started.

I am funding all of it, and they do the job of searching for candidates. They have already reached out to 60 countries. Three scholarships will be given every year to an Arab woman, to be part of a class of only 18 incoming students."
My desire is to make a change in my part of the world. There is no doubt that women have a harder time of it in the 22 countries of the Arab world, to a greater degree in some countries than in others.

Women are marginalized in some of these countries. They do not have access to filmmaking positions. Our scholarships will give them the tools. But what's more, Lord David Putnam sits on my board. We have a production company in London.

We can help these women after their education, with internships and summer jobs. We can really nurture them. Already, there are a few Arab women filmmakers, such as Haifaa Al Mansour, who made the amazing award-winning film Wadjda, about a girl who wants a bicycle: a metaphor for Saudi Arabian women wanting to drive.
This year, the scholarship program received 22 applications, from women in countries such as Yemen, Syria, Jordan, Oman and Qatar.
Three women have been selected: a Lebanese woman, a Syrian woman living in Doha and a Palestinian woman living in Dubai.
"These young women are going to bring about social change," Hani said firmly. "The stories these women tell in the future will be important, as they will be about their frustrations, and hopefully, spectators will empathize. These films will open a window on their world."
REAL LIFE. REAL NEWS. REAL VOICES.
Help us tell more of the stories that matter from voices that too often remain unheard.