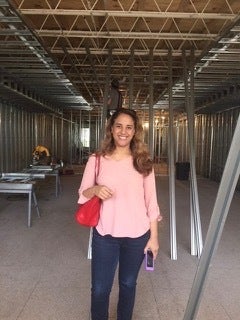 When was the last time you were incensed by something you read, incensed enough to do something about it?
For Jacqueline Fay of Princeton, New Jersey, that time was reading the groundbreaking 2015 expose of the nail industry written by Sarah Maslin Nir in The New York Times. Fay, a Rutgers University graduate, had just left corporate America after a thriving career as a human resources manager. The opportunity to make real change as she considered her next move galvanized her to open her salon called Grit and Polish in October of 2016. Her aim is to provide exceptional service by fairly-compensated and fully licensed technicians in a state of the art environment where air quality, sanitation and comfort are front and center.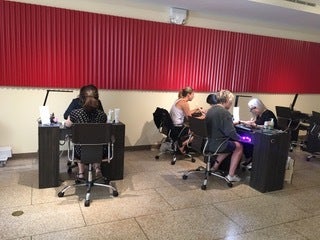 Steve Mariotti: What gave you the courage or confidence to leave corporate America and strike out in a completely different field?
Jacqueline Fay: I spent two decades following a traditional corporate career path, with increasing responsibility. Each step of the way I played it safe, not really pushing myself. As I entered my early 40s, the dominant emotion I felt was fear—fear I was spending my time in a career in which my impact wasn't what I hoped it would be. We have only one life, and the question was how to make the most of it? Starting up was more about the fear of missing out on a more fulfilling career, and about believing I had something important to contribute to the community.
SM: What was easier than you expected in creating your business? What was surprizingly harder?
JF: I didn't expect anything to be easy in starting a business. In fact, I wasn't sure I could do it. The most gratifying part has been the reaction to my business concept from customers. Princeton is responding extremely well to the idea of a "different kind of nail salon".
The hardest part, by far, has been to recruit employees, and sometimes this forces me to decline walk-ins and to take short-notice appointments. A key reason is that the cosmetology licensing process is totally dysfunctional, and not enough capable people are getting licensed. State legislatures around the country are beginning to realize we have a licensing crisis across many industries, and are planning to make reforms, but it can't come fast enough.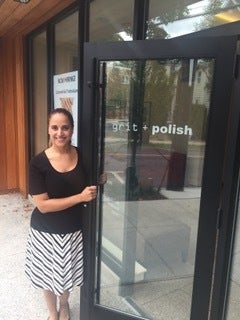 SM: What would you do differently if you were to start another new venture?
JF: I think it's a very good idea to have a partner, and if I were doing it over again, I would have somebody to help me solve the problems that arise, shoulder some of the stress, and of course to celebrate successes. In fact, I'm still in the market for a junior partner to join Grit + Polish.
SM: Have you perceived any specific hurdles unique to your being a woman entrepreneur? Does being Latina pose any added issues?
JF: Yes, I have. One of the decisions I made was to spend a lot of time at the front desk to get to know my customers on a first-name business. Because I am a woman of color working at the front desk, a number of first-time clients jump to the conclusion that I am "just a receptionist." Once people realize I am the owner their tone changes. But it still bothers me that people make that assumption. Part of my mission at Grit + Polish is to change the way people think about everyone working in a salon. It's not an assembly-line business—at least not the way I am running things. I want everyone—employee and client—to feel valued and appreciated.
SM: How would you advise a young person with a bright idea who wants to start their own company?
JF: The most important thing is to stay focused and don't listen to naysayers. I do listen to feedback all the time, but I'm very careful to put it in context. If I see a pattern of feedback, I'm sensitive to the possibility that we have a problem that needs to be fixed. But if it is an isolated criticism, I try to have a thick skin. While there's always an opportunity to make improvements, on the big decisions it is important to believe in yourself, and your idea, and don't change your life's path for anyone.
Additional research and editing by E. E. Whiting
Calling all HuffPost superfans!
Sign up for membership to become a founding member and help shape HuffPost's next chapter
This post was published on the now-closed HuffPost Contributor platform. Contributors control their own work and posted freely to our site. If you need to flag this entry as abusive,
send us an email
.