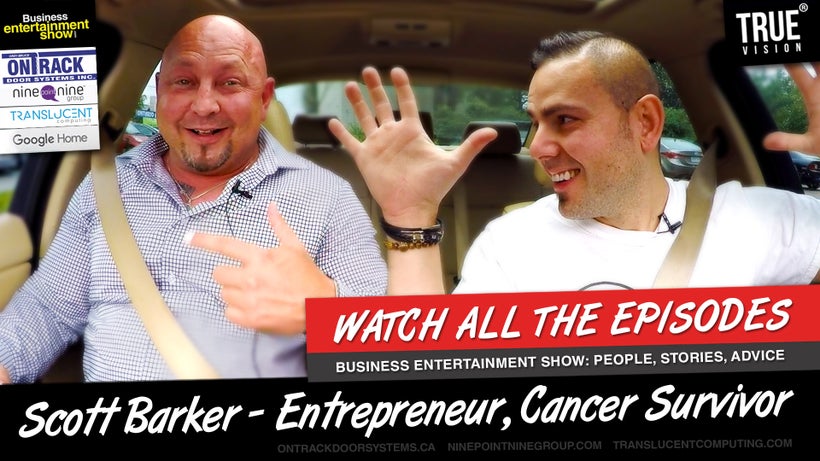 On a drizzling day, Marcin Migdal set out on to once again brave the weather and meet extraordinary people with extraordinary stories. Today on Business Entertainment Show ( Previously titled The Uber Experiment) Marcin takes a ride with bigger than life person and even bigger personality, Mr. Scott Barker - A four time cancer survivor who overcame depression, child abuse and suicide attempts to change his life around.
On today's episode of business entertainment talk show, we come across a multi talented personality who has learned the art of survival. A survivor that attributes cancer to his astounding accomplishments and success. Scott Barker, father of three turned his sickness into a motivator and became a serial entrepreneur against odds. Just as Scott decided to turn his life around after meeting a young girl who he accounts as his guardian angel, he shares his story and inspires everyone to turn their life around and make it what you want it to be.
Scott Barker runs Nine point nine group, On Track Door Systems and is the VP of business at software agency Translucent Computing. Translucent builds intuitive mobile and web apps while blending aesthetics and efficiency. On Track Door Systems is committed to providing best quality commercial and residential garage doors systems. And finally, Nine Point Nine Group is a marketing firm determined to captivate clients that require result-driven marketing.
This ultimate cancer survivor further explained to Marcin where his strength and motivation came from and how he reacted and procrastinated to first signs of cancer symptoms. How his colon cancer spread and what treatments he endured. It's during his cancer therapy treatments that he was inspired by an 18 year old female cancer patient who unfortunately passed, not without leaving a lasting impression on Scott.
"We live life for a reason and it is all about our happiness. If you are not living it that way then why are you wasting it?"- Scott Barker
A trouble maker, jock and an athlete is how Scott describes himself. Scott, a thriving athlete and professional body builder shared his personal story and brought forth a sensitive subject of child abuse and molestation. He describes how sexual advances from his coach set a spiraling series of events that brought forth rebellion, depression and suicide attempts into his adulthood before finally hitting rock bottom and finding his way.
We learn Scott began his career as a sales person, initially grabbing opportunities without a clear vision of life. Eventually landing a job at Toyota and giving them years of service, Scott had a freak accident which tore his knee ligament and made his life unbearable at which point this body builder and a father went into depression.
It wasn't all dread and gloom conversation, as the ride progressed, Scott now a life lover reveals his upcoming autobiography, "Connecting The Dots" that tells the insights of his life. Marcin as always chimed in with marketing and business advice having founded Mad Artist Publishing. According to Scott three qualities that make an entrepreneur are courage, the drive to succeed and their capability to bear the ups and downs of life.

For Scott, success and failure are symbiotic, both are impossible without each other. Out of all the different businesses that he owns, it's variety and challenges that he enjoys. The former body builder gives back often, he founded a Bodybuilding Show in Kitchener Waterloo that raises funds for those struggling with cancer treatments. He is also an active supporter in the cancer community and mentors other patients whenever they need him.
Marcin and Scott both agree the world is gradually inclining towards digital marketing and technology jobs. Clearly, in the era of modernization, social media marketing has a significant impact on consumers and the business that doesn't adapt is in danger of losing out. Search engine optimization is not magic, it can offer business visibility, amplify web traffic, gather leads, increase credibility and provide insight into customer's behavior. Companies must invest in research and development, if you aren't disruptive, no one will ever remember you. Let your competitors know you've accomplished something big through online advertising.
"Something is gonna work and something won't. Don't ask yourself why is it happening to me, ask why is it happening for me and this will always teach you something positive."- Scott Barker
As we bid adieu to enthusiastic personality on our Toronto's reality talk show Marcin asked Scott what is the most important part of any business. Scott proposed branding is by far the most important part of any business and the biggest obstacle is to make people trust in your brand.
For all the budding entrepreneurs out there who wish to turn their dreams into reality, be prepared for the roller coaster ride, be disruptive and live your life for yourself and not others. If you're happy, you will always give your best. When you awake tomorrow morning ask yourself if you love what you are doing, because if you do, you will never feel like you have a job to go to and dread climbing out of bed.

Previously Titled The Uber Experiment.
REAL LIFE. REAL NEWS. REAL VOICES.
Help us tell more of the stories that matter from voices that too often remain unheard.
This post was published on the now-closed HuffPost Contributor platform. Contributors control their own work and posted freely to our site. If you need to flag this entry as abusive,
send us an email
.