The organic personal care industry is growing exponentially, as savvy consumers swap paraben-spiked lotions for those made with essential oils, antioxidants, and ingredients whose roots can be traced back to the earth. According to Grand View Research, the global market for organic personal care has been forecast to grow from $8.2 billion in 2013 to $15.98 billion in 2020*. Those numbers speak for themselves, and it's good news for John Masters, whose eponymous luxury natural skin and hair care line has achieved worldwide acclaim.
Masters' interest in a more holistic approach piqued during the seventies and eighties, when he was working as a stylist in his native New York. Handling harsh chemicals in the salon every day ultimately caused him to shift gears to his apartment, where he started treating clients' hair with ammonia-free hair color. In 1991, he launched the organic-based Dry Hair Nourishment and Defrizzer, which grew into a full paraben-free line of products. Since then, Masters has opened a salon, and tended to the hair of Hollywood's elite including Rosario Dawson, Josh Duhamel, Alicia Silverstone, Rachel McAdams, and the cast of the series "24".
What kind of kid were you growing up?
Growing up I was a bit on the wild side, back in the 70's & 80's. I loved every minute of it.
What did you want to be? (profession)
I really had no idea what I wanted my profession to be until I was 19 & went to beauty school.
Who were/are the major influences in your life?
The major influence in my life was and still is my own intuition.
Tell me about John Masters Organics and why you started the brand.
JMO was simply an extension of my lifestyle. At that time I became fascinated with holistic living and started living a more holistic, organic lifestyle and became interested in expanding one's consciousness about natural healing modulates, organic food & herbs. It didn't make sense to me to continue working in a conventional salon, handling and breathing toxic chemicals day after day. Hence, that is when JMO products and my salon in NYC were born.

What were the most challenging aspects of going into business?
Going into business for me was actually more fun, than difficult. Once I took action on my vision and believed in what I was doing, I began to grow my business slowly. It was very exciting, as it was successful, from day 1. The hardest ongoing part is following all the constant changes in worldwide government rules and regulations - but our team is conscious of staying on top of it regardless.
Who is/are your mentor/s? How have they helped you?
Honestly, I never had a mentor. Although, my dear friend for 22 years now and business partner, Robert Bollinger, has helped me & JMO achieve great success.

What qualities do you most admire in people?
Honestly, sharing & loving friendships.
What skill do you wish you possessed?
I always wished I could sing well. Good singers bring me to tears.
What has been your greatest work achievement?
Creating the first professional organic based beauty line & clean air salon in the world. Since then many salons around the world have followed our lead and I am honored and grateful for that.
How do you find balance in your life?
Spending time in nature in the woods or by a stream.
Where do you see yourself in 20 years?
We will see - I have lots of ideas. I hope I can be an inspiration to other people.
Twitter, Facebook, Pinterest, or Instagram?
I personally do not indulge in social media. I prefer talking directly to people, which I feel is an increasingly lost art. However, my company, John Masters Organics can be found on Twitter, Facebook & Instagram.
Book or Kindle/Tablet?
Neither.
Best decade?
70's were fun - dancing the night away.
Kale Chips or Potato Crisps?
Kale chips

Snow or sea?
Sea
Where is home?
Hudson Valley in New York State & the Shasta Trinity National Forest in CA.
What advice would you give to your younger self?
Never smoke.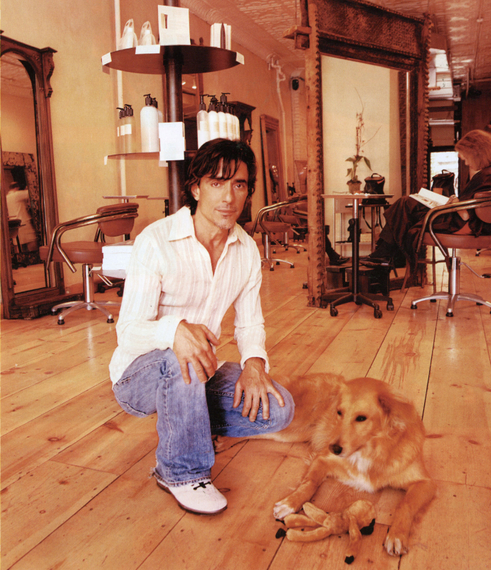 *http://www.grandviewresearch.com/industry-analysis/organic-personal-care-market
http://www.cosmeticsdesign.com/Market-Trends/Organic-personal-care-market-likely-to-post-double-digit-annual-growth-to-2020
Popular in the Community