Believe me when I declare the following: There are people in this world who make you want to exercise. Yes, you read right. Case in point? Yumi Mathews.
The 46-year-old fitness trainer (who looks 26) co-owns Reebok CrossFit LAB in Los Angeles with Ron Mathews, her other half in business and in life. Yumi is not only a bright spark of energy, but an amazing motivator, especially when it comes to leading EFx (Endurance Fitness Training) classes. Meaning 45-minute fat-blasting sessions that follow a high intensity interval training approach called Tabata that are poised to be the next fitness trend.
The 11,000-square-foot LAB fitness complex, located on Melrose Avenue in the heart of West Hollywood, also offers a CrossFit program, Gymnastics, Bag/Kickboxing and Mobility/Yoga classes, Personal Training, and CrossFit Kids.
Star associations aside (she's a personal trainer to Sofia Vergara), Yumi is successful because she's refreshingly honest and loves what she does. This is the ninth installment of Growing Up and Doing Business With...
What kind of kid were you growing up?
As the youngest of five children, two older brothers and two older sisters, I was pretty rambunctious and had to be able to hold my own. I was a happy, animal-loving, and tom-boyish girl who loved to play outside. I was pretty resilient; being the youngest helped me just roll with the flow. I needed to understand the why and what of everything to be content.
As a younger child, I was sure I wanted to become a veterinarian. Midway through High School with thoughts of college, I realized there was no way I could handle sick and dying animals. I would only try to save them all and my spirit would be crushed every time one died. At about the same time, Connie Chung was starting to become a well-known journalist and reporter. Going into college, I noticed there weren't many Asian female journalists in the U.S. and my interest was sparked. I was going to be in broadcasting and journalism.
Who are the major influences in your life?
My parents moved back to Korea when I was about 12 or 13 years old. My older brother raised me until I was about 15 but he was just out of college and wasn't prepared for instant fatherhood. At the same time, my older sister had a boyfriend whose mother chose to take me in and adopt me and my other sister. This woman was a single mother, already raising three children of her own. My sister and I moved into her house during my sophomore year in high school. She taught me more by just being an incredible role model than by trying to tell me what I should do, or how I should be.
Tell me about coaching and why you partnered with Reebok CrossFit Lab.
Towards the end of my senior year in college I realized my passion for fitness and health was greater than my desire to be a journalist. Right after graduating, I took a job in Washington, D.C. as a Fitness Director and thrived as a group fitness instructor and personal trainer. Right after moving to Los Angeles in 2000, I began working with Reebok as a Reebok University Master Trainer -- I traveled globally to present workshops and train instructors and trainers. In 2008, my husband, Ron Mathews, and I decided we wanted to open our own fitness studio. We developed a business plan and reached out to Reebok to see if they would like to partner with us. Reebok was in the beginning phase of partnering with CrossFit and suggested we change our business plan to open a CrossFit Affiliate. We loved the idea, chose LAB as our name and in 2012 we opened our doors and became the only Reebok CrossFit affiliate in California.

What were the most challenging aspects of going into business?
Hands down finding good, trustworthy and ethical people to work with who have the same or similar work ethics and discipline as you do. As in life, in business you have to find good people, hold them close, appreciate them and treat them well because they are not easy to find.
My husband is my mentor. He is the one who pushed me in the beginning to open our own gym. I was reluctant to have a brick-and-mortar business for fear of being locked down. He helped me to realize that it would actually give us freedom. We work well together in life and in business because we have so much love, respect and trust for each other.

What qualities do you most admire in people?
I admire people who are straightforward, honest, loyal and hard working. I admire people who are consistently present and focused. I admire people who can take pleasure and pride in the simple things in life. I admire people who have more dimensions to themselves other than what they look like and what they do for a living.
What skill do you wish you possessed?
I wish I could really dance like the dancers in all of the Step Up movies.
What has been your greatest work achievement?
Opening Reebok CrossFit LAB. Every day I come to work I am thankful for people who have come and continue to come to us for coaching, guidance and motivation. I see our incredible community grow daily with people working out with, and becoming friends with, others they didn't know a year, a month or even a week ago. We get to meet visitors from all over the world as the go-to CrossFit box to visit in Los Angeles.
How do you find balance in your life?
I've always loved my work because there are so many aspects to it. First, I have the science of human movement, exercise and athletic performance combined with interpersonal relationships, psychology and communication. Then I have the administrative detail on the back-end combined with marketing and advertising for the business. And to top if off, we are a dog-friendly gym where we always have at least two dogs running around, so I get my animal fix every day. It's pretty easy for me to take time for myself whether it's taking a dog for a walk, feeding my pet squirrels, or going for a casual dinner with some friends - the key is to stay present in the moment so I get the most out of that time. I love my life.
Where do you see yourself in 20 years?
I still see myself running a successful fitness business that has morphed with the times while also running an animal rescue.
Comment on:

Twitter, Facebook, Pinterest, or Instagram?
Facebook... I don't understand the draw of Twitter. I have a Twitter account but I hardly ever use it.
I'm a book girl. I have a Kindle but it's just not the same.
Favorite fictional character?
2000's - I was in my 30's and really went through some trying and tough times. I learned a lot about myself, what I wanted and who I am at my deepest core. I am grateful for those life lessons.

Kale Chips or Potato Crisps?
I have to admit I've never tried Kale Chips but I love Potato Crisps!
I prepare a cup of hot coffee every morning with lots of delicious, flavored, non-dairy creamer. Then I take two, maybe three sips and leave the rest on the counter. Drives my husband crazy.
Wherever I'm living my life. I can't imagine ever leaving Southern California but you never know.

What advice would you give to your younger self?
Don't always be so generous with your trust - it's okay to make people earn it.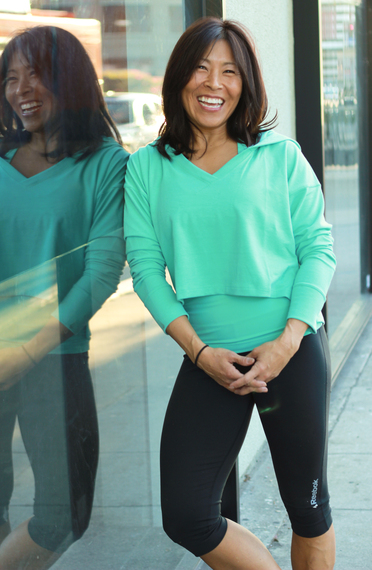 Popular in the Community