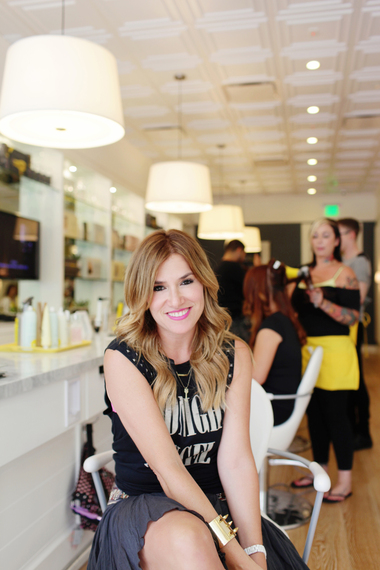 Not even Alli Webb, creator of Drybar, the blowout-only hair salon, imagined her hobby would grow from a mobile business to more than 30 locations across the U.S.
No cuts or color in sight on the Drybar menu - just blowouts named after popular cocktails like the Cosmo, Manhattan and Mai Tai. And Webb insists that will never change.
Perhaps it's that strength in her convictions that gave Webb the stamina to go from stay-at-home, to turning her side hustle into a lifestyle choice for thousands of women across the U.S.
Here's an exclusive look at the lessons Webb learned along the way to building a $22 million dollar empire.
Be Patient - Good Ideas Take Time to Become Great
Hair has been my obsession since I was a little girl and I've been doing it for 17 years. My mom used to blow out my hair and she didn't always do a great job. Of course I was right there with a mirror yelling at her to get the ridge out of my hair and pointing to the spots she missed. My 20s were spent attending beauty school and working in the hair industry. I loved it and after trying other things, I decided that that was my passion. However there were many things I didn't like about the industry - like the variation of cost for a blowout depending on the salon.
Then I got married, had kids and moved to LA from New York. My life for the next five years was as a stay-at-home mom and I was super happy doing that but after those five years I started to think 'ok I gotta do something else'. I started to feel like my brain was drying up and I needed to get back out there. I loved being a stay at home mom but I missed being in the workforce.
I didn't want to go back into the full salon so I started this mobile blow drying business where I was basically running around town charging my mommy friends $40 to style their hair and I called it 'Straight at Home.'
It got so busy and I had all this demand that I realized I needed to expand my business and bring on other stylists or open up a brick-and-mortar space.
There was just this huge hole in the blowout space - evident from the 100 thousand blowouts we do a month.
Somewhere before we opened our first store, we realized that there were not any good options for receiving a blowout. There were only two really bad choices. You could go to a full service salon and pay variable pricing or you could go to a discount chain and that's not good either.
My brother and husband lent me the money to open my shop in Brentwood. The idea for it supposed to be my one little shop where I could raise my kids and everything would be great. Of course then we opened and everything was crazy.
Work for More Than Just a Paycheck
Think back to our grandma's generation. Women used to get their hair done once a week and didn't touch. I feel like somewhere along the way, that behavior went away and became cost prohibitive. My sentiment is that we've brought back a modernized version of that behavior. We have changed behavior and it's so bizarre when people say we've disrupted the industry because even though it's flattering, it's weird because I didn't' mean to do!
We tapped into something - when your hair feels good, you feel good and people are willing to splurge on that. I feel really lucky and humble by all the success. It's hard to believe how everything has played out.
Between being a good mom to my two little boys, my husband and running a business - it's overwhelming.
It sounds cliché but I really do unplug and take time for myself when I start to feel like I can't take it anymore. Luckily it happens pretty rarely, I'm good at carving out time for myself and taking care of my needs first. I work with my husband and brother so it really doesn't feel like work. It's more when I'm traveling all the time and I'm on a plane every week that it feels physically exhausting but by and large it really doesn't feel like work.
It just feels like this is my life and this is what we do.
Embrace The Bumps And Detours - They'll Lead To Your Passion
My whole heartedly belief is to do what makes you happy and what you're passionate about. Too many people fall into jobs that they don't really want to be doing. Life is too short to not be in a place where you're unhappy.
I feel so lucky to be doing what I love and it doesn't feel like work because of that and I think that's awesome and everyone should feel like that. I feel sad when I see people who are clearly not doing what makes them happy, for whatever reason, and I think that's because that was me.
In my 20s, I bounced around from career to career.
I always knew hair was my passion. I didn't know that would take me and it took me awhile to take the leap of faith and say 'Hey this is what I want to do,' but I finally did it. I didn't think it would turn into any of this but I knew I had to chase after what I felt passionate about.
Even if you fail at whatever you're pursuing, you tried and you learn so much - even from
those failures. Do what makes you happy. Even if it doesn't mean that you're going to make a lot of money right away.
I'm adamant about Drybar staying true to its roots so we would never add another service but yeah - what next?
We probably won't open quite as many stores this year. The goal now is to make sure that everything is running smoothly and that we're all moving in the same direction.
We just hired a new CEO which I'm very excited about that.
Michael [my brother] and I have taken it as far as we can without being professional management. We're entrepreneurs and we've grown so much. The store's scale is big with 2,000 stylists and 35 locations.
The business now requires a lot of scalability and oversight and we're excited to have John [Heffner] join the team and bring his experience.
There will be new stores, I'm working on new products, which are a personal love of mine, and something I'm so proud of. I feel like a kid because I'm so giddy about them rolling out especially because we've had a great response to them.
Basically we'll keep doing more of what we're doing.
There are still a lot of things on the business and backend that we're trying to get make efficient.
Even though major celebrities like Zoe Deschanel, Julia Roberts and Renee Zellweger have all had the Drybar experience, Webb says she hopes Blake Lively might stop in one day. Why? Because Webb says, "she just has such beautiful hair!"
REAL LIFE. REAL NEWS. REAL VOICES.
Help us tell more of the stories that matter from voices that too often remain unheard.