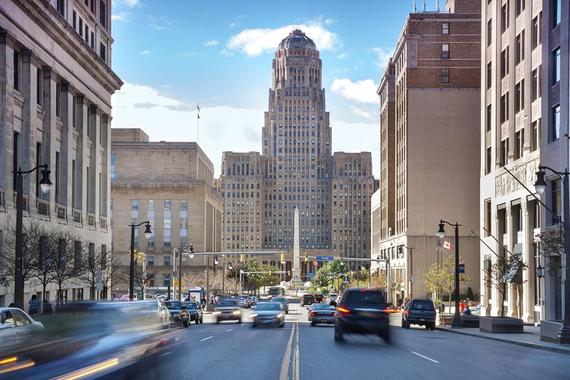 In recent years, much has been made about how the entrepreneurial movement is modernizing the American dream. Markets like San Francisco and New York City are home to some of the world's most recognizable startup success stories. And with good reason - being the top dog in a competitive market brings with it the advantages of recruiting top talent, visible press, and the ability to raise the innovative bar. But as billion dollar companies set up shop in big markets, a new generation of innovators is turning to midmarket cities to incubate their bold ideas. Cities like Buffalo, NY are making this possible. Buffalo is channeling its legacy of hard work - dating back to its heyday as a turn-of-the-twentieth-century giant - into a new push for entrepreneurial progress. Satish K. Tripathi, co-chair of the Western New York Regional Economic Development Council, and President of the University at Buffalo, perhaps said it best. The city is "open for business."
Taking a step back, Buffalo's innovative future is rooted in its time-tested work ethic. Last December, I reposted a video that discussed Buffalo as a city of firsts. From Frank Lloyd Wright to Theodore Roosevelt, the city boasts an impressive list of big thinkers with lasting impact. Of course, the city has experienced more than its fair share of setbacks. Following the 1950s opening of the Saint Lawrence Seaway, shipping and other industries moved elsewhere, businesses went vacant, and population decreased.
But today a number of trends indicate that the city is positioned for an entrepreneurial resurgence.
A New Youth Movement - According to census data analyzed by the New York Times, from 2000 to 2012 the number of college graduates (ages 25-34) in Buffalo jumped 34 percent - more than Los Angeles, New York, Chicago, or even Boston.
An Attractive Business Destination - A number of factors including access to an international border, a strong labor force, and low operations cost are gaining attention. Elon Musk's SolarCity made headlines last September with its announcement to commit 5 billion in Buffalo, while creating 3,000 new jobs. Beyond U.S. borders, a growing number of Canadian companies are also investing, leading to an even stronger startup corridor in the Golden Horseshoe - the densely populated region on the west end of Lake Ontario, stretching from Buffalo to Toronto .
Renewed Sports Franchises - Not to be overlooked, Buffalo is also attracting new talent on the football field and in the hockey rink. The Bills and Sabres - arguably pivotal economic and emotional heartbeats of the city - are sporting new leadership with owners Terry and Kim Pegula and with the recent head coach hires of Rex Ryan and Dan Bylsma.
Within this movement, a number of newer companies face challenges of raising capital. To address this, organizations like 43North are incentivizing companies from around the world to incubate their ideas in Buffalo - with the potential to win up to $1 million. With support from New York State Governor Andrew Cuomo's Buffalo Billion initiative and the New York Power Authority, there is heavy commitment and high stakes in the organization, which last year received registrations from 96 countries and 50 states. The 11 winners from 2014 now share space in a new incubator at Buffalo Niagara Medical Center - specifically created to engage a collaborative entrepreneurial community.
As they wrap up registration this month, 43North wants to continue the momentum by focusing on quality global registrants to attract the best ideas the world over. This concept of exacting change through entrepreneurism is what's driving Buffalo forward. It's a bold venture for a city to bet on bright ideas and put them into action. But it's a critical step, with potentially high reward, in restoring the brightness to America's City of Light.
Popular in the Community