Creativity, growing businesses, an even hotter food scene, an evolving education system and the never give up American spirit are now flooding the streets of NOLA.
New Orleans, one of the most historic cities in America was once described as a third-world country. High crimes rates, government corruption on the highest levels, a rising double-digit poverty rate and almost half of its adult population functionally were illiterate - this was New Orleans pre-hurricane Katrina. Not exactly great building blocks for the city of the future.
The Levees broke over 10 years ago. However, today New Orleans has made a major comeback, as the new Nola 2.0 infuses the Americana spirit of innovation and Entrepreneurship. Long before Katrina came roaring ashore and eventually flooding the famed Crescent City, New Orleans was a broken city, lacking real entrepreneurial creativity and a seemingly dismal future ahead. Sometimes you have to hit rock bottom before a rebirth can take place.
What emerged from the downfall of New Orleans is a new, vibrant, and alive entrepreneurial climate imagined by many, including Tim Williamson, Co-Founder and CEO of The Idea Village, and his vision to create an innovative festival dedicated to entrepreneurs, New Orleans Entrepreneur Week (NOEW). In just eight short years, NOEW has become the epicenter of a thriving entrepreneurial community in New Orleans, creating a true hub of entrepreneurs in the South. "What we're all creating is a new movement as a startup city, and NOEW has become part of our cultural calendar," says Williamson.
Traditionally, entrepreneurs have sought fame and fortune in what was thought to be the leading capital cities for entrepreneurship - Silicon Valley and New York. Competition for Venture Capital funds in these two entrepreneurial battlegrounds has long been fierce and unrelenting. Entrepreneurs from cities around the rest of the country often find themselves boxed out from essential access to funds and connections that can boost their business from a startup to a legitimate, profitable corporation.
NOEW is on a mission to change New Orleans into a formidable alternative to Silicon Valley, lead by what Williamson describes as a "deep love for the city." NOEW offers a tantalizing eight days dedicated to the advancement of entrepreneurs in a setting only New Orleans could deliver.
Set in the revitalized Warehouse District, NOEW 2016 offered 119 content rich events including entrepreneur showcases, networking opportunities, in-depth entrepreneur workshops, and two important competitions, The Coulter Idea Pitch and The Blackstone Big Idea, to over 13,000 conference attendees. A jaw-dropping 185 New Orleans local startups were featured at NOEW 2016 from a variety of thriving industries including health care, technology, energy and education. "Our goal is to create a platform that engages all sectors of the community," says Williamson, who welcomes not only leading entrepreneurs but also members of the New Orleans government, including Mayor Mitchell J. Landrieu to be a part of this entrepreneurial uprising.
The importance of NOEW is not only a game changer for the city of New Orleans, but also for the entrepreneurs that have long felt isolated on their entrepreneurial journey elsewhere. As a result, a deluge of transplants is taking place in an extraordinary way where people are now looking to New Orleans as the place to be for entrepreneurial success. According to the Data Center, the metro New Orleans entrepreneurship rate--at 471 startups per 100,000 adults during the three year period from 2011-13--is 64 percent higher than the national average, and 40 percent higher than other fast-growing Southern metros.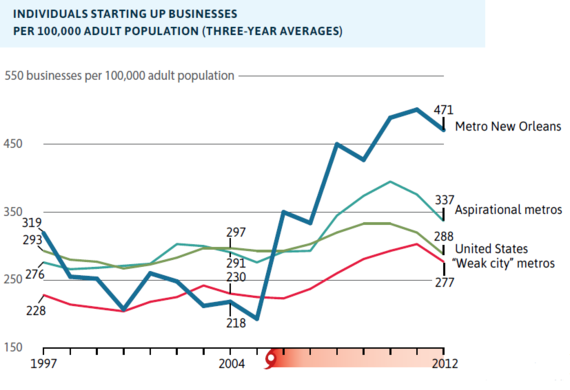 "New Orleans has this contagious energy combined with amazing, genuine people," states Rupa Mohan, Creator of The Sweat Social, who moved to New Orleans in 2015 with her husband after attending NOEW and falling in love with the entrepreneur community that was alive in this city. "It's a place that we would always come and visit as a tourist, and so it seemed like a natural place for us to start The Sweat Social. Coming from NYC where no one would look you in the eye, New Orleans was a breath of fresh air."
That same sense of contagious energy also enticed KG Charles-Harris, Founder of Quarrio, to make New Orleans his new home. "I came to NOEW in 2015, pitched my business, and a woman came up to me and said that she wanted to invest. She was very persistent, introduced us to the entrepreneurial players in New Orleans, and as a result, we had a vast understanding of the ecosystem that was changing New Orleans. It was all we needed to convince us to make the move and build our business here," says Charles-Harris.

Along with NOEW, there are a few key reasons why entrepreneurs are now choosing New Orleans, including a desirable low-cost of living, a diverse culture full of world-class restaurants, premiere events and hip and modern boutique hotels along with favorable tax incentives for both investors and entrepreneurs. New Orleans currently offers a 25 percent tax credit for qualified digital media expenditures and 35 percent tax credit for qualified angel investors, which speaks loudly as to why New Orleans ranked the sixth Best City for Young Entrepreneurs by Under30CEO.com.
NOEW marks the start of the entrepreneurial calendar in New Orleans. The entrepreneurs that compete in NOEW's grand finale, the Coulter Pitch Competition, have a chance to receive $100,000 in startup funding and a chance to be featured at Collision, America's "fastest growing tech conference," which takes place April 26-28th at the Ernest N. Morial Convention Center. Sandwiched between two weekends of Jazz Fest, Collision provides yet another critical element to the entrepreneurial development in New Orleans.
As well, the global community of business influencers is taking notice of New Orleans stellar comeback and the far-reaching significance the city will have on the future of entrepreneurialism. In his charming Irish brogue, organizer of Collision, Paddy Cosgrove raves,"There is no other city as small as this city that has made as big of a cultural impact, and I'm talking music and food and everything New Orleans has to offer. There's something in the water here, so if you add a bit of entrepreneurism, you have an explosive formula."
The heart of New Orleans is built around an entrepreneurial spirit. However, Katrina left this city a barren wasteland, with a deficit of hope and an empty tank of broken dreams from the local and federal government. Today, a new New Orleans has emerged, and the community shares a hopeful sense that their city is evolving and changing for the better. For this community to continue the self-sustaining and long-lasting comeback they desperately desire, it will take the entrepreneurial spirit that is seemingly enveloping the city, creating a communal and inviting New Orleans of the future for decades to come.