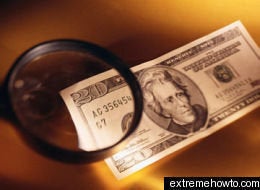 Passion and a great idea are not enough to start a business. In my last two columns, I wrote that you must demonstrate enough predictable cash flow and pledge substantial collateral. Additionally, small-business lenders require a considerable cash infusion of your own money. That is the No. 1 impediment to starting a business.

Bankers use the cliché, "skin in the game," saying that you are less apt to default on their loan if you have something painful to lose. But whether they just want your skin, or also your flesh, blood and bones at risk, varies with the quality of your application.
The lender will "require you to have meaningful amount of capital at risk," says Charles Green, a former banker and author of the third edition of "The SBA Loan Book."

"Different lenders will have different requirements for the minimum capital contributions in different situations," he writes.
Different situations mean that the higher their perception of risk, the more of your own cash will be required. Risk is relative, of course, and may be solely based on the most recent default in your lender's portfolio. Thus it is a good idea to ask the loan officer upfront how she likes businesses within your industry.
Restaurants, for example, are high on the risk scale for most lenders. So much so, that some lenders will not finance them at all. The ones that do will likely ask you to invest 30 percent or more of the total cost.
Lenders see proven restaurant franchises such as McDonalds, Kentucky Fried Chicken and Subway to be lower risk and you may not have to invest as much. That is especially the case if you are buying an existing franchise with a history of cash flow. Furthermore, the franchise has to be on the lender's unofficial list of safest franchises. In that case, a 20-percent down payment may be acceptable.
Some banks prefer to lend on owner-occupied commercial buildings. As such, they may accept as little as 10-percent down from companies with strong cash flow and a meaningful, liquid net worth. That is especially true for business owners that have an existing relationship with the bank and the loan is SBA-guaranteed.
Therefore, lenders look for a range between 10-percent to 30-percent, or more, of your cash in the deal depending upon the risk.
"If you don't have additional capital to contribute, maybe relatives, friends, employees or suppliers would be willing to invest in the business," Green says.
In fact, friends and family is the most common way to finance a business. Even if they previously turned you down, they may change their minds knowing that a credible financial institution has underwritten your deal favorably.
Keep in mind that your pitch to friends and family should include the business plan and documents that you previously submitted to the bank and also offer a reasonable return on investment.
In addition to losing their money, friends, and especially family members, also fear damaging their relationship with you if your business fails. Accordingly, a few hugs, along with convincing them that your proposal is sound can tip the scales in your favor.
Your tenacity in raising capital is a measure of your entrepreneurial prowess. So don't give up the hunt.
Jerry Chautin is a volunteer SCORE business counselor, business columnist and SBA's 2006 national "Journalist of the Year" award winner. He is a former entrepreneur, commercial mortgage banker, commercial real estate dealmaker and business lender. You can follow him at www.Twitter.com/JerryChautin
REAL LIFE. REAL NEWS. REAL VOICES.
Help us tell more of the stories that matter from voices that too often remain unheard.