We love what we do as entrepreneurs and we want to stay in the game as long as we can. That means taking care of the business and the body. Without profits, we won't succeed professionally. Without health, we won't possess the passion and energy needed to keep driving the bus.
There's no question: We've got to get our companies and ourselves to fire on all cylinders.
Isabel De Los Rios knows how to help us do exactly that. She's both a health expert and a hugely successful entrepreneur. Her online health and nutrition company, Beyond Diet, serves a whopping 600,000 members worldwide.
Here are four of De Los Rios' key strategies to get healthy and wealthy: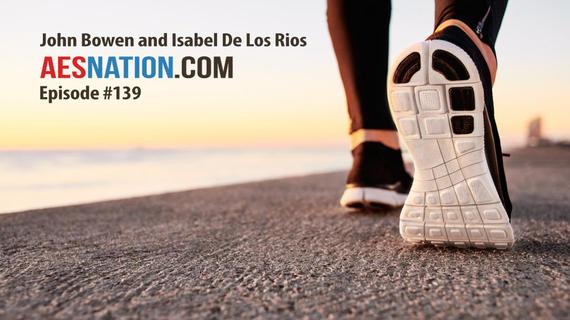 1. Find a healthy role model you can emulate. Identify a person who is as healthy as you would ideally like to be, and find out what they do to achieve and maintain their level of fitness. "Ask them what they do when they first wake up, what they eat for meals and what their health strategies are," says De Los Rios. "People are eager to share their health secrets, and that gives you specific actions that you can model and implement in your own life."
Personally, I like to seek out tips from a broad range of healthy people. The older people tend to give me time-tested strategies while the younger people offer new ideas that push me out of my comfort zone.
One of the best ways to find these individuals is by spending time with other like-minded entrepreneurs in mastermind groups and other forums where successful business owners get together to compare notes and network.
2. Make your choices based on energy, not time. De Los Rios says a major key to her success and good health is that she thinks about energy, not time, when deciding whether to say yes or no to something or someone -- from a new venture to an extra hour on the town with a client or friend. She explains: "Let's say, for example, that my business partner comes to me with a project he wants us to do. The way I figure out whether or not I want to do that project is to determine how much energy it will take from me, and if that amount is worth it for my team and for what the bottom line is going to be," she says.
This is an especially smart approach for successful entrepreneurs, as we often find ourselves flooded with offers, opportunities and distractions from all sides. Considering the impact on our energy of doing something can help us to say "no" at the right times. (That said, even newbie entrepreneurs should make energy-based decisions to get on their initial track to success and stay on it.) "It's a way to help you discern what is really important to you as an entrepreneur and where you want your focus to be," says De Los Rios.
3. Remember -- it's about exercise and diet. One big mistake I used to make time and again was focusing entirely on exercise while continuing to eat whatever (and as much) as I wanted. I've since learned that there's no exercise program that by itself can replace the importance of what we put into our bodies.
Not surprisingly, De Los Rios agrees. She's even put together what she calls the "entrepreneur's diet plan," which calls for choosing two breakfasts, two snacks, two lunches and two dinners from any combination of diet experts who focus on so-called "clean foods." (Besides herself, she suggests checking out J.J. Virgin, Dr. Mark Hyman, and various Paleo-based nutritionists.) Then eat nothing but those options for at least 30 days. "This takes the thinking out of what you're going to eat -- you've got a very limited number of choices and you stick to them so your brain can focus on your business instead of getting tripped up by having to think about what to eat or how to cook it," she says.
De Los Rios admits this ultra-limited menu might seem boring, but, she emphasizes, "If you do this for thirty days, you will create momentum for yourself and lose enough weight that you'll want to be sure not to mess it up. You will get used to healthy food, maybe more so than you were before."
4. Focus on one approach and master it. De Los Rios attracted her 600,000 members by picking one marketing channel -- Google AdWords -- and staying with that traffic source long enough for it to have a major impact on her business. "It's challenging for entrepreneurs to not keep going from one shiny new solution to the next, but you'll serve yourself better by having a laser focus," she says. "We kept working with Google even when it was challenging."
The result: "Once we mastered it, we went from two hundred sales a day to two thousand sales a day."
Part of mastering Google AdWords was a willingness to adapt to changes in the platform itself. Says De Los Rios: "About a year into it, we got the 'Google slap', which is when Google doesn't feel like you're being compliant. A lot our Internet marketing friends said forget them, but we decided to embrace Google's new rules and change our marketing to fit their qualifications. If they change, we change, and it's worked great for us."
Build a great business and a great life. Explore the key strategies used by today's top entrepreneurs at AES Nation.
Popular in the Community