Following his career in the corporate fashion world, Standard Good's Founder, Jeffery Gardner, has set out to provide quality and unique products for all.
Today, with so many purchasing options available many shoppers feel the responsibility to put their money where their values are. Socially responsible consumers seek artisans and manufacturers with ethical production standards and many try to find local brands that are made in the USA. In an answer to this calling shopkeepers are keeping their communities in mind and one shop, Standard Goods, is making an effort to do just that.
Once inside the shop, you notice the natural décor and see a variety of carefully chosen, high-quality products ranging from sunglasses, patches, bags, clothes, greeting cards, shoes, and more. The friendly staff provides a great shopping experience to help you find gifts for yourself, a family member, or a friend that are a representation of locally made brands and treasures unique to the PNW.
A few words from Jeffery Gardner, Owner of Standard Goods:
What gets you out of bed in the morning?
I love coming to work every day. I would say I'm equally driven by two things: The fear of failure, and the desire to prove to any doubters that it's possible to run a successful retail business and do the right things. To me this means paying my employees a living wage; representing local artisans and brands; buying local and USA made every chance we get; and care about the environment and be socially responsible.
What inspired you to start Standard Goods?
I worked in wholesale the past 10 years, starting with some pretty large companies, and moving on to smaller, more unique companies that I felt were offering something fresh. I noticed a trend emerging with my big customers, really all the large department stores in the US - the fashion and soft goods buyers and management were becoming very 'safe' in their choices. Their decision making seemed to be driven by accounting more than offering a compelling new experience for their customers. At the same time, and I believe I'm completely alone in my thinking here, the large retailers were focusing the lion's share of their investment on their web businesses. Maybe I'm a dinosaur, but I still think there is value in the in-store experience. I really wanted to connect with the local community, and offer a way for smaller suppliers to get their goods out in the market place.
What has been your biggest challenge in starting your own company?
There are new challenges every day, but my biggest challenge is budgeting my time. There are so many hats to wear in a small business - book keeper, human resources, janitor, stock person, cashier, tech support, buyer, merchandiser, content writer, planner, etc., and then I have my most important job when I leave Standard Goods - being a dad.
What advice would you tell someone who was starting their own company, today?
Plan, but be ready to adapt. I guess I'm old enough to have been wrong enough times in my life that I realize I don't have all the answers. I'm truly blessed to have great employees whom I value. They are much younger than myself, so they have a much better feel for what the new trends will be. Most importantly we listen to our customers.
Our biggest example of needing to change course came just a few months after opening the store. I had been a successful retailer 15 years ago and I can remember telling people that I felt very comfortable knowing what product to put in the store (and feeling that way). Well, as it turns out, over the last 15 years the retail business, customer buying habits have changed. There is so much availability out there that customers have more choice, and it is possible for people to find the absolute best price on any given item. I opened the store with too much expensive stuff, and had to change course to become more affordable.
It will always be a work in progress, but least I have some great partner employees to help steer us in the right direction.
And, this might go without saying, but save your money! I am by far our lowest paid employee.
Who is your biggest role model?
I feel like I have taken something from everyone I've worked for over the years. The good bosses I learned great habits from, the bad bosses I learned a lot of what not to do. When I was at Nordstrom, it must have been 20 years ago now, I had a boss, Brent Harris whom I probably took the most away from. He was, and I'm sure he still is, upbeat, honest, smart, and respectful. He treated his people well, and truly listened with integrity. Meaning, if there was a problem he could solve, or help his people solve, he was there for you. No political answers, no deflecting, he would just roll up his sleeves and make it happen. He really taught me how to effectively manage people. Nordstrom had some great people that I learned from - Anne Egan and Mike Kerr come to mind off the top of my head as well.
I probably equally learned from the two owners that I worked for at Dolce Vita, Van Lamprou and Nick Lucio. They taught me about the value of taking risks. I've known them for 25 years now. We all worked together at Nordstrom a lifetime ago, and they were always saying they were going to head off to Italy to learn how to design and make shoes. Sure enough, those guys sold everything they owned and headed off to Florence. They worked for other companies and then quit their jobs to start their own company. I know they had some stressful times, but they persevered and made their dream come true.
What's the most important thing you're working on right now, and how are you making it happen?
I'm currently working on setting up a 401K plan for my employees. I want all my people to have the same benefits working for our little company that they could have with a big company. Next on the agenda will be setting up profit sharing. I feel like we have a real responsibility to our people.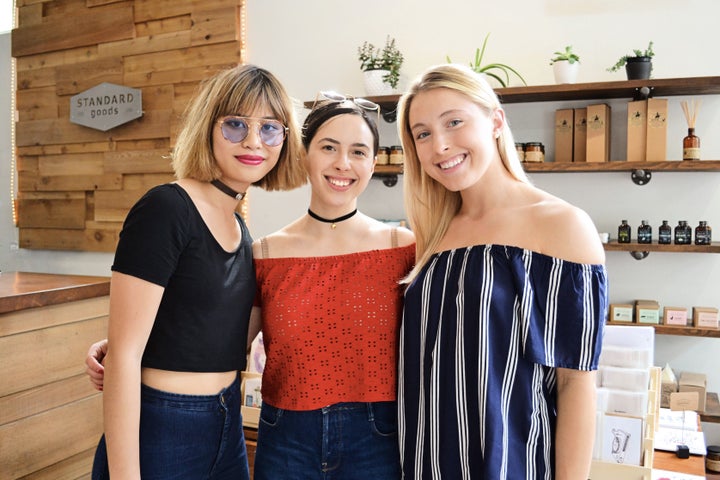 Where do you shop? Share your favorite socially responsible boutique below to spread the word on local shops in your area.
Related
Popular in the Community