In May of 2017 The Riveter, a work and collaborative space built for changemakers, opened in the Capitol Hill neighborhood of Seattle. In three months the community has grown to 300 members. They pride themselves on bringing their members daily opportunities for professional growth, from seminars on leveraging your LinkedIn network to one on one conversations with female visionaries like Sheryl Sandberg. They also believe that wellness is critical to the workday, and incorporate mindfulness and movement into the workspace. They are a place where everyone can find and achieve their own ambition.
Below Co-Founder and CEO, Amy Nelson, shares the inspiration behind The Riveter: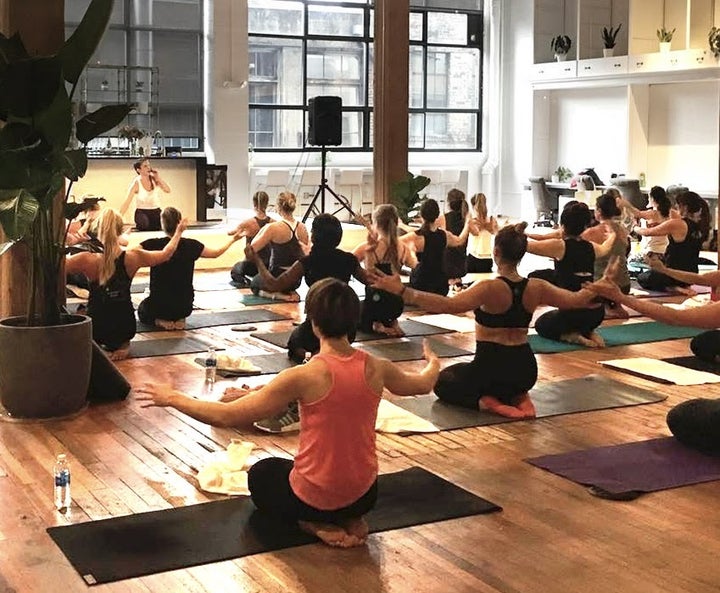 What gets you out of bed in the morning?
In creating The Riveter, my "job" every day is to talk to and work with incredible women doing big things. In a single day, I can have coffee with a founder who just closed a million dollar fundraising round, help a mother returning to the workforce figure out how The Riveter can assist her in building a network, practice yoga next to a Riveter teammate, and plan an event with a solo marketing consultant on best practices in social media. If that can't get me out of bed every morning, I don't know what could!
What inspired you to start The Riveter?
I spent the past ten years as a corporate litigator, starting my career with a Wall Street law firm. At the same time, I worked in political fundraising to advance pro-choice candidates. I served on President Obama's National Finance Committee and was a co-founder of Gen44, the President's under-40 fundraising arm. I've long been in the trenches trying to redefine the place for women - in politics, the workplace and our communities.
When I became a mother, questions I'd had about my career took on a new urgency. I was seeking an answer—or better yet, a solution—to the question I grappled with every day: Is it possible to be the best mother, the best lawyer and best partner all at once? We all make choices and tradeoffs in our lives, but I refused to accept the implicit notion that "wanting it all" was not a real option for women. But how do you stay sane, fulfilled and meet the arbitrary demands placed on women?
In the end, I really felt that women needed a source for greater choices and opportunities. Looking for inspiration, I read "Lean In" by Sheryl Sandberg. Instead, I found a telling statistic: 43 percent of highly trained professional women "off ramp" after they have children. In this statistic I found greater clarity. It strengthened my desire to help women—be it founders, freelancers or entrepreneurs—learn the skills they need to overcome the inequities they face.
I knew that I wanted to offramp from lawyering - but onramp into something else. But I couldn't find the resources. Or the community. Around that time, I went to a lot of coworking spaces to attend classes on how to write a business plan, raise funds and more. I was working out the foundation of starting my own business. And while these spaces offered a lot, it wasn't what I wanted. I didn't want pool tables. I didn't want kegs. I wanted to hear from women who had walked a path into entrepreneurship. I wanted to walk into a room where I felt like I belonged.
So, I started to sketch out a bigger and bolder idea: A place for women, meeting them wherever they are in their careers, with a community of support, a professional network and an intentional focus on wellness. The Riveter.
What has been your biggest challenge in starting your own company?
The biggest challenge in starting The Riveter has been the learning curve. When you start a business, you have to learn a lot - and you have to learn fast. Some days, it seems really overwhelming. The rewards, though, are incredible. The best part for me is that every day I am surrounded by amazing women doing amazing things. The Riveter's members are fierce and they are building products and companies that will change the landscape for a lot of people.
What advice would you tell someone who was starting their own company, today?
Make a plan - but don't make it perfect. I think sometimes we hold ourselves back by wanting to have all of our ducks in a row, a finalized plan, all unknowns known. But I think starting a business is sometimes an exercise is being okay with 70% "great" - and trusting that you'll figure out the 30% on the way.
Who is your biggest role model?
I often look to Hillary Clinton for inspiration. She is such an incredible example of a strong feminist who built her own path. She is resilient and articulate and brave. I am still somewhat heartbroken that she is not our President, but believe that her leadership has led a generation of women and still does.
What's the most important thing you're working on right now, and how are you making it happen?
I can't choose one "most" important thing because there are two "most" important parts of my life: my business and my family.
As to my family, I'm very focused on the imminent arrival of my third daughter in three years! She is due to arrive any day. So, my husband and I are spending a lot of time with our two daughters, getting them ready for the big change about to hit our family, and trying to make sure everyone is ready.
With respect to the business, the most important thing I'm working on right now is growing our community.
The Riveter is opening its second location in Seattle in September and from there will cross the water to Bellevue. In 2018, they'll start their expansion across the country to build a stronger, broader community for everyone.
Popular in the Community