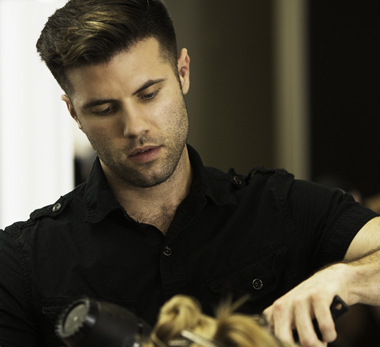 Give us the skinny on your background!
In 2002 I started doing makeup for Ruiz Salon in Austin, TX. I was really confused and conflicted about what career path I should take. I had a strong desire to do hair and makeup, but was really nervous about what that meant in terms of work and cost. I had even considered getting my real-estate license at the time. And then, I met Julie Morgan, a makeup artist that had just moved to Austin from New York city with her husband. At that time, I was working in a furniture store on the same block as the salon where she was working. Julie was the talk of the town. She came into the furniture store one day and instead of selling her furniture like I should have been doing, I began to pick her brain about being a makeup artist. She told me that she was impressed by my knowledge of the industry and Julie then invited me to tag along while she did makeup for a photo shoot for a glamour magazine. Afterwards, Julie offered to teach me makeup if I brought her models to practice on. It was an incredibly generous offer and I began to shadow Julie and spend my lunch breaks in the salon just to observe. This opportunity allowed me to build a relationship with the salon owners, Allen Ruiz and Heath Smith. I did this for a year and in a weird twist of fate, Julie decided to move back to New York and the salon owners hired me as her replacement. In addition, they generously financed my formal education in makeup. I worked for the salon for 5 years before I made the big move to Los Angeles when I turned 26!
To be honest, the first year in LA was a struggle. I was having a difficult time even getting an assistant job to a makeup artist let alone securing a talent agent to represent me. I had to take a job in a different field at Bloomingdales just to pay the rent. I was thinking, "What am I doing here? This isn't what I moved to LA to do!" I was at Bloomingdales for 3 years and this was during the recession. I wasn't getting any younger and I knew I had to go to cosmetology school -- to do what I was supposed to be doing -- hair and makeup. Then, the unthinkable happened. I was granted a scholarship to attend a brand new Aveda Institute in Austin, TX.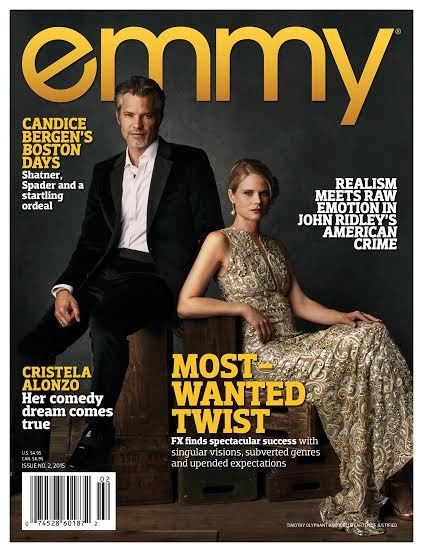 Photo Credit: Emmy Magazine, hair/makeup by Eric Leonardos
Time out -- You got a scholarship for cosmetology school? I didn't even know that was a possibility!
Yes! I had kept a close relationship with the owners of Ruiz salon even after I moved to LA. While I was working in LA, Aveda built an institute in Austin, TX and extended a scholarship offer to the owners of the salon I used to work at. They interviewed me along with a few other candidates and decided to offer the scholarship to me! Scholarships are hard to come by. If you don't necessarily have the means for one of the higher-end beauty schools, I would recommend getting your license via community college and then working with a higher-end salon to perfect your technique. Salon owners really just want to work with stylists that are easy to work with and provide their clients with a positive experience. Technique can be learned in the studio while you're assisting the other stylists. Like anything, hands-on experience is the best and if you have passion that can go very far.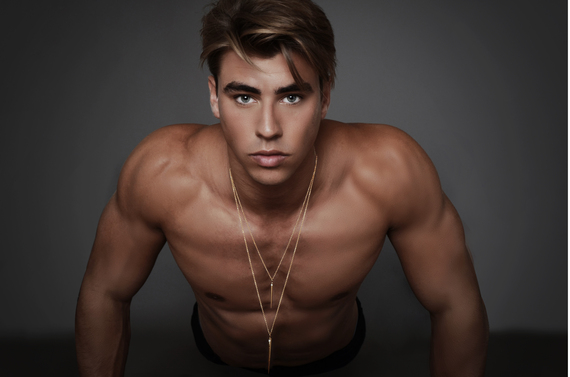 Photo credit: Johnathan Cardillo, hair by Eric Leonardos
What did you do after you got your cosmetology license?
Well, my heart was in LA. I was torn, because I felt a sense of loyalty to Ruiz salon that extended the scholarship, but I also knew that Austin wasn't my first choice as a location to build my career. The owner of Ruiz salon sat me down and said, "Listen, you don't want to be in Austin, if you did... you would know it." He was incredibly helpful and understanding. He allowed me to work for a few more months to get my ducks in a row and then referred me to Ginger Boyle owner of Planet Salon, where I've been gainfully working for several years. Allen Ruiz and Ginger Boyle were the real catalysts in my career and I'll always be grateful for that!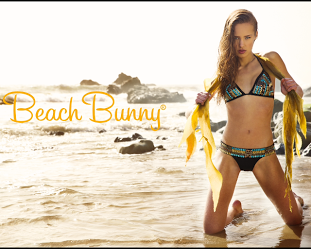 Photo credit: Beach Bunny Swimwear, hair/makeup by Eric Leonardos
As a hairdresser and makeup artist, how do you find a salon you want to work for/with? Do you audit salons? Do you base your decision on the type of clientele you see in the chairs?
I would absolutely advise rising stylists and makeup artists to audit salons. Maybe even go in for a service once or twice. It's very common for salons to have drama among its stylists and owners. I hate to say it, but a lot of salon owners can develop a real ego over the years. That's not the kind of salon you want to end up at. You should interview them as much as they're going to interview you. Try not to jump at the first offer. If you are confident in your work, let them know that you have options and don't necessarily take the first opportunity that comes along. Know yourself, know your limitations, don't oversell but definitely don't undersell. I interviewed at 7 different salons in one week before I accepted an offer. A lot of salons will allow you to come in and shadow another stylist for a day after the first interview. It gives you a real sense of what the energy is like and allows you to form an educated and informed opinion. Like any job, these people are going to be your work family. You want to respect them, get to know them and make sure you're compatible.
Also, you should absolutely take into consideration the clientele in the chair and where the salon is located. If you want to work with the client that appreciates a real experience during their time in the chair then you might look at a more upscale salon like Planet Salon. If you prefer the client that wants to be in and out in 15 minutes then you might want to look at chic barbershops -- there is something for every taste in this industry.
Can you offer new salon owners a few tips to make their client experience as pleasant as possible?
One of my biggest recommendations would be to get your clients into the habit of booking appointments instead of just walking in. When clients stop by without an appointment, it's unlikely that they're going to get the stylist they want on the spot and the clients are just going to leave feeling irritated.
1.Tell your clients when you want to see them next and try to pre-book the appointment.
2.Provide a confirmation call a day or two before the appointment.
3.Ensure that you educate your clients on the salon cancelation policy. Your time is valuable, they should be held accountable if they waste it and no-show for an appointment.
4.Invest in salon software like SalonBiz to give your stylists the power to book appointments from their cell phones and never miss a booking opportunity. A lot of clients have a personal relationship with their stylists and feel more comfortable shooting them a text vs. contacting the salon receptionist. In addition, it provides confirmation emails and allows you to record notes in your client's profile, among other helpful features. It's great software.
Alright, break it down for the readers. What does a high-end salon offer its clients with an $85+ haircut vs. a $30 cut at a less upscale salon?
If a salon is charging you $85+ they should be providing an experience with your cut. It's not really about getting you in and out in 15 minutes. They cater to the client that enjoys being pampered. In my experience, working for Planet Salon, a few of the things you should be able to expect at this price point are:
1.Location, location, location; Salon should be in an upscale area.
2.The level of customer service should be top notch, with a greeting, t-shirt or robe and even coffee or tea if not champagne.
3.Wash and dry.
4.Neck, scalp, hand massage.
5.They should block off an hour for your cut and there should be no time pressure.
6.Complimentary neck and sideburn trims in between cuts.
7.They should be using quality hair products on each client... not just selling them.
8.The space should be aesthetically pleasing with newer/modern décor and equipment.
9.Stylists should be continuing their education to keep abreast of new cuts and trends.
Ultimately, beyond the experience and the pampering, and the customer service, a high-end salon should have remarkable stylists that will provide the customer with results. Just because you have a fancy salon doesn't necessarily mean you will get a good cut, color or makeup.
What kind of qualifications should I look for when searching for a new hairdresser?
Look at their reviews, their instagram or other social media presence. Do you like their work? The best way to find a good stylist is through word of mouth. In terms of education, it's an interesting tiered existence. You could also look at their level of education. And here's the way to understand the quality and rank. There are a number of classes they can take at a community college that will ensure a passing grade to meet the state board requirements -- sometimes this will cost $5k or less, but might take a little bit longer than a year. However, these community colleges and state boards aren't really concerned about a graduate's technical abilities. Then there are mid-range schools like Marinello that try to teach candidates the technical skills, but sadly, they often miss the mark -- somewhere between $13k-18k/yr. A couple of the higher-ranking schools would be Paul Mitchell, Toni & Guy, Aveda Institute or Vidal Sassoon Academy -- somewhere between $20k-$25k/yr. However, the quality of education might differ according to the school's location. I think that the bigger the franchise, the more watered down the level of education may be. In order to make it into an upscale salon you'll need a bit of continued education that most salons will provide through apprenticeship, assistant or internship programs. One of the things that really attracted me to my current salon, Planet Salon was the fact that they provided me with the continued education I needed to learn and grow within the salon. When a salon invests the time and energy into these continued education programs, the quality control factor is escalated to a consistent level.
Support HuffPost
A No-B.S. Guide To Life
Related
Popular in the Community