Give us the skinny on your background!
Ok, soo I grew up in San Diego, CA and attended a private school. I got into music in my early teens. I started recording myself singing and playing instruments with my tape recorder. This was before digital audio workstations, like Pro Tools took over. I slowly started to join bands and actually record myself in the studio. That was a little intimidating at first, but I really fell in love with music and the creative process behind it and never wanted to do anything else. The last two years of high school I was in a program that basically allowed me to visit LA and attend music events and actually start networking. A lot of people were really confused with my drive at that age, and looking back I'm a little confused myself. Haha! Thankfully, my parents saw my passion and work ethic and were extremely supportive.
Can you explain this program a little more? They let you leave school to attend music events in LA? I attended a private school... sooo, we weren't even allowed to leave for lunch, let alone the entertainment capital of the world!
It was through a college prep program at The Grauer School. They allowed me to utilize this new program called the Round Table Program. It basically gave me the flexibility to make these trips to Los Angeles to meet with writers and producers. I would pick their brains, collaborate and you know, build relationships.
You were still a teenager at this point. How were you getting these meetings with big producers and writers?
Honestly, I hustled. I would actually look at the back of the CD cases and read the credits. Eventually it was just pattern recognition. I would get a feel for who was a real, talented player in the industry and reach out. I would also read trade magazines, like Music Connection and find contact info for the producers. I would send them demos and/or call their offices to request meetings. Most studios have a, "we don't take unsolicited material" policy, but you just never know. It's always worth a shot. Shoot them your demo.
Did anything substantial come from one of these meetings?
Yes! This is one of those weird fate stories, actually. I reached out to Gary Nuell and Larry Tollin's office. They managed Paula Abdul and Savage Garden at the time. I was actually calling the receptionist, but Gary Nuell thought he recognized my name as someone else from a record company and he picked up the line. I realized that I had him on the line and pretty much pitched myself in 15 seconds. He was hesitant but eventually agreed to listen to my work and really liked it. It was kind of one of those 'right place, right time' cases. After meeting with him a few times he signed me and I moved to LA. I enrolled in a program at the Musician's Institute, called the Encore Program, after finishing out my senior year of high school. I also eventually studied correspondingly with the Berklee College of Music and received my diploma in commercial songwriting.
What happened next?
Shortly after that I signed with Guy O'Seary at Maverick Records/WB, who now manages U2 and Madonna and runs Maverick management . Eventually, I got a studio on Sunset strip and began developing and producing artists.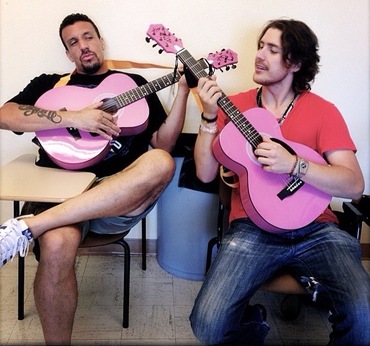 How do you find new artists to work with?
Usually, they find me. Most of my business is referral based.
Can you breakdown what you do as a music producer?
So, some of my clients aren't songwriters and I'll facilitate songwriting for them, but I prefer to kind of develop them to tap into their own songwriting skills. My job is to help them build the skeleton recordings AKA pre-production recordings and choose which version is going to be produced.

Would you be considered as an independent contractor?
Exactly! I used to be signed with a few different management companies, but right now, I'm in-between management companies and to be honest, I'm kind of thankful for that.
How did you come to have your own studio off of the infamous Sunset Strip? How old were you?
I was about 25 at the time. A friend of mine, and really awesome vocal coach, Dave Stroud, found out about the space through a client of his. It's right across the street from the Chateau Marmont off of the Sunset Strip. I checked out the space and felt like the synergy was great, so I made the big leap! Thankfully, I had spent most of my early 20's saving and investing in studio equipment.
Do you use social media as a music producer? Do you think it's beneficial in this industry?
Once you've established a name for yourself and a nice portfolio of work, the job offers tend to come to you through referrals. Personally, I prefer to work in the, 'quality vs. quantity' mindset, which allows me to be more selective of who I take on as a client. There was a time when I was part of a different artist development company that I started, called Launchpad Music Company and I would market my services, but I just got too many inquiries, it was overwhelming.

What advice do you have for someone wanting to be a producer and write music for other artists? What's the first step? Is it moving to LA? Putting content out there?
I would definitely say that moving to LA isn't necessary right away, not with the power of the Internet now. You can really spend your time perfecting your craft at home. Focus on perfecting your craft before you put yourself out there! You have to remember that first impressions are everything. Unfortunately, a lot of people make the mistake of sending their work out into the world before it's truly ready. Record companies only have so much time to take meetings. You absolutely have to make it count the first time.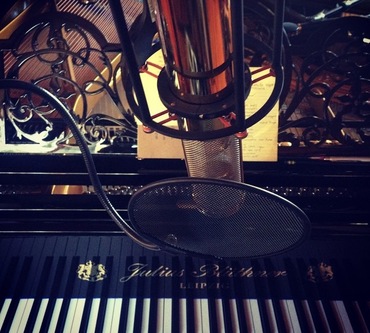 How do you feel about SoundCloud and other similar platforms?
I think SoundCloud is great! There's a great sense of community there. I mean... I still feel like YouTube is extremely beneficial too. I know it's not a newer content platform, but people still get discovered on it quite often. One of my clients from Phoenix, AZ signed with Def Jam Records, was actually discovered on YouTube.

What kind of things can young music producers be doing to network in the city?
Every year, Ascap - A performing rights society, holds the Ascap Expo in Hollywood. I think that's a great way to network. You can actually pay to attend the expo, but you do get a discount if you are a member. I would still recommend reaching out to some of these other producers and record labels the old fashioned way. Do what I did: find a pattern in who's producing what, track down their contact information and shoot them a link to your work. You have a much better shot going that route because you're one click away from them listening to your work vs. meeting them in person... in which case it's unlikely that they're going to take the time to look you up after the event. The music industry is relatively small, so it shouldn't be hard to identify the heavy-hitters and get your name out there.

Is there anyone that you feel was a major catalyst in your career?
I would say that person is Dave Stroud, my friend and vocal coach. He's definitely been there from the beginning. He saw the potential and really supported me. Ron Moss, from Rondor/Universal Publishing, is another person I would say was a catalyst in my life. Ryan Tedder from OneRepublic was a major support system in my life, as well. He believed that I could write music far beyond my own expectations for myself.
Anything that someone new to the industry should be cautious of?
You really have to read the fine print on contracts. Have a good entertainment attorney before you sign any sort of contract with a record label.
What kind of jobs would you recommend for someone while they're trying to develop their career as a music producer?
I would recommend trying to get a job with a studio. You can be a PA or a runner. At least then you're learning the ropes while you're earning an income. Follow the music. Even if it's on more of the technical side, like being an engineer, at first.
What kind of schedule might an aspiring music producer expect to have?
Typically, I'll get into the studio to record with a client around 11:00 am and leave around 6:00 pm. That being said... I work everyday. I take a ton of work home with me. If this is something you want to do for a career... You're going to be married to your laptop!

Would you say that you're trying to build John Mark Seltzer as a brand? Is that what an aspiring music producer should strive for?
It depends... Some producers have a very specific style, in which case, yes they are branding themselves. Other producers, like myself, prefer to morph into whatever the client needs. When you're more of a chameleon, you can't necessarily brand yourself since you don't have the chance to. It's kind of like an interior designer. As a designer, you might have your own sense of style, but you have to deliver a product that makes sense for your client's wants, needs and brand. You just have to let your finished content speak for itself.
REAL LIFE. REAL NEWS. REAL VOICES.
Help us tell more of the stories that matter from voices that too often remain unheard.