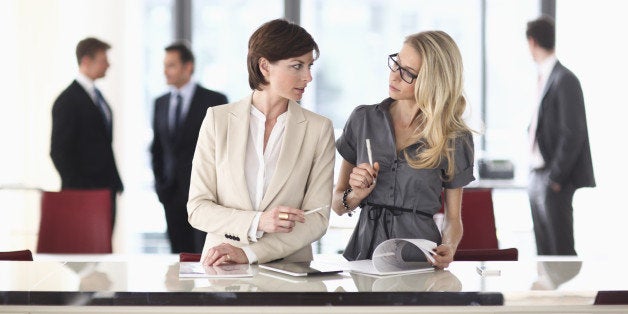 When we think of entrepreneurship these days, we tend to think of tech start-ups. This is perhaps unsurprising: we are naturally curious about the companies whose products we use every day; media are drawn to their often young and very wealthy founders like moths to a flame.

Yet, while technology is transforming the way we live, learn, and do business -- the Huffington Post itself is a product of this revolution -- there is more to entrepreneurship than inventing the next Facebook.

In my job, as head of the International Trade Centre, I have the privilege to meet entrepreneurs from across the world almost on a daily basis. They include, to be sure, IT start-ups from Bangladesh that sell outsourcing solutions to European customers. But there are also the Mongolian women who produce top-notch cashmere, and are working with the London College of Fashion and Parsons The New School of Design to improve the quality and designs of their scarves and sweaters. Instead of selling their product to top fashion labels, they hope to start selling under their own brand in boutiques in Paris and Milan: a first test to see if the training has paid off will come in April, when some of them are set to participate in the International Textile Fair in Dubai.

ITC works to help firms in poor countries become more competitive and overcome the barriers that are keeping their goods and services out of international markets. For a group of women pineapple producers from Benin, a bit of help with branding and identifying potential markets was all it took for them to start exporting delicious pineapple juice across West Africa and the Maghreb.
In fact, sometimes all it takes to connect entrepreneurs to overseas buyers is to get them into the same room. Last month, ITC helped a group of women coffee producers from countries across Africa prepare for and attend the Africa Fine Coffee Conference & Exhibition in Nairobi. At the event, they struck preliminary commitments with impressed new buyers worth an estimated US $1.6 million.

That may not sound like a lot compared to the latest Silicon Valley valuation, but it is equivalent to 360 tonnes of coffee -- enough to fill 20 shipping containers. More to the point, once the deals are finalized, they will represent real money -- and real income, jobs, and opportunities -- in the women's home countries of Burundi, Cameroon, the Democratic Republic of Congo, Ethiopia, Kenya, Rwanda, Tanzania and Uganda. The sales are proof that with better market positioning, branding, and processing, jobs in the agriculture sector can provide a decent future. This is all the more important as many youth are fleeing rural penury to inhabit the burgeoning slums of cities that struggle to accommodate them.

Around the world, it is much more difficult for women than for men to run a successful business. Even when laws are not explicitly biased against them, companies owned and operated by women often face discrimination every step of the way, from obtaining finance to finding customers.

A recent documentary -- 'A Small Section of the World' -- tells the story of how a group of women in Costa Rica overcame stereotypes, fires and other obstacles to export their coffee after their men had left the village in search of jobs abroad.

The film, made by Lesley Chilcott, who co-produced 'An Inconvenient Truth', is a tale of entrepreneurial spirit and dedication to equal any Mark Zuckerberg. Alanis Morissette was inspired by the women when writing the film's theme song -- and used their coffee beans for percussion while recording it.

But does it matter that entrepreneurs are women? It does. We know that opportunities for women to earn money can create a ripple effect: women invest up to 90 percent of her income into their families and local communities, compared to around 40 percent for men. And that means that a successful woman entrepreneur can put food on the table, pay for health services and send her children to school, so that one day they will be able to run businesses of their own: in the coffee sector, perhaps, but maybe -- why not? -- the next Facebook.
Calling all HuffPost superfans!
Sign up for membership to become a founding member and help shape HuffPost's next chapter