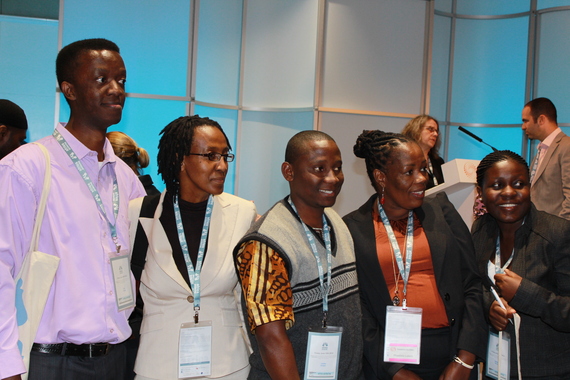 For years, many African business fact checkers failed to predict realistic outcomes; therefore I am wondering if 2016 could be the year of African entrepreneurship with real results. Well, if breakthrough entrepreneurship is about solving crucial problems with ideas, surely African entrepreneurs are in abundance.
When I met this dynamic, passionate and fearless woman of Indian descent who last year took the role of Director of Entrepreneurship and adviser to the Nigerian billionaire Tony Elumelu in the middle of a cold evening in London, one thing that has became clear in my mind is that she had a plan.
The Tony Elumelu Entrepreneurship Program is the flagship program by Nigerian Billionaire Tony Elumelu, which he commits $100 Million to create 10,000 African Entrepreneurs, also calling them to submit their best business ideas in order to benefit of a 12 weeks boot camp, get seed capital, spend time with mentors and business experts.
As one of the member of the selection committee, a long time campaigner of entrepreneurship in Africa, I have a great interest in seeing this 10 years program succeed!
In recent years, the Business ecosystem of Africa has seen multiples programs including innovation awards hangouts, competitions aiming at supporting and highlighting entrepreneurs, startups but what most of them struggled to have in my personal opinion is a clear business strategy, exit plan and framework for the potential beneficiaries. Surely well intended to support African Entrepreneurs, but their shambolic purposes has left many entrepreneurs dry and frustrated. Some have won prizes, travelled across the globe to put Africa on the map, got their pictures taken for fancy websites seeing to show their penetration into the Africa market somehow but hasn't produce any credible results or profitable companies.
Most African Entrepreneurs have participated in programs and competitions aiming at finding the next Steve Jobs or Bill Gates, they tried to get out there to show their ideas to who might be interested but has not managed for many reasons in scaling up profitably despite promises and efforts from many organizations.
As competitions and programs become epidemic in Africa, I always wondered what needed to be done to stop spreading. They elevate mediocrity which perhaps benefit the perpetrators more than the victims of technological colonialism.
The Tony Elumelu Entrepreneurship Program is just one piece in the mosaic of challenges this ecosystem has. Parminder Vir made it clear that the program aims is to bring a new clear and sustainable model in the ecosystem. They are not claiming to have all the answers Africa's facing but are fully committed in driving an African growth through fostering African Entrepreneurs. She added the purpose of the program is to identify 10.000 entrepreneurs and startups with unique ideas, passion and have the potential to become successful and profitable locally and internationally. The program is not aiming at giving grant or charity, its pure Business!
Parminder Vir OBE, an expert in private equity funding for films and media, worked with UK leading media investment companies including Ingenious Media Investments and Goldcrest Films where she advised on the investment of a £20m capital fund which included investments an Oscar-winning and critically acclaimed feature films, may knows to well the challenges Africa has, as she's herself from an Indian decent and successful in her own right as a woman.
Straight forward talking Ms. Vir, urge Africans to write their own new narratives by collaborating, contributing in the African debate and engaging more for the development of Africa, paying it back by investing and building businesses that will help Africa's economic growth.
Her humble advice is echoed by Ken Banks, Founder of kiwanja.net who said that "There's an increasing awareness, and a growing self-belief, that if Africa is to solve its own problems then Africans themselves have to step up to the mark. This is obviously all well and good, but without the necessary resources it's a considerable challenge for even the most naturally talented innovators and entrepreneurs."
He went on saying that "As we enter a new year there are signs we're beginning to enter a new cycle, too. One where increasing numbers of African philanthropists begin to seriously turn their attention to the continents problems and needs, and to finding ways of supporting home-grown talent to meet them. The TEEP initiative is exciting because it offers a long-term commitment to ideas, covers the whole continent, and focuses on for-profit businesses rather than purely Charity, Grant and Non-for profit ventures. Africapitalism, as Tony Elumelu likes to call it, could become the new word for social entrepreneurship across the continent."
After having a conversation with both experienced individuals, I concluded that If we are going to see more self made billionaires like Tony Elumelu, Made inside Africa successful Entrepreneurs, we imperatively must continue to participate, and build in this new cycle. This will take time, effort, long-term commitment but Africa has now all the ingredients, it did not have 15 years go which is a more Educated Human Capital, new Billionaires ready to invest in their people, an abundance of ideas, willingness to help and a growing market waiting to be served.
But, one imperative solution is to educate entrepreneurs on understanding basic business principles. They need honest mentoring in order to scale their businesses- this is really lacking at present-.
What are we waiting for? Creating an exit plan is pretty much in our hand. Come On!!! Let's Go!!
REAL LIFE. REAL NEWS. REAL VOICES.
Help us tell more of the stories that matter from voices that too often remain unheard.