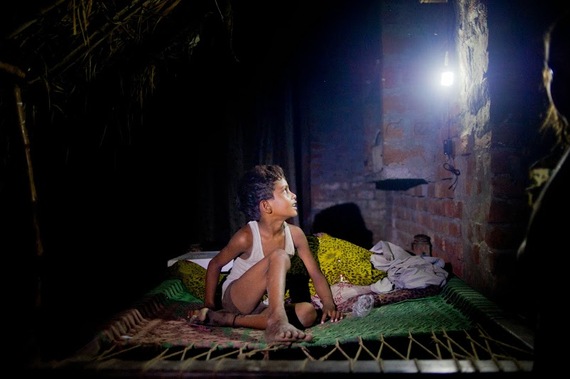 Mera Gao Power needs working capital to build a solar microgrid for a village in rural India.
My mother works in sales at a major department store. She has worked in retail for over 25 years -- she enjoys it and helps provide an income for our family. She is a saleswoman, and an excellent one at that. But she is not an entrepreneur. She did not start the corporate retailer.
Yet I constantly hear international development social enterprises call their salespeople "entrepreneurs." Because of the hype around entrepreneurship, it seems that organizations need to call all their workers "entrepreneurs" or the even cuter "micro-entrepreneurs" to demonstrate impact. But creating jobs should always be the greatest development impact of any enterprise. For every successful real entrepreneur, there are hundreds of people that want stable 8-hour workdays to provide an income for their family. A woman who is selling solar lights and/or cookstoves door-to-door is earning a commission and a livelihood. But she is NOT an entrepreneur. She is a saleswoman, just like my mother, working to provide for her family -- these jobs are vital for any economy.
The other buzz word that has potentially destructive consequences is "scale." While scale is necessary to solve the world's greatest problems, this language hurts small and local social enterprises that have no capacity to solve huge problems across the world, but have real concrete impact in the few villages they operate in. That is why rather than focusing on scale (reaching millions), we need to focus on impact. It's easier to measure, proves that one size does not in fact fit all, and emphasizes that solutions need to be tailored for communities. Because of this obsession with scale, local, but amazing organizations out there are having a hard time fundraising to keep afloat.
That is where you come in. Working capital (funding for the salespeople and projects on the ground) is hard to raise, but is what is needed. ENVenture, in partnership with Milaap, an Indian organization that seeks to raise philanthropic loans for deserving rural projects located in the last mile -- the far flung corners of India -- are providing you with opportunities to loan small amounts of money to invest in the following areas:
• Help power communities through cost-effective solar electricity,
• Build a consumer base for clean drinking water to villages and for clean cookstoves which save people's lives
You can start lending here today. Anyone who lends over $500 will automatically be considered an "ENVenture micro-angel" and will be profiled on our website and various media outlets. We welcome our first Micro-Angel Sangeeta Godbole from NC! Consider investing in projects and salespeople, hear their stories, and learn about the impact you are making. Technology is now enabling you to financially support a sustainable enterprise in the neediest parts of the world. So what are you waiting for?
Calling all HuffPost superfans!
Sign up for membership to become a founding member and help shape HuffPost's next chapter