CHRISTIAN ARRIVES
Today is the day! I am nervous and excited and beside myself. I am going to see my grandson and hopefully bring him home to California with us. I am in a state of anxious anticipation. The only down side is that Tarn will not be coming. I want her to be a part of this. She has done so much for us and if Mia and Nat and the kids could not be here, then I wanted Tarn here. I needed her here.
There is a mad rush to pick up the Passport. We are told that it was and is waiting in the Bangkok Passport Office. It was not mailed to Surin City. We are told that the Office closes in 90 minutes. Ant is to fly with Christian to Phuket from Bangkok in 2 hours. Will she make it? Will she have to miss the plane? If we do not have the passport, we cannot bring Christian home with us, that is for sure. If she cannot get the passport, she and Christian will be staying in Bangkok. Mia is on the phone with me, Ant is texting Mia. Rick and I may have to fly to Bangkok, wait until Monday when the office opens and then fly back to Phuket. I am pacing back and forth and Rick has gone for a swim! With minutes to spare my cell phone dings and there is a picture of Ant holding the Passport! The Passport picture shows Christian all of 10 months old with his left hand in the air. It looks like he is giving a fist pump. I give one back. Ohmygodohmygodohmygod....
A arrives at the hotel with her friend Annie. After the last time when she wanted to invite her entire entourage to the hotel, following Josh's death, I am happy to let her bring whoever she wants here and now. Annie is a petite Thai girl with bright red lips and a penchant for baby doll sun dresses. She speaks not a word of English and is always texting on her cell phone. I tell them to bring their swim suits, enjoy the pool. We will have lunch and wait for Ant and Christian. They amuse themselves at a table away from us while I stare laser like at the entrance Ant and Christian will emerge. My phone rings: They are here parking the car. I am beside myself with joy. I go to tell the girls and then I see: Tarn walking in holding Christian!!! Ant follows bringing with her the biggest bouquet of lilies I have ever seen. I cannot speak I am so overcome with love and gratitude. Tarn offers me Christian and says, "You did not think I would miss this, did you?" She was planning to come all along. Surprise!
Christian gives me a very serious look and wriggles out of my arms when he spots the blue ball I have brought him. He and Rick kick the ball back and forth. I take a picture and send it to Mia. My heart is overflowing.
Arrangements have been made for A and Annie to stay in the same place Tarn and Ant are staying. Christian will be staying with them. Tarn feels this is best as A is missing Christian terribly (?) and wants to spend as much time with him as she can. Oddly enough I still have not breached the subject of Christian coming to the US with us. I am so afraid of A telling me, "Oh no, not going to happen. You mistaken". So I leave it all up to Mia and Tarn and Ant to arrange, best to keep "Mean Grandma" out of the equation. Although A and I are getting along famously.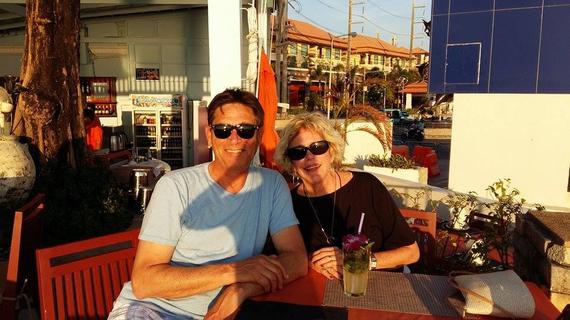 Tarn arranges, of course, dinner at one of the loveliest restaurants I have ever seen, and the 7 passenger van to take us there. The Palms in Phuket. On Laguna Bang Tao Beach. I am sure the food was delicious, I know the view was; long boats, infinity pools separating the dining tables and crickets so loud you could not hear the person next to you speaking. I had eyes only for Christian and watched him sleeping peacefully in his stroller, his floppy eared dog, next to him.
This night was a night of business for A, Tarn and Ant, as well as Rick and me. After dinner we would be going back to the hotel Tarn had booked them into for paper signing. The wheels were turning and we were moving forward with bringing Christian home.
The papers were signed. I gave A a hug, and for the first time I promised her I would take care of Christian and I told her she would always be his mommy. And I meant it.
Say what you will about her motives. This mother was giving away her child. I can think of no greater sacrifice. I had enormous love for her.
And then she said something that really stunned me: she asked if I wanted to keep Christian tonight. Take him home with us? Back to our hotel? For the night? Yip, she replied. We gathered all his things and Tarn drove us back to the DoubleTree. We called for a crib and one was delivered. We readied Christian for bed. He had already been bathed, powdered, dusted, lotioned and put in his jammies by his Aunties and his mama. This was one very sweet smelling little baby. Watching the ministrations had Rick and me laughing. Four women putting this tiny little peanut into his jammies, while he lay there scrolling and swiping on one of their cell phones.
He goes down so easily. I filled his bottle with goat milk formula per Tarns instructions. Positioned his little head on his pillow, sang Twinkle Twinkle and watched his baby eyes close. Rick and I sat outside the room on the patio and marveled at this day. Safely inside sleeping was my blessed grandbaby. I breathed in the warm fragrant night air and felt as if I might burst as my dreams of months ago were being realized. I was so happy.