Rick and I keep a journal and include daily observations about our travels. This proved to be more Rick than me on this trip. I was so highly sensitized by the daily events, it was hard for me to write more than a few words every day while we were in Phuket, particularly after Christian arrived. Here is Rick's entry on the morning after Christian came to stay the night with us:
"My day began much like the others with a walk on the beach. One big exception, as I left the room, Leigh wasn't alone. There with her, just waking up, grandson Christian welcomed the day with us. While walking I was taken back a year ago to the horrible tragedy. There didn't seem any hope, only the germ of a plan that would bring us where we are today. The question always became "How can we make this happen?" A didn't seem cooperative at all back then, unless we came up with a ton of money to appease her. In the passing months we didn't even know where Christian was, or with whom. To me Tarn was the biggest player in these events. Eventually, she was able to take him in and provide for him in the way the others could or would not. As she cared for him for the past 4 months, the plan to bring him to the US didn't seem so farfetched. Wheels were turning slowly for sure but in a positive direction. The legal hoops through the US Embassy were many but not completely hopeless.
Even with Mia being pregnant she stayed determined to wade through the muck, knowing that if it happened she would have her hands full with a newborn and Christian as well as Luca and Micaela. Nat was a very big part of this equation. She and Leigh were at odds often but somehow they became a team and forged ahead with unyielding determination. The odds of this happening were formidable but neither gave up. It is hard to capsulize the tortuous pace of dealing with not only the US Embassy, but the Thai Government and laws governing children in a country known for child trafficking. Even though it seemed easy to declare A an unfit mother, the Thai government would still see her as Christians mother. If we got to court, a strong possibility was she could still win."
We spend the next 2 days with Tarn, Ant, A and Annie. And Christian of course. I am happy to share him with whomever. We are all seven of us getting along well; Christian being the anchor. A and Annie come by the hotel with Christian, and then Ant and Tarn come to gather us all in the van Tarn has hired to take us to restaurants and places that Tarn is familiar with from her time with Joshua. I silently thank Josh for making this possible....as if he were here with us, but of course he is!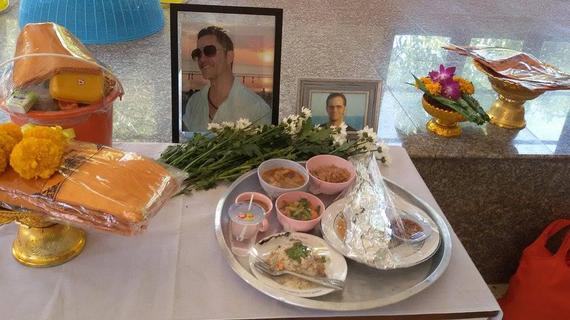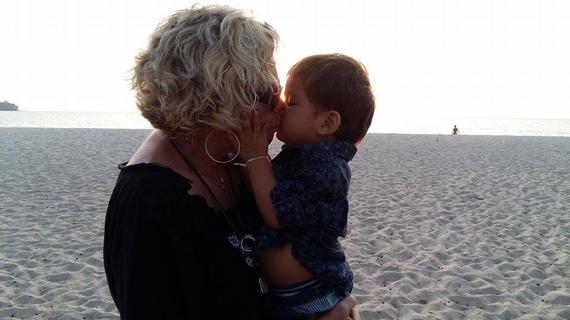 My "elephantitus" has subsided and so has the massive bite to my right cheek, but now Rick has a terrible earache. Rick is completely deaf in one ear, so any problem with the other ear is cause for alarm. He and Ant go off in search of a pharmacy. He returns incredulous that the total cost for the pills and ointments comes to 5.00. He is almost completely better the next day.
I love being in Phuket. I feel so close to my son. The beach is warm and soothing. We have expert guides in Tarn and Ant and A. I get to see and play with Christian every day. I tell Rick I could live here. He doesn't feel the same. The heat and humidity is oppressive and his daily walk on the beach is becoming boring to him. He would like to see some other scenery and hike some other places, but we are here in this place for a reason and venturing off the immediate terrain is not on our list of things to do.