AYARA RESORT-OUR LAST NIGHT IN PHUKET
Tarn had told us a couple of days ago that she had a surprise for us. She wanted us to pack up the night before we were to leave, that A and Annie would be staying at The Double Tree in our room with Christian and she was going to have us stay elsewhere. I so did not want to do this. We were at The Double Tree, paid for and the thought of packing all our clothes in the heat and humidity to move to another hotel for just one night seemed daunting. But because it is Tarn, of course we did. She came to collect us that morning and after a less than one minute drive we got to some gates and a long winding drive up a hill to The Ayara Resort. We got out, climbed the steps to the reception area overlooking a beautiful aquamarine pool. Everything was Plumeria scented. We were greeted with Jasmin wrist bracelets and ginger tea. Tarn said she would see us that night for dinner at the restaurant by the pool. Then we were whisked away in a golf cart where we climbed and climbed until we reached our villa. Our villa! Up some more steps and our gate was unlocked and we were literally on top of the world. Two villas separated by an infinity pool. Our own private infinity pool! One villa housed the living, dining area, the other the bedroom bathroom area. Both villas and pool had 360 degree views of the hills above Phuket and the ocean below. I took a video of our new abode and Rick immediately ordered room service. We had no intention of leaving. Not ever! But then the phone rang and once again it was Tarn telling us we had a 4:00 appointment for a couples massage in the spa. See, this is the thing about Tarn. Just when we think she is our angel savior she ratches it up a notch and becomes this ephemeral Goddess of Goodness and Plenty. Why does she do these things? Because she can and she delights in grand gestures and surprises. And as beautiful as she is physically, she possesses a humility and modesty of character that I have never seen in another human being. We are once again speechless. And then we jumped in the pool stark naked, because we could.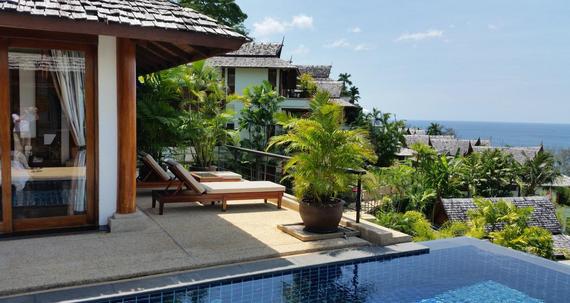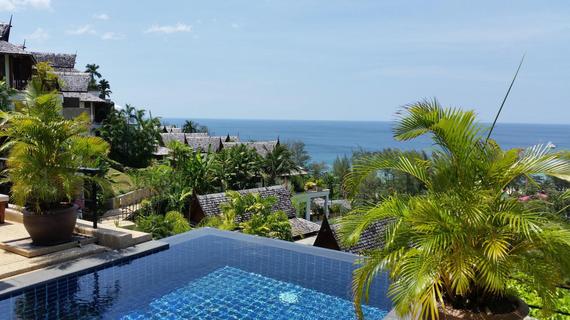 The dinner was wonderful with Tarn, and we drank wine and talked about our great adventure. We still did not want to presume we would be taking Christian home.
A could always change her mind. Yes, papers were signed; we had everything we thought we needed to leave the country with him....but, until we were on a plane with doors closed behind us, in the air, we never took for granted this would happen, because in truth, we did not think it would happen.
We said good night, and agreed to meet at breakfast the next morning.
In the morning I text A to find out her plans for the day. This was to be her last day with Christian, as we are leaving that night, on a 2AM flight out of Phuket to Seoul, Korea and then on to San Francisco with a connecting flight to San Diego. I get no response from her. Odd. I text her again, no response. We meet up with Tarn for breakfast and I ask has she heard from A? No, she hasn't. She asks to see my cell phone. Nope, no response. Tarn looks worried, the color drains from me. Tarn asks me if I gave her the money. Yes. How much? When I tell her. Tarn looks alarmed. "Why so little money?" I tell her that was all I could bring with me and that I would give A more when I can get to a Visa ATM, that I cannot use my AmEx card. Tarn immediately texts A to tell her we have more money for her. $3,000. That gets a response. Tarn says she will get her the money and I can repay her when we get back to the US. Yes, of course, as soon as we get back, I promise.
After breakfast while we are awaiting the ride back to our villa the manager of the hotel comes over to greet us. Her name is Noppapak and in speaking I tell her why we are in Phuket and specifically why we are at Araya Resort. When I mention my sons name, she becomes very quiet and tears well up in her eyes.....she tells me that on the morning of Feb. 28, she was on her way to work, when she witnessed a terrible accident on the road in front of her. A motor scooter had been forced off the road by a tour bus. The man on the scooter, my son, Joshua, appeared to be instantly killed. My God. She saw the accident that killed my son. She was there. I am speechless. She asks about Christian and wonders if she might meet him. Of course, I respond, as soon as he and A and Annie arrive at the hotel with Christian. I am so undone by this, I need Rick to steady me. I don't know what to make of this incredulous coincidence. When we arrive back at the villa, I sit outside looking at the ocean and think that Josh is everywhere, he has touched everything and almost everybody. I wonder what his last thoughts were. Did he try to outrun the bus? Was he pushed off the side of the road? Did the bus even see him? I had been home in bed asleep at the time my son lost his life. It was a million miles away....but I met a woman who witnessed my sons last seconds alive.
This is hard to fathom. So, so many things were so serendipitous on our many trips to Thailand after Josh's death, none more so than this. Again, had it not been for Tarns generosity in booking us a villa at this magnificent resort we would never have met Noppapak or heard her story.