THE FLIGHT HOME
The flight from Phuket to Seoul was uneventful. Christian fell back to sleep for a little bit and when I turned to check on him he had slid half off the seat and was sleeping in an almost vertical position, his little face in the seat and the rest of him on the leg rest. He did not look like he would have wanted me to wake him again, so I let this sleepy baby lie while I kept both eyes on him, should he slide further onto the floor. It reminded me of the time Norman got Josh up to keep him company in the kitchen while I got some much needed sleep time.
When I awoke and went into the kitchen I saw the bouncy chair on the table minus Josh. "Where's the baby?" I asked Norman. Josh had slid off the chair and was sleeping soundly on the cushioned bench of the breakfast nook.
We had 6 hours of flight time before we landed in Seoul and then another 6 ½ hours in the airport before we boarded the next plane to San Francisco, a 13 hour flight. With a 15 month old baby.
It was freezing in Seoul. We had summer jammies for Christian and a Baby Gap sweatshirt. I bundled him up as best I could, but it was still cold in the Star Alliance lounge in Inchen Airport. What were we going to do for 6 ½ hours and what are we going to feed the baby? I had his goats milk but little else. First I needed a blanket to wrap him in. I went to the entry desk of the lounge and asked the attendants if they had an airline blanket I could use for Christian. They brought me a cozy comfy Air China blanket. I wrapped him in it. I found some rice with sesame sauce and Christian ate a little of it. And a bit of banana, but mostly he was happy with his goats milk bottle. I slept not at all on the 6 hour flight from Phuket to Seoul, so Rick took Christian in the stroller for a walk. I tried to rest but was over tired. I picked at some food and walked around the lounge. It was there that I found the most luxurious bathroom! With a shower! And all the amenities. A marble shower the size of a private bathroom in a lovely 5 star hotel. Who knew?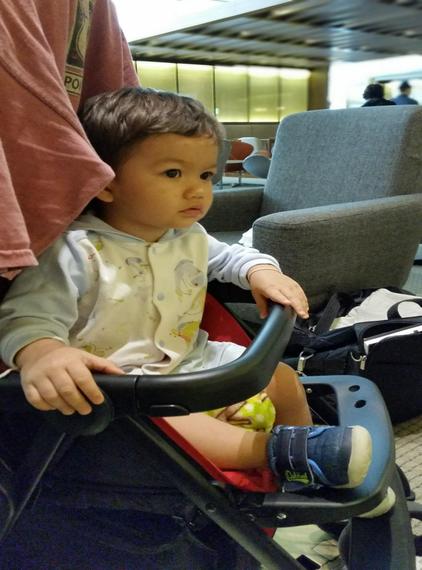 When Rick got back with Christian, he was excited to tell me there was a children's play area in the airport with climbing things and a playhouse. If we had to spend 6 1/2 hours on layover, Inchen Airport in Seoul, Korea was the place to be.
I took Christian into the shower and he loved it. I wrapped him up in clean clothes and covered him in baby lotion. Then I showered.
While showering Christian found my bracelet and decided to throw it in the toilet along with the bottle of lotion. I fished it out. Rinsed it off and out we strolled. Clean and fresh smelling and ready for the next adventure.
Our flight from Seoul to San Francisco was everything we hoped it would be. Air China was fabulous. The flight attendants were in love with Christian, who was busy not sleeping and playing hide and seek with the woman in the pod next to us. I was mildly annoyed because I was trying to get him down so I could get some much needed rest. I had no idea what time it was, but I figured it was either time for Christian to take a nap, or to go to sleep for the night. I know that I had not shut my eyes in at least 24 hours.
The business first section was less than half full, so Rick and I were able to change seats. Christian would have his own pod next to me and Rick would be in the pod in front of me. I told Rick to get some rest and I would stay with Christian until I could get him down. Rick was out like a light. And I was up for the next 5 hours entertaining Christian, silently begging him to fall asleep. At hour 6, I could take no more, so I woke up Rick and said, "You've had 6 hours sleep and I haven't slept in over 24, your turn." He dutifully switched places with me, and I was able to shut my eyes for the next 7 hours!!!
I awoke to the flight attendant telling me we were getting ready to land in San Francisco. I turned to look at Rick who was eating breakfast, and reading his book. Christian was sleeping soundly next to him. "Are you exhausted?" I asked. "Nooo, Christian fell right to sleep as soon as we switched seats." Of course he did!
Support HuffPost
A No-B.S. Guide To Life
Related
Popular in the Community