Adria, Joshes dear friend wants to put on a benefit for Josh at The Monarch in San Francisco. She wants to do it all and in my agoraphobic state I am very happy for that. My brother flies in from Mich. My nephew comes from LA. Mia's dad Al, drives from Ventura, and so many, many friends of Josh's. I recognize so few of them. They are all grown up now. Josh's best friend to this day Adam Le Blanc. Adam's mom, Jeanne is here from Palm Springs. I have not seen her since 1998, and she is still beautiful and funny. Adam's sister Simone, who is in the early stages of pregnancy, is here, and dear friends of mine have come. All in all maybe 200 people show up. Lots of Josh's girlfriends from high school, and before he moved to Thailand. They have all written me and told me what a great guy he was, a super boyfriend, loving and thoughtful, and more than anything I love hearing that. Josh's buddy from early DJ days Emanuel is DJing downstairs and the rush of loud music fills me with happiness. Cliché to be sure, but......Josh would have loved this. Mia's dad was the life of the party and at some point in the evening a security guard found a bunch of credit cards and sundry items that had fallen out of Al's man-purse. He had no idea they were missing. I went outside to have a smoke with my brother, and a pretty woman asked me if I was Josh's mom, I said I was, and she told me someone wanted to say hello to me. It was Martin! I threw my arms about him and told him how happy I was to see him and how Josh loved him. He broke down in my arms. It was that kind of night. Happy one minute, greeting and being greeted, and bereft the next. Adria outdid herself and the club raised over $6000.00 for Christian. I opened an account in his name.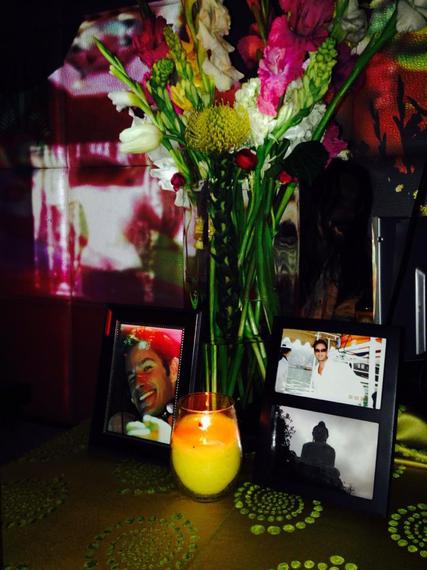 Now that I know Christian is my grandson, I have to mend my relationship with A. I write her and apologize for my anger and blame it on my grief. I ask her forgiveness and she once again starts calling me mom. I know she cares for the baby randomly and I think if I tell her I will give her 1 million baht ($32,000USD) to start a new life for herself, maybe we could take the baby and raise him here....she tells me "My baby not for sale!" I don't understand. Nobody is raising the baby on a full time basis. He spends time with A's elderly mother/grandmother, sometimes A's sister, who tells her, she doesn't want to raise him but also does not want us to raise him. We hear that the money she has been receiving from the benefits in Phuket and Bangkok is buying new hair do's, a flat screen tv, travel to far places. I am furious. In the trust fund for Christian, we have received only what was raised at the benefit in SF and one in Bangkok. Now I understand. She is the grieving girlfriend with the tiny baby, we are not needy. We hear that a couple living on the Cambodian border in Surin City, not to be confused with Surin Beach, as I was, is taking care of him, after the mother/grandmother fell down the stairs while carrying him. We hear he is covered with bites on his little face, that he is sleeping in a hammock between two trees. We hear the mother is in Macau, China working as a prostitute. We hear it all. We don't know what to believe. I spend so many nights fearing for his safety, knowing I am helpless to do anything for this little baby. This is when I get up and "talk" to Tarn.
On one of our late night talks, I tell Tarn we have to hire detectives to find out how and where the baby is. Do they have such a thing in Bangkok? Duh! Within days Tarn hires 2 men to travel the 8 hours to Surin City and we await their report.
A week later we find out that the baby is living with a couple who are neighbors of elderly mama. The baby is allergic to cow's milk and can only drink goat's milk formula. There is nowhere in the village to purchase goats milk. A rarely visits the baby and she owes the couple many thousand baht for 2 months of caring for the baby. We are appalled. Tarn springs into action and while she does not send the couple money she sends cases of goats milk and cases of diapers, along with toys and clothes.
I am frantic. Mia calms me down by telling me the picture of the house looks nice. "At least it doesn't have a dirt floor." I am angry that she is not doing more. She is angry at me because I don't know what she is doing. We are not getting along.
On top of all this Mia and Nat's company Green Shoots Distribution is being plunged into bankruptcy by their investor, who is a 23 year old trust fund baby. They are scrambling to keep it afloat. Bills are not being paid and money is owed.
Mia is getting up at all hours of the night trying to keep their company from caving and also deal with The Embassy, and the DNA findings. Nat is commuting back and forth between California and Washington DC, where he is part time dad to his 2 little boys as well as dealing with the business.
One morning I wake up and the light is blinking on my phone. I play back the message and it is A, crying. She said Josh came to her in a dream and told her it is best for the baby to come to the United States to live with us. She is fearful, scared really, that if she does not do what Josh asks in death, something horrible will happen to her.
Calling all HuffPost superfans!
Sign up for membership to become a founding member and help shape HuffPost's next chapter