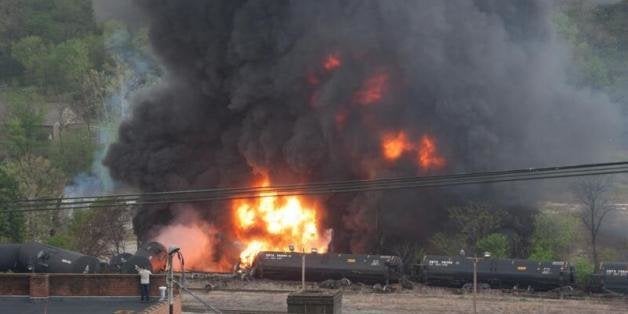 On April 30 in Lynchburg, Va., yet another train carrying crude oil derailed and exploded, spilling oil into the James River, forcing the evacuation of hundreds of people from their homes and causing the state capital of Richmond to switch drinking-water intakes to a backup supply. After so many incidents, it's clear that immediate action is needed to halt these disasters, which is why Scenic Hudson and Riverkeeper, among others, have asked President Obama to call on Transportation Secretary Anthony Foxx to issue an emergency order banning the use of vulnerable and unsafe DOT-111 tank cars for carrying crude and instituting a wide array of safety provisions.
A surge in the volume of crude oil transported across the U.S. -- and down the Hudson River, where our two organizations are engaged in protecting irreplaceable natural resources -- has greatly increased the likelihood of serious accidents. Last month, as America marked the 25th anniversary of the Exxon Valdez oil spill that devastated Alaska's coastline, crews were cleaning up another coastal spill: 170,000 gallons of viscous marine oil that gushed from a barge into Galveston Bay, imperiling beaches, habitats and fishing. In February, some 30,000 gallons of light crude oil spilled into the Mississippi River near New Orleans, shutting down 65 miles of shipping.
Worse, gaps in federal and state jurisdictions mean some waters and communities lack adequate safeguards from rail or barge spills, and almost all railcars transporting crude oil are below the threshold requiring federally approved response plans. Most distressing, recovery rates for "successful" crude oil cleanups range from five to 25 percent, meaning 75 percent or more of spilled crude stays in the water, causing irreversible harm. Michigan's Kalamazoo River still suffers from a heavy crude spill that occurred four years ago. Some stretches of waterfront remain closed to the public while response and recovery costs climb into the billions.
A spill into the Hudson River -- one of the world's most biologically diverse tidal estuaries -- would be catastrophic to the public health and natural resources of a region stretching from Albany to New York Harbor. It would foul wetlands, decimate water birds, and halt recreational fishing and commercial traffic. It would severely impact a $4.75-billion regional tourism industry and communities drawing drinking water from the river. Existing spill protocols are outdated and utterly fail to protect these vital resources -- which barely escaped one calamity already. In 2012 the very first tanker transporting highly volatile Bakken crude down the Hudson ran aground, puncturing its outer hull. Thankfully, none of the ship's 12 million gallons (roughly the amount spilled from the Exxon Valdez) spilled into the Hudson.
Locally, our risks keep rising. New York's Department of Environmental Conservation (DEC) has granted permits to two Albany oil distributors to increase annual Bakken crude shipments from negligible amounts before 2012 to 2.8 billion gallons today. Much of this oil passes through the region in the same DOT-111 railcars that were involved in the derailment and explosion in Lac-Megantic, Quebec, last July that killed 47 people and destroyed half the downtown. Today these cars make up 70 percent of America's rail tanker fleet.
In addition, the New York DEC issued a "negative declaration" -- allowing for a minimal environmental review -- of a permit enabling Global Partners to expand its Albany, N.Y., plant to process heavy crude oil. Sourced in Canadian tar sands deposits, heavy crude sinks instead of floats, rendering even the most basic spill-response practices (like booming) ineffective. The DEC also is reviewing plans for a similar Global riverfront facility in Orange County, 90 miles south.
Secretary Foxx made a step in the right direction last week, during his visit to Casselton, N.D. -- site of a massive oil train explosion in December -- when he said DOT-111s need to be retrofitted with better protections or replaced. Federal regulators soon are expected to advance new tanker safety standards. Until then, a moratorium on the use of these cars for carrying crude is essential.
Secretary Foxx's remarks come on the heels of other recent positive first steps. Nationwide, crude oil rail carriers have voluntarily agreed to enhance safety.
In New York, Gov. Andrew Cuomo ordered state agencies to assess threats to waterways and communities from crude shipments; their report -- ironically issued the same day as the accident in Lynchburg -- outlines a series of recommended actions by the federal government and railroad industry to expedite the replacement of DOT-111 railcars; enhance inspections of cars, tracks and other railroad infrastructure; and improve emergency preparedness. The report also indicates steps the state will take to secure accurate information about the volume of crude oil transported through communities and facilitate comprehensive responses to spills.
Prior to this report, the state had begun conducting surprise safety inspections of rail facilities and levied some fines. The DEC recently sent a detailed list of questions to Global Partners about its proposed heavy crude facilities, opening the door for more stringent reviews. The governor, Senators Charles Schumer and Kirsten Gillibrand, and New York's House members are calling on federal agencies to implement tougher transport regulations.
Yet severe threats to America's waters persist -- evident locally from the four derailments since December of tanker trains on a line that runs through New York State and perilously close to the Hudson River. Fortunately, no spills or human injuries occurred.
President Clinton declared the Hudson an American Heritage River in 1997 -- a designation that will ring hollow if a spill wipes out decades of environmental progress and the river's emergence as an economic engine. Scenic Hudson and Riverkeeper have called for a moratorium on transporting crude oil on and along the Hudson until its safety can be assured. We contend that failure to take action in light of acknowledged public health and environmental risks is in direct violation of three federal laws.
At the end of the day, the transport of crude oil by rail has proven to be a deadly and costly endeavor. As the responsibility for managing this industry falls squarely in the lap of the U.S. Department of Transportation, the onus is on Secretary Foxx to take immediate action to protect our communities, rivers and infrastructure. Fortunately, under federal law the DOT secretary can issue an emergency order that could, among other things, declare DOT-111s unfit for transporting oil, require comprehensive spill plans for all crude oil railcars and immediately provide more transparency for first responders. Months-long administrative delay will only expose more Lynchburgs and Kalamazoos to needless economic, social and environmental devastation.
We urge state and federal officials to take this precautionary step -- until we can be certain that disasters like the Exxon Valdez spill and Lac-Megantic explosion won't happen on our watch.
Calling all HuffPost superfans!
Sign up for membership to become a founding member and help shape HuffPost's next chapter