There's a photograph in my office that serves as a poignant reminder. It depicts a sign pointing to a "colored waiting area" from a Greyhound bus terminal.
The image reminds me that the nation's benefits and burdens are still distributed in ways that privilege white skin over black and brown skin. African Americans and other people of color still suffer disproportionate burdens in so many areas of life. While blatantly race-based laws and "colored" signs are no longer used to engineer privileges for whites while subjugating people of color, implicit racism is still at work, continuing to reaffirm social and economic inequality.
White Americans still benefit from generational wealth and color privilege in nearly every measurable aspect of life. They earn more, have better healthcare and more educational resources than people of color. And people of color have less access to drinking water and modern sanitation and face more environmental pollution.
Princeton Professor Eddie Glaude addresses how the unequal distribution in jobs and housing has been intentionally structured in "Democracy in Black: How Race Still Enslaves the American Soul." The book calls attention to what Glaude calls a "value gap" in the way one's race is perceived, which leads to valuing white life more than black life. If black life is worth less, he argues, it is easy to ignore the crises black communities face and the way the financial, political and economic structures contribute to those crises.
This message was made clear when leaders of the environmental justice movement spoke recently at the joint National Association of Black Journalists - National Association of Hispanic Journalists Convention.
"Race trumps class," Dr. Bob Bullard, a distinguished professor at Texas Southern University, told those gathered at a panel on environmental justice sponsored by Earthjustice. Bullard, considered the "Father of Environmental Justice," was an expert witness in the first lawsuit filed under the Civil Rights Act in 1979 that charged environmental discrimination. The case, Bean v. Southwestern Waste Management Corp., involved a plan to site a dump next to a middle-class community in Houston that was 82 percent African American.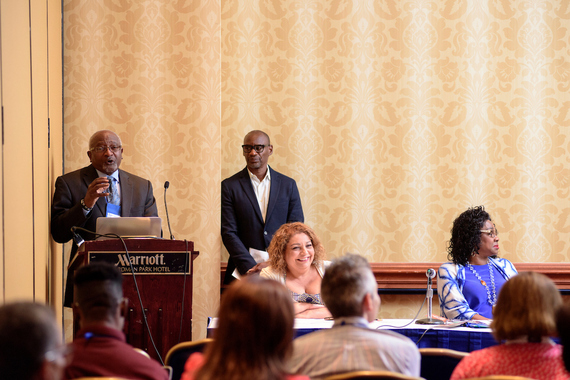 At the time, Bullard worked with graduate students on the first major research that examined environmental pollution through the prism of race. He found that all five city garbage dumps, six of eight city-owned incinerators and three of four privately owned dumps in Houston were sited in black communities--even though black people in Houston represented just 25 percent of the population.
Bullard, who teaches urban planning and environmental policy, noted that locating landfills, power plants, highways and other sources of toxic and hazardous pollution in communities of color is a systemic problem most obvious in the South.
"Even middle-class blacks breathe worse air," Bullard said, referencing a national study that showed that communities of color are exposed to 38 percent higher levels of nitrogen oxide than whites. That pollutant, emitted by power plants, cars and heavy construction, is linked to asthma.
Dr. Beverly Wright, a professor of sociology at Dillard University, said she grew up near chemical plants in New Orleans with little understanding of the physical harm they caused.
Wright began working on environmental issues as a graduate student in the 1970s in Niagara Falls, N.Y., after people living in the Love Canal neighborhood learned that their homes were built on a landfill where thousands of tons of chemical waste had been buried. Activism around Love Canal made toxic chemical waste a national issue and led to passage of the Superfund Act, taxing chemical and oil industries and allowing federal assistance to address hazardous substances that affect health and the environment.
Wright later learned that the 85-mile stretch of land between Baton Rouge and New Orleans known as the Mississippi River Chemical Corridor, or Cancer Alley, was even worse. In that corridor, where she grew up, are some 150 industrial polluters that emit toxic pollution. And the majority of people living closest to these industries are people of color.
Louisiana has the third highest death rate from cancer in the United States. And black people have even higher cancer rates, said Wright.
While the environmental movement fights for stronger protection from pollution, equity and fairness have been missing from the conversation, she said. Wright has been working with Bullard to fight back against environmental discrimination. She assists local communities to fight for improved environmental protections through the Deep South Center for Environmental Justice. And, together, they've worked to build the Historically Black Colleges and Universities Climate Change Consortium. The consortium was founded in 2011 to boost awareness of the disparate impacts of climate change on marginalized communities and to develop environmental leaders to work on environmental issues.

Although Wright and Bullard focus primarily on the impacts of environmental discrimination in the South, Dr. Martha Dina Arguello, executive director of Physicians for Social Responsibility - Los Angeles, finds the same disparities in Los Angeles with black and Latino residents enduring the worst pollution impacts.
As a child, Arguello remembers swimming in Echo Park and Silver Lake in Los Angeles and getting out with oily water covering her legs. She later learned that exposure to oil pollution was common in L.A.'s communities of color.
"There are more than 1,000 active oil wells where we live work and play in the city of Los Angeles--all in areas where people of color live," she said. Arguello has worked to strengthen protections for communities. In L.A., they've begun using a special tool to measure the cumulative risk of 19 different pollutants.
Lisa Garcia, vice president of healthy communities for Earthjustice, spoke of riding her bike in the Bronx and developing asthma that might've been related to poor air quality. Later, she learned that there were 23 waste transfer stations in the Bronx that emitted substantial pollution. After graduating from law school, Garcia became active in fighting to halt plans to build power plants in communities of color.
"I began asking: 'What is the energy need? Why do we need it?' ", Garcia said. "These were all communities of color and asthma rates were skyrocketing in these areas." Garcia mapped the health and environmental disparities, reached out to health advocates and encouraged people to turn out for public meetings.
The pattern of communities of color facing more pollution and less resources to combat the problems remains unchanged, according to these environmental justice advocates. But hopes comes from their commitment to the fight for a healthy, equitable world and their dedication to teaching the next generation to continue the struggle.
Calling all HuffPost superfans!
Sign up for membership to become a founding member and help shape HuffPost's next chapter