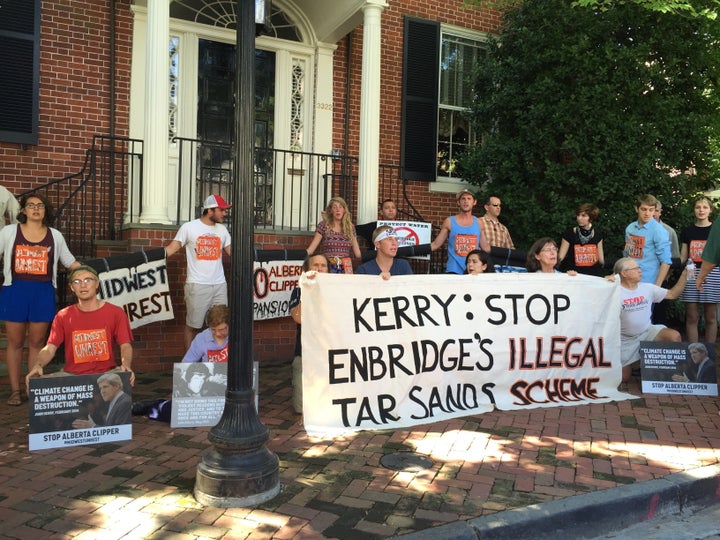 WASHINGTON -- Twenty activists protesting an international pipeline expansion project were arrested outside Secretary of State John Kerry's residence in Washington, D.C., on Tuesday.
They were part of a group of about 100 demonstrators organized by the youth environmental group Midwest Unrest. The protesters were calling on Kerry to block Enbridge Energy from expanding its Alberta Clipper oil sands pipeline, which runs from Canada to Superior, Wisconsin.
Last year, Minnesota's White Earth Nation tribe, the Indigenous Environmental Network, the Sierra Club and the Center for Biological Diversity sued the State Department, claiming it illegally allowed Enbridge to expand its pipeline without a permit application and an environmental review. The Midwest Unrest protesters said on Tuesday that Kerry should step in and stop the company from completing the project.
"Why in the world would we let them proceed without an environmental review?" said Greta Herrin, a student from Kalamazoo, Michigan, who attended the protest outside Kerry's residence Tuesday. "This is a corporation that has shown a complete disregard for the people and the Earth."
The Midwest Unrest protesters, many of whom were bused from the Midwest to Washington overnight, marched to Kerry's Georgetown residence from a small park nearby. Some held up signs quoting Kerry describing climate change as "a weapon of mass destruction." Others expressed confusion over why the Obama administration would take a more cautious approach toward approving a permit for the proposed Keystone XL pipeline, which has been under consideration at the State Department for years.
"We're saying, 'Secretary Kerry, pay the same attention to this as you do to Keystone,'" said Kenny Bruno, a longtime activist who also attended Tuesday's rally. "They're both dirty, they're both not in the national interest, so you've got to reject it."
The protest drew students, recent graduates and veteran environmental activists.
"I'm mad, and I don't like people lying to us. They promised us clean air and energy and water, and they didn't do it," said Joy Sides, 73, who travelled from Jacksonville, Illinois, to participate in the protest.
After four hours of protest, police arrested 20 demonstrators who were blocking the sidewalk outside Kerry's house.
The State Department did not immediately respond for comment.
Popular in the Community