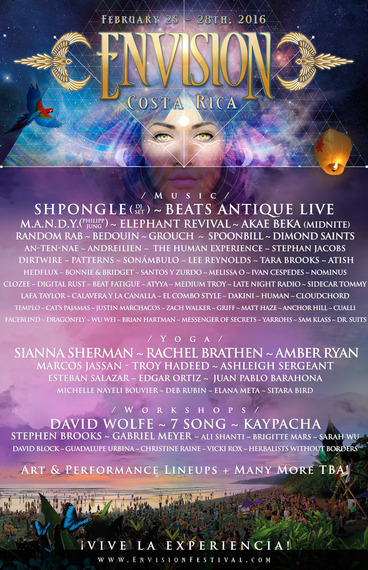 While many corners of the world are shrouded in cold, wind, snow and rain, the tropical climates of Costa Rica are beckoning. The depths of winter are a perfect time to daydream and plan for the upcoming transformational music festival, Envision 2016. Starting off the festival season with a combination of music, nature, and mindfulness is an enriching way to set one's intentions for the rest of the year. For those who are returning to this event, it is already an annual tradition and for those who will be experiencing it for the first time, it will quickly become a new tradition.
One of the strongest aspects of the 6th annual Envision Festival are the Educational Retreats available before and after the event. Offering multi-day workshops in dance and body movement, surfing, herbalism, plant medicine, permaculture, organic food, snorkeling, meditation, yoga and more, these retreats show how far the hands of the Envision community stretch beyond the festival itself. Envision is not just about personal indulgence but also about enriching ourselves, each other, our communities and our world.
The 2016 phase-one musical lineup sees many familiar sounds from previous years as well as several new artists. Returning musicians such as Random Rab (who is returning for his 5th year), Dimond Saints, Tara Brooks, Hedflux, Atyya, Dakini, Lafa Taylor, Santos y Zurdo, and many more are warmly welcomed back while other artists such as Beats Antique, Clozee, Digital Rust, Shpongle, and the Human Experience, just to name a few, will also be exciting the ears of attendees. There are many more musicians, live artists, and workshop leaders yet to be announced, adding a little mystique to this world-renowned jungle jam.
With no shortage of seminars, workshops, yoga, vendors, and locally sourced food, Envision will not only meet, but surpass, any and all expectations. Labeled as "the progeny of Burning Man" by the New York Times, the intent of the founders was to take the aesthetics and ideals of Burning Man and evolve these concepts into a new organism, replacing the desert with jungle. Immersed in the biophany of the tropical ecosystem, bright minds and shining souls will share their knowledge, love, music, laughter and dance moves with each other. Operating harmoniously with the surrounding forest and its creatures, the Envision community goes beyond leaving no trace by striving to improve the locale.
Being hailed as the festival of the future, Envision is a place to cultivate the planet as well as the human spirit. Expressing a passion for life through music, art, and dance is a privileged human experience that not all are able to participate in, making this a celebration of gratitude. Many of the Envisionaries in attendance achieve great deeds in this world and bringing them together beneath the verdant canopies of Costa Rica vibrates the interconnected strings of mankind's web. One of the most eco-conscious music festivals in the world, there is a collective goal by organizers and attendees alike to show the brightest side of humanity, reminding us that though darkness will always swallow some, it will never swallow us all.
REAL LIFE. REAL NEWS. REAL VOICES.
Help us tell more of the stories that matter from voices that too often remain unheard.