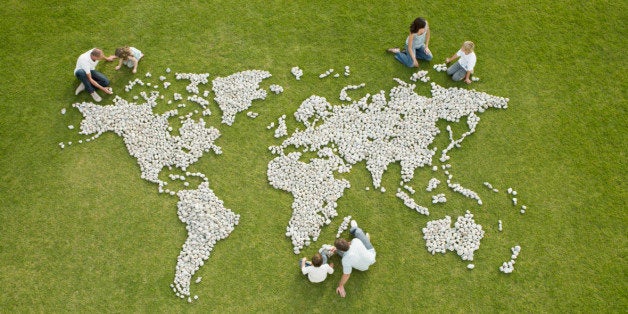 As a tenacious 12-year-old girl, a "top secret" girls meeting took place in the basement of a community youth room with my closest friends. During this meeting, I boldly encouraged my friends to consider their worth, strength and value as young girls. Little did I know at the time that my platform for women and girls' advocacy had just begun. As a young girl, I believed that my friends and other young girls were catalysts for change in their schools, communities and faith groups. During my adolescence, the powerful challenge to empower young women resonated throughout my spheres of influence.
My message was simple: Your voice matters.
In just a few weeks, I will celebrate my 30th birthday. In most areas of the world, I am still counted as a youth. Now more than ever, I believe in listening to and empowering other young women to share their voices, ideas and stories. I have met amazing young women who are advocating for and creating change in their communities. I am inspired by girls like Emmanuella Manjolo, who at the age of thirteen used her voice to publish an article and speak out against child marriage in Malawi. As a result, more young girls in Malawi now understand their rights and are also becoming advocates for change.
I met Gogongtlejang Phaladi, at the 2014 Partners Forum. She is a young woman from Botswana who is a strong advocate for gender equality and human rights. At the age of five, Gogongtlejang spoke out against injustices happening to children in her country. She established the Gogongtlejang Phaladi Hope Project which builds relationships with orphans, refugees and those marginalized by society and provides them with food, clothing and other in-kind needs. Gogongtlejang continues to lead her foundation and uses her voice to raise awareness about the rights and health of women and girls.
I also met Zanele Mabaso. She is a youth representative for the United Nations Population Fund Youth Advisory Panel. Zanele speaks out for youth in her community of Pretoria, South Africa. She created the Young Social Entrepreneurs Academy which strives to offer creative solutions to solve socio-economic challenges for young people in Africa. The Academy empowers young unemployed South Africans living in Gauteng Province. As a result of her work, graduates are empowered with professional skills and offered additional tools to help them excel in a career. Her strong advocacy work and voice for youth has now reached young people all over Africa. Each day, I have the privilege of raising my voice alongside 31 amazing young women who are actively a part of the Girls' Globe network. These young women work around the world to improve the lives of women and girls.
Young people are making significant strides to raise their voices for global change. Yet, a growing gap remains in the effective implementation of their ideas at the international level. As we craft the new post-2015 framework and other international development agendas we must involve youth, specifically young women, in the conversations. Youth are on the front lines empowering women and girls and fighting for gender equality. Young people are working to improve maternal and child health, combat slavery, alleviate poverty, foster entrepreneurship and make a difference in communities.
This generation is carrying the torch of influence. As organizational leaders, activists, governments, civil society and the private sector we must allow them to move forward. We must listen to and implement their ideas. This week, we celebrate youth around the world. As a global community, we must commit to listen to and celebrate young people every day.
What does the world I want look like?
I want to live in a world where we truly value the voices of young women and girls. It is my hope that the World We all Want includes listening and valuing young people's perspectives.
Empowering young women to become agents of their own change is key. Young people are the future and their voices are incredibly important. We must bridge the gap between those working at a grassroots level and those making decisions in the international arena. In order for true change to occur, youth should be included in global conversations, and policy and decision-making processes.
Calling all HuffPost superfans!
Sign up for membership to become a founding member and help shape HuffPost's next chapter